Gold and silver changed course and rallied during last week. Will gold and silver continue to rise this week? As I have pointed in the latest precious metals weekly outlook, several reports and decisions will unfold during the forthcoming week and may affect bullion prices. These items include: U.S non-farm payroll report, FOMC meeting, ECB rate decision, German EU economic outlook, Canada's GDP report, Japan monetary base monthly update, U.S and China's manufacturing PMI monthly updates, and U.S jobless claims. On today's agenda: U.S Personal spending and Pending Home Sales.
On Friday, the price of gold declined by 0.56% to $1,453.6; Silver also decreased by 1.58% to $23.76. During last week, gold rose by 4.18%; silver, by 3.48%. Moreover, during the previous week, the SPDR Gold Shares (NYSEARCA:GLD) rallied by 4.02% and reached by April 26th 140.91. Shares of iShares Silver Trust (NYSEARCA:SLV) also rose by 3.13% during last week.
In the chart below are the normalized prices of gold and silver for 2013 (normalized to 100 as of December 31st). The rates of gold and silver have rallied during last week.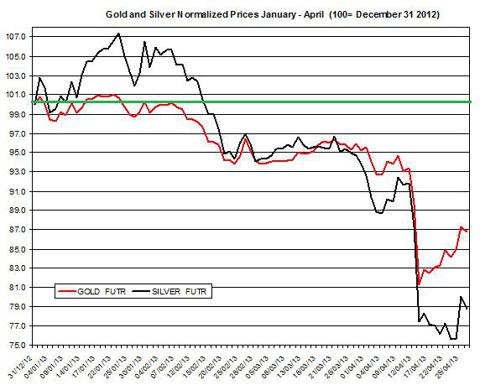 On Today's Agenda
U.S Personal spending: this monthly update will pertain to the developments in income and outlays in the U.S during March; in the previous report regarding February personal income increased by 0.7%.
U.S. Pending Home Sales: This report presents the changes in pending home sales in the U.S. In the recent report, the pending home sales index inched down by 0.4%. These data are another indicator for the developments in America's housing market. If the housing data will show a rise in sales it may drag down the U.S dollar.
Currencies / Bullion Market - April Update
The Euro/USD inched up on Friday by 0.15% to 1.3030. During the previous week, the Euro/USD decreased by 0.17%. Moreover, other currencies such as the Canadian dollar and Japanese yen appreciated during last week against the U.S dollar by 0.96% and 1.48%, respectively. The appreciation of these leading currencies against the U.S dollar may have partly contributed to the rally of gold and silver during the previous week. The correlations among gold, Canadian dollar and Aussie dollar remained strong: during April the linear correlation between gold and USD/CAD was -0.68 (daily percent changes) and the linear correlation between the gold and AUD/USD was 0.64 (daily percent changes). These correlations suggest the recent rally of precious metals rates was partly related to the developments in the foreign exchange markets.
Outlook
The recent rally in the prices of gold and silver may have been a correction to their sharp fall from a weak earlier. Moreover, some analysts suspect the recovery of gold prices during last week was due to the rise in demand for the physical metal. In any case, there are still reports of big hedge funds raising their bets against the recovery of gold and silver. The continuous drop in gold holdings of the GLD ETF is another indication for the ongoing drop in demand for gold as an investment. If this trend persists, it could signal a further drop in demand for precious metals (for investment purposes).
This week, there are many news items on the agenda that might stir up the markets including: FOMC meeting, ECB rate decision, U.S and China's manufacturing PMI, and U.S. non-farm payroll report. Regarding the FOMC meeting, the current expectations are that the Fed won't make any changes to its policy. In such a case, the FOMC's statement is likely to have little effect on precious metals. Will ECB lower its cash rate this week? The current expectations are that the ECB will leave the rate unchanged. In such an event, the Euro and precious metals are likely to rally. But if the ECB will lower the rate or even hint of a rate cut in the near future, it could pull down the Euro, which will drag along with it precious metals. The upcoming reports regarding U.S and China's manufacturing PMI could affect commodities prices: if these reports will be negative and show a decline in their indexes, they could pull down commodities prices. Finally, the upcoming non-farm payroll report could stir up the markets. If the report will be disappointing as it was last month, precious metals are likely to rise.
For further reading:"Is it Time to Sell Gold?"
Disclosure: I have no positions in any stocks mentioned, and no plans to initiate any positions within the next 72 hours. I wrote this article myself, and it expresses my own opinions. I am not receiving compensation for it (other than from Seeking Alpha). I have no business relationship with any company whose stock is mentioned in this article.