Back in the good ole days when I was a developer, it seemed that all of my developer friends owned a Rolex. But I could never come to terms with buying a watch with such a high, if not inflated, price; especially when there are so many other watches that perform well, if not better, at a substantially less price.
It's funny that there are so many watches that resemble a Rolex but don't have the big brand name. Of course, Rolex watches are of the highest quality and they do last for generations. Some claim that their Rolex watches never wear out and that they are even indestructible. That durability component is also the investment appeal that makes Rolex a preferred watch brand and also the reason that the luxury watch appreciates substantially in value.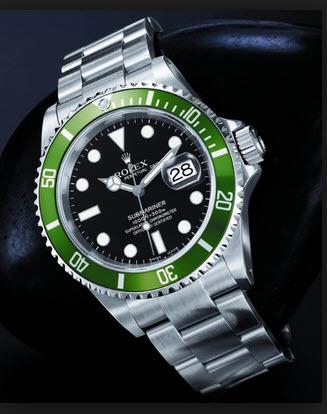 As I surf REIT-dom looking for the irreplaceable dividend brands - the more durable models - I am essentially interested in an income alternative that will allow me to preserve principal while also providing me with sound capital appreciation. It's important that this REIT - with Rolex qualities - has the same trusted consistency that makes the primary ingredient something special.
Warren Buffett and his company, Berkshire Hathaway, Inc. (NYSE:BRK.A), invests in many high quality brands that you recognize; names like See's Candies, Helzberg Diamonds, NetJets, and GEICO. In addition, the Oracle from Omaha also invests in significant minority-owned "best in class" brands like American Express (NYSE:AXP) and Procter & Gamble (NYSE:PG).
Buffett, one of the world's wealth elite, has also shown his good taste in picking out his trusted timepiece. The legendary investor, frequently shown in the annual Forbes list billionaire lineup, sports an 18K Rolex Datejust, also known as the Rolex President.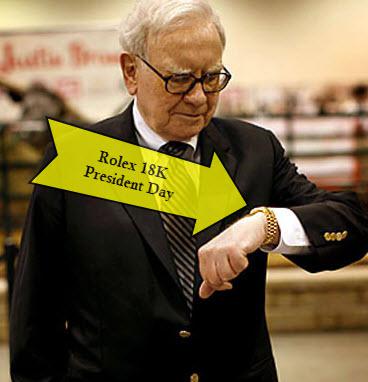 Whether it's candy, airplanes, diamonds, or watches, Buffett insists on the finer things in life and he even considers such investments to be premium brands. As he has said:
Your premium brand had better be delivering something special, or it's not going to get the business.
Taubman Centers - A Premium REIT Brand That Delivers Something Very Special
Much like a Rolex watch, Taubman Centers, Inc. (NYSE:TCO) is a REIT brand that consistently increases in value. Founded by A. Alford Taubman in 1950, Taubman Centers converted to a REIT in 1992 and the Bloomfield Hills-based company has maintained a consistent cash payout history for over 21 years. Most notable for the durable Regional Mall company is the fact that Taubman was a pioneer REIT that became the first publicly traded UPREIT (in 1992), laying the groundwork for real estate companies in all sectors to access the public equity markets.
Favoring "quality over quantity," Taubman owns or manages 27 properties in the U.S. and Asia - large enough to provide economies of scale and solidify relationships with some of the world's best retailers; Yet small enough to effectively maximize the potential of every asset by receiving attention of the senior management team.
Taubman continually reinvests assets - a process that includes renovations, expansions, and ground up development - while also achieving significant organic growth from rising rents from new tenants and lease rollovers.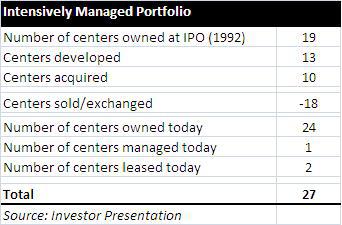 Here is a snapshot of Taubman's footprint: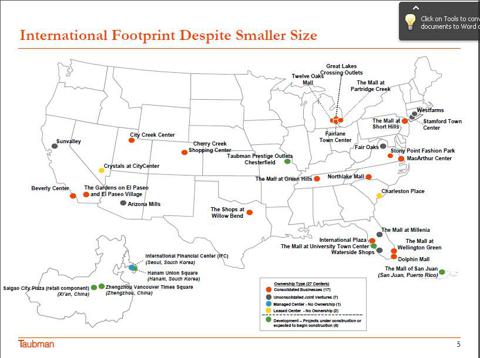 Click to enlarge
Taubman has a $5.27 billion market cap (added to the S&P Midcap Index in January 2011); however, the high-end property owner still dwarfs in size to its closest competitor, Simon Property Group (NYSE:SPG). In fact, Simon - with a $54.5 billion market cap - is larger than ALL of the other mall REITs combined.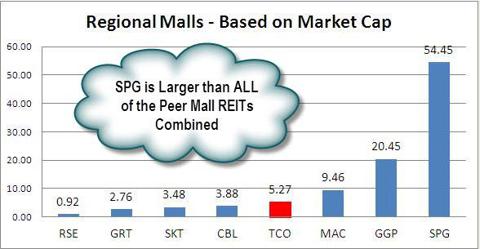 Click to enlarge
Taubman stands out the most for being the Regional Mall REIT with the highest quality portfolio. Compared with its peer group, Taubman has the highest overall quality based on its underlying demographics: median household income (15% higher than the peer group), household density (65% higher than the peer group), education, and major market penetration. Around 86% of Taubman's centers are located in the fifty largest markets in the U.S., and Taubman has the highest anchor tenant quality making the value proposition superior to the peer REITs. (source: Taubman Investor Presentation). Here is a snapshot of Taubman's sales per square foot compared with its peers: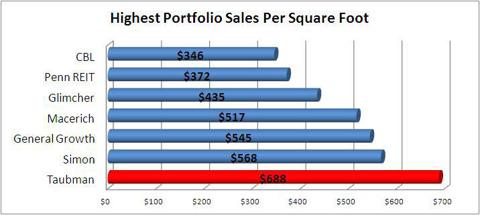 Click to enlarge
Taubman's sales per square foot of $688 (12-31-12) is a record for the company and the publicly held US regional mall industry. Here is a snapshot of Taubman's historical sales: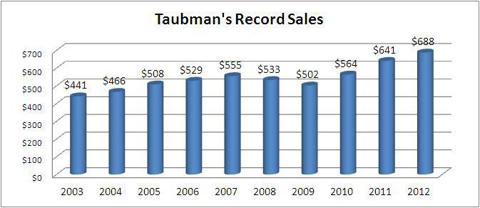 Click to enlarge
Unlike many of the non-luxury mall REITs like General Growth Properties (NYSE:GGP) and CBL Properties (NYSE:CBL), Taubman has limited exposure with struggling retailer J.C. Penney (NYSE:JCP). Instead, Taubman has a well-balanced portfolio that includes many high-quality retail names like Forever 21, Abercrombie & Fitch (NYSE:ANF), and Ann Taylor (NYSE:ANN). Here is a snapshot of Taubman's Top Ten Tenants: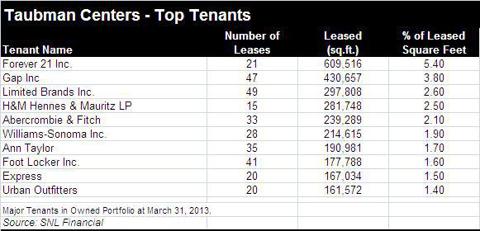 Click to enlarge
Because of the "high quality" fundamentals, Taubman has become a regional mall landlord differentiated by renting space to many tenants whose first U.S. mall location was at a Taubman center. Here is a snapshot of some of Taubman's unique-to-market tenants: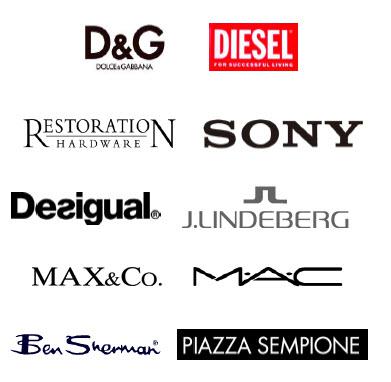 Taubman has the highest opening rent in the regional mall sector (TCO's average opening rent is $55.92) and the company also boasts the highest average rent per square foot ($46.69):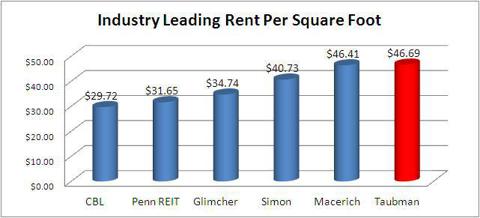 Click to enlarge
Taubman - Development is Part of the Company's DNA
As Warren Buffett said:
If they become part of your DNA when investing, you really can't go wrong.
Taubman is a developer, not a consolidator. In other words, Taubman was and still is a very active mall developer. Since 2001, Taubman has delivered some very robust returns: Approximately $2.6 billion of net value has been created on a total capital investment of $2 billion. Taubman is one of the few regional mall developers that possess a full set of development capabilities internally. Here is a snapshot of Taubman's robust $2 billion pipeline of completed projects (from 2001-2012):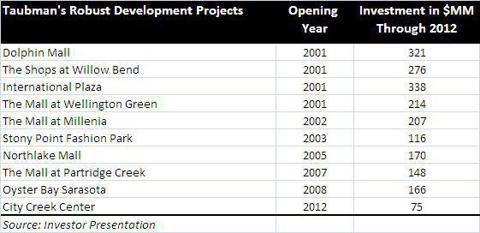 Click to enlarge
Taubman's external growth strategy revolves around its "Four Prong" approach that consists of Acquisitions, Asia, U.S. Traditional Development, and Outlet Centers.
Starting with the "Outlet prong", Taubman believes that outlets are a natural extension of its existing capabilities as many of the mall tenants are integrating sales into the outlet channels. Last week I wrote an article on Tanger Factory Outlets (NYSE:SKT), a competitor of Taubman and also the only "pure play" outlet center REIT. Taubman has its first outlet project underway in Chesterfield, MO and as I wrote in a previous article,
It is clear that the outlet sector is becoming more competitive today as Tanger, Simon, and Taubman have all been developing new projects aimed to fill a void in many towns across the nation (and Canada).
In Chesterfield, Simon Property Group and Taubman are both competing for tenants in a supply-constrained market that appears to be a "winner take all" war. As I explained:
Clearly the two mall giants are competing on the same turf and perhaps for some of the same tenants. It will be interesting to see how this is played out but for now construction crews are busy working feverishly on both sites. Taubman has announced an opening on August 2, 2013 and Simon has announced its opening for September 2013.
Here is a snapshot of Taubman Prestige Outlets Chesterfield: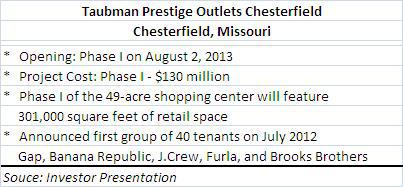 Taubman's U.S. Development pipeline is robust. Since 2001, Taubman has developed nine properties totaling 9.2 million square feet and the company expects to build four to five projects (in the U.S.) over the next ten years. Here is a snapshot of Taubman's Sarasota project: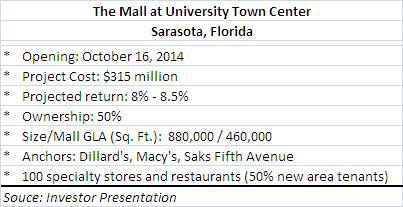 Here is a snapshot of Taubman's San Juan project: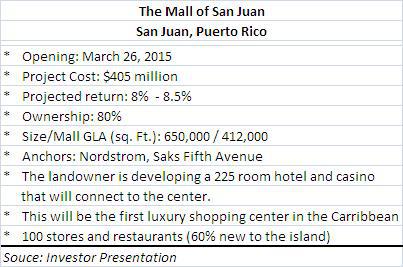 Taubman's Salt Lake City project, City Creek, opened earlier this year and this was the only regional mall to open in the U.S. since 2006. Here is a snapshot of the project: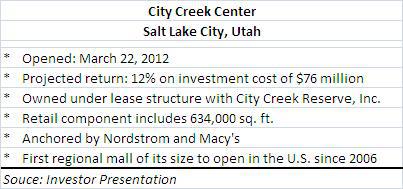 Taubman's third project for external growth, Asia, is my favorite. Not just because I like Taubman's efforts to diversify into international markets, but more because I think Asia is one of the most attractive retail markets in the world. Currently, Taubman is pursuing projects in South Korea and China. Here is a snapshot of Taubman's new project, Xi'an Saigao City Plaza: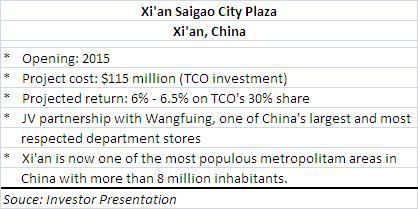 Zhengzhou has nearly 9 million people and Taubman's proposed six-level project there is expected to be over 1 million square feet. Here is a snapshot of the project that is set to open in 2015: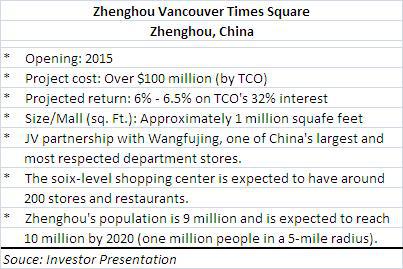 Hanan (South Korea) will be the largest true western style mall in Korea. Here is a snapshot of the project: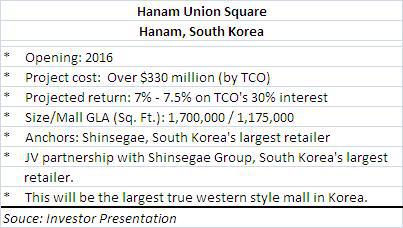 The fourth external growth prong for Taubman is acquisitions. Taubman has historically generated most growth via its development business; however, the company is always looking for select deals to acquire of buyout partners. Most of Taubman's growth appears to be in Asian markets as there is a shortage of well-designed and well-managed retail space there. In addition, and as evidenced by the snapshot below, the Asian lease structures generate better returns (compared with the U.S.) over longer time frames. That is primarily due to the fact that Asian economies grow faster and that translates into better risk-adjusted sales growth opportunities.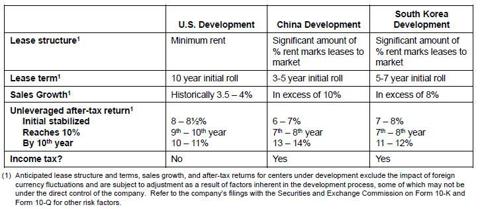 Click to enlarge
Taubman has always provided attractive development growth as the CEO, Robert Taubman, explained during a recent (Q1-13) earnings call:
Development has always been at the heart of this company and the foundation for its success. We believe about $30 of our current share price can be directly attributed to the group of centers we completed between 2001 and 2007.
What Makes a Rolex Perform Better Over Time?
Quality watches are more durable and they can better withstand wear and tear. That's the same for Taubman Centers.
Starting with the balance sheet, Taubman is an icon of operational excellence as the mall REIT has successfully orchestrated a showcase of prudent financial management. In August (2012) Taubman completed $219 million common equity offering enhancing its liquidity for upcoming investments. Also, Taubman recently completed a $193 million 6.5% preferred stock offering (in August 2012) and a subsequent $170 million 6.25% preferred offering in March 2013.
Taubman has healthy coverage ratios that consist of interest coverage of 2.9x and fixed charge coverage of 2.3x. The company refinanced its credit line in February 2013: a $1.1 billion line maturing in March 2017. Taubman has a majority of secured debt with well-laddered debt maturities: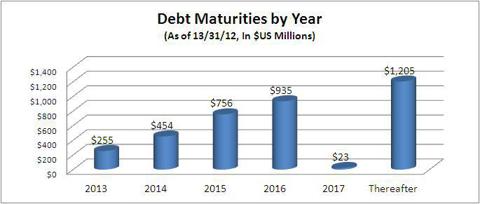 Click to enlarge
Taubman's current (Q1-13) debt to market cap stands at 28.17% and that is the lowest it has been. Here is a snapshot of Taubman's historical debt to market cap ratios: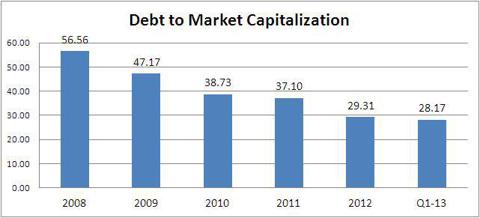 Click to enlarge
In addition, Taubman has the second lowest debt to market cap ratio in the regional mall sector: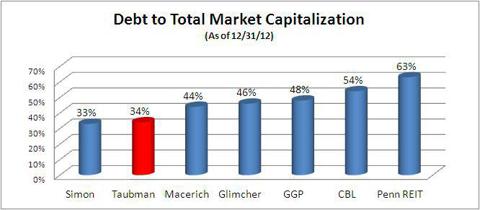 Click to enlarge
Of course, driving Taubman's operational success is the stable occupancy levels. During the latest quarter (Q1-13), Taubman's occupancy rate was 90.4%.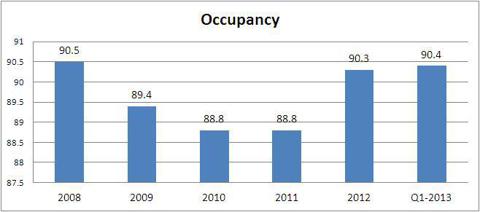 Click to enlarge
The superior operational results are illustrated by this Core NOI Growth chart (below):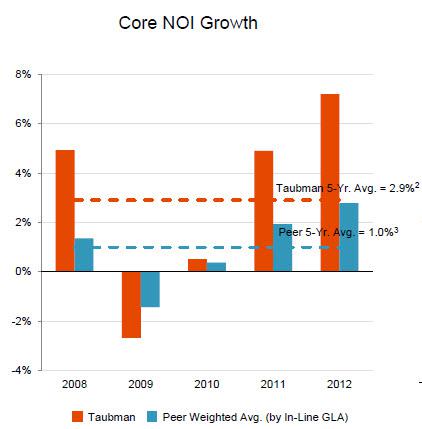 Here is a snapshot of Taubman's Adjusted Funds from Operations (or AFFO) history: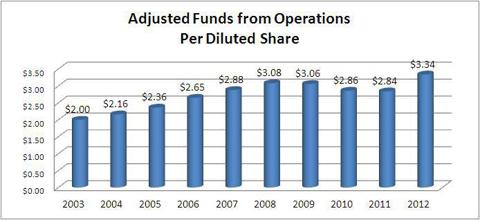 Click to enlarge
In March, Taubman declared a regular quarterly dividend of $0.50 per share of common stock, an increase of 8.1 percent. Since the company went public in 1992, it has never reduced its common dividend and has increased its dividend 16 times, achieving a 4.2 percent compounded annual growth rate. Here is a snapshot of Taubman's latest dividend payment history:

Click to enlarge
Taubman and Tanger are the only mall sector REITs that did not cut dividend during the Great Recession. Here is a snapshot of Taubman's stalwart dividend paying history:

Click to enlarge
As mentioned above, Taubman went public in 1992 and the company has never reduced its common dividend. The latest announced increase is the 16th one in the company's history:

Click to enlarge
Taubman's current dividend yield is 2.42% as illustrated below: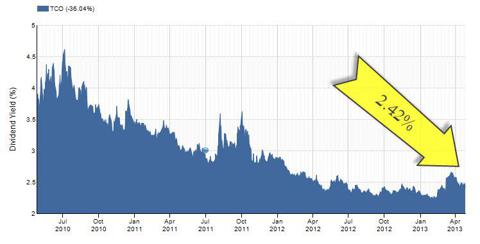 Click to enlarge
Taubman also has one of the lowest yields today when compared with the peer group: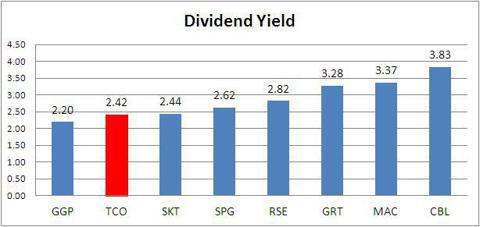 Click to enlarge
As the FAST Graph illustrated below, Taubman's share price has increased by over 430% in just 37 months (the black line is the price of the shares):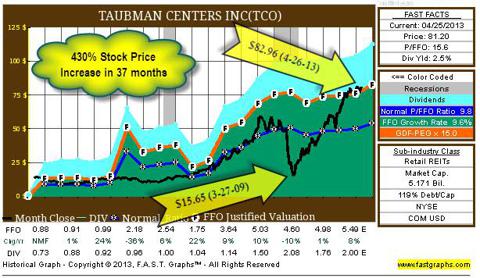 Click to enlarge
Of course it's important to remember that Taubman never cut its dividend, even during times when the Funds from Operations (or FFO) decreased. That's the definition of a defensively risk-aligned dividend stock.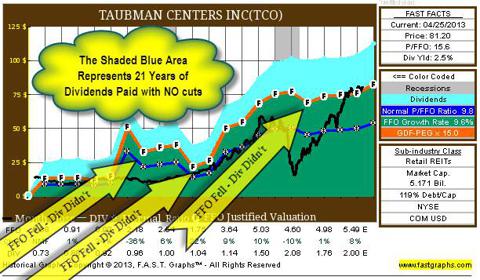 Click to enlarge
Taubman shares closed last at $82.70 and the P/FFO multiple is 22.7x. As I suggested in an article last week, I consider Taubman a "blue chip" REIT, but that does not mean I would buy the shares today. As I explained:
Blue chip REITs are trading at outrageous pricing levels. Should we wait for a correction before we put money to work? Or, should we ease valuation standards and look for small cap REITs even though they lack the fortress balance sheets and untested management teams possessed by the blue chip REITs?
As I went on to explain:
At the end of the day, blue chip REITs can provide terrific SLEEP WELL AT NIGHT income; however, investors must approach these securities much like the legendary investor Ben Graham would. Simply said, he would not look so much to buy them cheaply but perhaps he would look to "buy a wonderful business at a moderate price."
Now as the FAST Graph below clearly illustrates, Taubman is a sound specimen of operational efficiency. As most know, REITs are valued based on cash distributions - or Funds from Operations - the standard metric for distributing to shareholders. In order to deliver attractive earnings, a REIT must be capable of producing solid and consistent Funds from Operations. The graph below clearly depicts a highly predictable and consistent level of FFO growth (as indicated by the orange line marked "F").
Moreover, it is also clear that Taubman's share price (the black line) and FFO (the orange line marked "F") in the correlated graph has closely tracked FFO. The blue shaded area represents the consistency and sustainability of Taubman's dividends distributed to shareholders. This consistent level of growing income distributions is an important aspect of the investment merit for Taubman.
However, much like my decision not to own a Rolex, I can't justify Taubman. Here's why: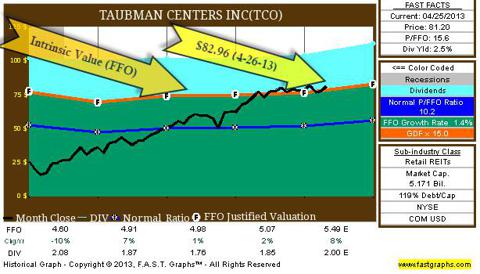 Click to enlarge
But wait. There may be a way that I can invest in a blue chip brand like Taubman without the risk of purchasing at considerable peril or simply buying an overpriced REIT. A few weeks ago, I wrote an article on REIT Preferred shares. As I explained:
Remember that the primary objective for preferred shares is income and therefore the intelligent investor should remain focused on the fact that they are equivalent to a bond (for income); however, they yield more than bonds (but with a similar risk profile). Perhaps a better way to describe preferred stocks is that they could be something like a "bond replacement" strategy.
As mentioned above, Taubman completed (in March 2013) a $170 million, 6.25% preferred stock offerings. This was the lowest perpetual preferred coupon ever achieved by an unrated REIT issuer. The series K (TCO-K) is trading at $25.69. Here is a link for my information.
Should I Buy a Rolex One Day?
Maybe one day I will buy a Rolex, but I will wait for a bargain. It seems that my brain has been trained to buy quality merchandise at discount prices. Or perhaps that is how my mentor, the legendary Ben Graham, would've also reasoned his choice in wrist wear. Maybe he would have visited an area pawn shop to explain to the clerk that he was looking for a classy watch, one that promises to hold a sound "margin of safety" or simply a
...favorable difference between price on the one hand and indicated or appraised value on the other.
I can hear Mr. Graham arguing with the pawn shop owner now…claiming that with a wider margin of safety - a "bargain" of sorts, there would be lower risk and greater potential for profits. I'm sure he would end the conversation with his classic pitch:
An investment operation is one which, upon thorough analysis, promises safety of principal and satisfactory return. Operations not meeting these requirements are speculative.
Oh well, Taubman is a "Rolex of a REIT" and I can't wait on to own the shares, when the price is right. It's just not today. That's one fundamental reason that I sleep well at night.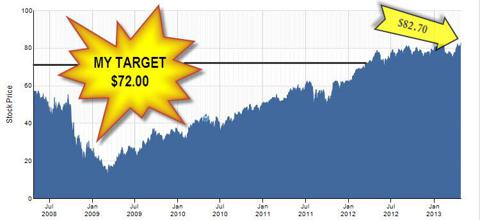 Click to enlarge
REITs mentioned: (NYSE:MAC), (NASDAQ:PENN), (GRT), and (NYSE:RSE).
Source: FAST Graphs, SNL Financial, Yahoo Finance, and TCO Investor Presentation
Disclosure: I have no positions in any stocks mentioned, and no plans to initiate any positions within the next 72 hours. I wrote this article myself, and it expresses my own opinions. I am not receiving compensation for it (other than from Seeking Alpha). I have no business relationship with any company whose stock is mentioned in this article.