Meritage Homes Corp (NYSE:MTH) is up 38% since I made it my #1 homebuilder stock for 2013. The stock is up 32% year-to-date. Too bad part of my investment strategy for homebuilders in 2013 included only buying on a significant dip. Almost five months later, I have yet to rebuild my exposure to homebuilders. Based on the latest earnings results from MTH, it seems I will not get a chance at another attractive discount for quite some time.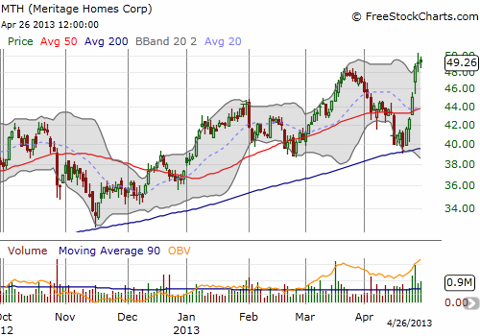 Meritage has twice found firm support at its 200-day moving average during this on-going rally
Source: FreeStockCharts.com
The company's results on almost every score were absolutely outstanding. The introductory comments from CEO Steve Hilton summarize them well:
"We continued to achieve significant gains in virtually every key metric we had targeted and across all of our states during the first quarter of 2013…We grew our first quarter orders, closings, backlog, average prices, revenue, gross margin and pretax margin significantly over the prior year, with most of those metrics reaching heights we haven't seen for many years…

Housing demand is greater than the supply of homes available for sale in many of the areas where we operate, causing home prices to increase…To meet the higher demand, we opened 24 new communities during the first quarter and also grew our active community count to its highest point in almost four years. In addition, our 9.5 orders per average community for the quarter was a 27% increase over 2012 even as we raised prices in many communities. As a result, we received orders for 35% more homes for a 69% increase in total order value compared to the first quarter of 2012. We are pricing our homes and limiting the number of lots we're releasing for sale in some communities to better manage our order volumes relative to our production capacity, and to maximize our profit from those communities."
MTH noted that this is the second year in a row that the Spring selling season has started strongly. MTH has now recorded its eighth straight quarter of year-over-year order growth.
First quarter "total closing revenue" was 336.4M, a 65% year-over-year increase, as home closings increased 39% and average sales prices increased 17%. Net income jumped from a loss of $4.7M in 2012′s first quarter to a gain of $12.0M. Home closing gross profit margin was 19.5%, up 230 basis points year-over-year. Accordingly, cash and cash equivalents soared 91% year-over-year to $325M Note that cash levels have been higher recently: for example, $413M at the end of 2010. Cash and cash equivalents plus restricted cash and securities totaled $453M, up 64% year-over-year.
Overall ASP (average sales price) increased 25%, mainly thanks to California where inventories are tight (down to 2-3 months in MTH's markets).
Not surprisingly, MTH's guidance for the rest of the year is quite strong:
"Based on our projections for opening new communities, coupled with a modest increase in average sales per community and higher average sales prices, we are projecting approximately a 40-45% year-over-year increase in home closing revenue for each of the three remaining quarters of 2013. Assuming some additional improvement in margins - which are being somewhat constrained by rising construction costs - and the operating leverage demonstrated in our first quarter results, we would anticipate earnings per diluted share in the range of $2.20-$2.45 for the year, representing a 350%-400% increase in pretax earnings."
The pretax metric is important for builders like Meritage because in some years the company is able to record substantial income tax benefits. In 2012, MTH earned 76.3M on this line compared to pre-income tax earnings of $28.9M. In 2009, this income tax benefit was 88.3M.
During the Q&A period, MTH guided to a 20% gross margin average for 2013 with the year ending above 20%. For historical perspective, MTH peaked at 23.6% average annual gross margin in 2005 before crashing to 1.1% in 2007.
Also during the Q&A, MTH noted that its community count will be lower than expected because of faster sell-out rates and longer cycle times from building homes "from dirt" (rather than from spec). MTH is also getting more requests for larger homes. All bullish signs for the market of course. New communities are taking longer to open because of backlogs with contractors and cities with insufficient plan checkers.
MTH now trades at fresh 6 1/2 year high with a price-to-sales ratio of 1.5, price-to-book at 2.5, trailing P/E of 16.4, and an implied P/E for 2013 of 20.1 to 22.4. The stock seems fairly-priced at these levels, but I believe the stock could continue to rally on continued growth in the economy. Such growth would imply an ability for homebuilders like MTH to continue a rapid growth in earnings. For historical comparison, the anticipated pre-tax EPS for 2013 is still well below the $3.42 MTH earned 10 years ago when the housing market was in the early stages of recovery from the 2001 recession. In subsequent years, MTH earned $5.03, $8.88, and $8.32 before collapsing in 2007 to a loss of $11.01.
I have posted below a few additional notes from the earnings conference call using the Seeking Alpha transcript below. This is not a complete summary, and I have reordered commentary into three themes: financial performance, prices and margins, and the housing market.
Financial Performance
"…we can get a lot bigger and we have a lot of liquidity of course and we have a lot of borrowing capacity…we have a lot of room to grow; the opportunities are there."
MTH experiences low cancellation rates because it qualifies buyers up front with the mortgage company (now down to 11% compared to 15% a year ago).
Prices and Margins
"…I am certainly a little more bullish about margins this quarter than I was last quarter. We have been able to raise our prices consistently particularly in the west and we are getting a much better handle on our cost…I'm much more optimistic about the direction of the margins than I was last quarter…I don't think margins are peaked by any stretch..I can't forecast a timeframe for when margins will start decelerating.""

"…about half of our price increases are given way to cost increases…the price increase of about 17% for the quarter probably about two-thirds of that is through price increase now versus mix."

"…prices getting stronger over the next year in the southeast markets."

"Land continues to go up. I think that's the most pressure we are getting on our cost side is certainly on our land, even though land is only approximately a quarter of the house price or construction costs is closer to 50%, there's much more price pressure on land than there is on construction." (MTH expects to invest up to a whopping $600M in land development this year).

"…construction cost on average went up between 8% and 10% over the last year…expect it to be lower than that over the next four quarters than over the last four quarters." (Construction costs were up as much as 15-16% in some markets).
The Housing Market
"There are many factors indicated the home building market continue to grow for a least the next several years…In the strong demand environment we have shifted our focus a little bit more towards maximizing price and margin to drive profitability, as land and labor markets are more constrained."

"…job growth in many of our markets is creating demand and buyers have been pulled in to new homes due to relatively low inventories of used home for sale. Current home owners are also taking advantage of low interest rates and high affordability to move up. All that demand is pushing prices higher." (For the next earnings call, MTH plans to have an answer for how demand for move-up is impacting the existing home market)

"…as rates go up you might see initial flurry of buyers coming in and get off the fence because they want get it before it's gone; but rising rates will slowdown demand and we got to be careful about that."

"I haven't seen that widespread increase in sales absorptions in the entry level market and I'm not sure why, I think maybe it's credit issues with those buyers."
Be careful out there!
Disclosure: I have no positions in any stocks mentioned, but may initiate a long position in MTH over the next 72 hours. I wrote this article myself, and it expresses my own opinions. I am not receiving compensation for it (other than from Seeking Alpha). I have no business relationship with any company whose stock is mentioned in this article.