Southwest Airlines (NYSE:LUV) has posted impressive growth rates over the last ten years and has thrived as an industry low cost leader. A few faltering moments have come in the form of a down economy and the attacks on 9/11. Even in these instances, LUV recovered quickly and maintained the previously seen growth standards.
This same growth can be expected to be seen in 2013 as LUV has acquired AirTran, allowing Southwest Airlines to expand their operations. Short-term growth is therefore not in question. However, if LUV expects to maintain long-term growth they will need to consider a change in generic strategy from cost leadership to best value. Southwest has nearly exhausted the main hubs in the domestic market. This does not necessarily pose a problem for long-term growth because Southwest has built a considerable amount of value into the brand by offering customers accommodations such as: more leg room, two free checked bags, free flight cancellation, etc. Southwest's short-term growth perspectives are strong as will be illustrated in the analysis, but look for changes in the generic strategy to illicit long-term growth.
The following chart illustrates Southwest Airlines' performance over the last year in comparison to competitors.
click to enlarge images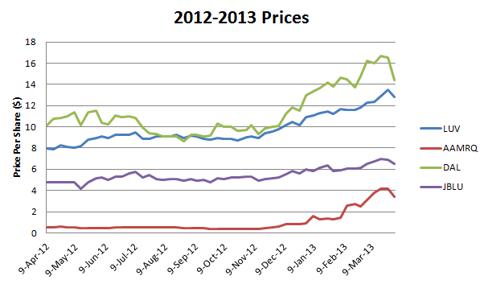 The chart above illustrates the changes in price for the airline industry throughout the last year. This chart serves as a starting point for analysis in order to generate forecasted prices for LUV (Southwest Airlines).
The following financial statements present information over the last five years for LUV that will be used to conduct analysis based on ratios and valuation techniques.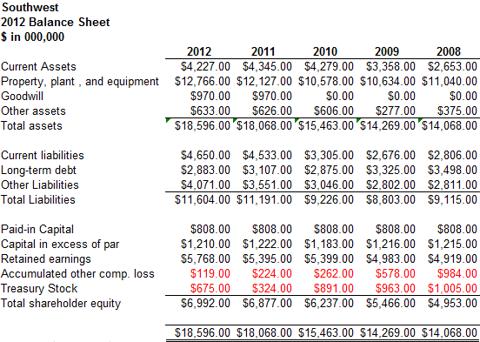 Financial Statements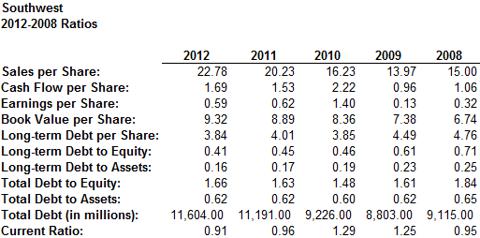 The ratios above illustrate increased efficiency in terms of the number of LUV shareholders. Sales have been steadily increasing year-over-year. It also shows a decrease in long-term debt as total debt begins to level off in relation to assets and equity. These ratios are then utilized to generate a valuation of LUV stock through P/E, price-to-book, price-to-cash flow, and price-to-sales ratios.
Valuation and Ratios

This chart takes the high and low prices from the last five years and divides them by the ratios seen in the last chart to generate the appropriate ratios. An average ratio is then calculated for each in order to account for the high and low ratios throughout the last five years. The growth rates will be represented in the next chart. The value per share was calculated in the previous chart. Combining these three elements generates a range of expected prices for each economic outlook. The final expected price combines the prices from each economic outlook with the statistical likelihood of that outlook occurring. The industry average in this chart represents present ratios. Southwest is currently beating the industry average in every ratio.
Growth Rates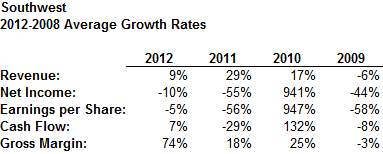 Southwest has generated impressive growth rates over the past five years. Net income, earnings per share, and cash flow have suffered due to the acquisition of AirTran Airways over the last two years. Net income and earnings per share are expected to normalize over the 2013 fiscal year. This trend is already apparent in the growth rates posted in 2012. The next section will walk through the fundamental analysis utilized to add to the range of expected prices for 2013.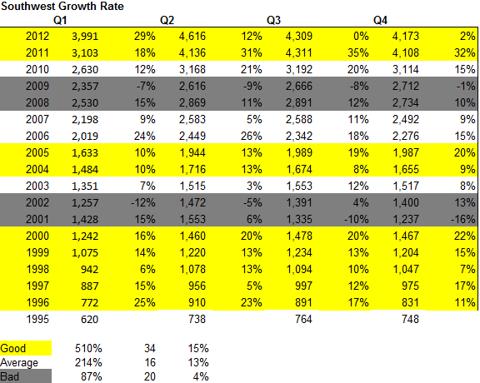 Fundamental Analysis
This chart illustrates quarterly year-over-year growth rates in terms of quarterly revenue. Each year is designated as good, bad or average. This is based on the economic outlook. A few exceptions were made. The years 2001-2002 were not necessarily poor years in terms of economic growth. However, in terms of the airline industry the years 2001-2002 represented a decrease in traveling due to concerns after the tragedy that occurred on September 11, 2001. Southwest Airlines also felt the effects of the '08-'09 recession. The years following the recession show tremendous growth as the economy began to stabilize and rebound. This growth is not likely due to enhanced performance or expanded operations, but rather individuals beginning to fly again. Quarters 2-4 in 2012 show lackluster results compared to the previous year. However, these numbers seem to be misrepresented in that the growth experienced in the previous year due to increased travel and consumer confidence in the economy created levels of growth that could not be feasibly surpassed within a year's time. These percentages will be used to forecast financial statements and ratios that will generate a range of prices similar to the previous method.

The price-book estimate, cash flow estimate and earnings per share estimate are then placed in a table. The same calculation is then utilized in terms of the statistical likelihood of the different economic outlooks to enhance the price range for LUV in 2013. This generates a range from $12.85 to $32.91.
Executive Summary
The price range established through this evaluation is as follows: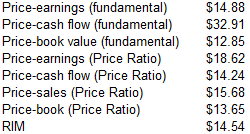 LUV can reasonably be expected to fluctuate between $12.85 and $32.91. A buy recommendation should be issued as the stock approaches $12.85 and a sell recommendation should be issued as the stock approaches $32.91. This range provides the support and resistance levels for Southwest airlines throughout 2013.
Southwest Airlines has shown impressive growth over the last ten years. The only incidents that have slowed down its progression have been unpredictable environmental causes, namely 9/11. In the past investors have been willing to pay up to $16.46 while it has dipped down to $5.01 in 2009 during the recession. The acquisition of AirTran Airways has provided Southwest with the opportunity to further expand their operations enabling the company to maintain growth rates that have been illustrated in the past. A recent report from Zacks Equity Research illustrates that Southwest has announced the ability to provide flights to and from five major locations due to this acquisition: from Charlotte to Baltimore-Washington, Chicago, Houston, and Orlando; from Flint to Baltimore-Washington, Orlando and Tampa Bay; From Portland, Maine to Baltimore-Washington; from Rochester to Baltimore-Washington, Chicago, Orlando, and Tampa Bay; from San Juan to Orlando and Tampa Bay.
Aside from these positive notes, Southwest is currently undergoing an identity crisis. An article on The Motley Fool asserts that Southwest provided the lowest cost flights only 40% of the time over the last year. Other competitors such as Frontier Airlines and Allegiant Travel have taken up the standard as low cost providers in the airline industry. Southwest has the ability to maintain its low cost status in the industry because these companies have yet to provide accessibility to rival Southwest Airlines. As these companies continue to grow the low cost strategy that has allowed Southwest to recognize impressive growth in the past may be called into question. Southwest will need to take the initiative to promote the company as a best value rather than low cost provider in the coming years. This distinction will dispel any confusion amongst the company's loyal following that has been established through a record of outstanding service.
Several catalysts within the environment that Southwest Airlines operates in could potentially change investor opinion. Uncontrollable environmental conditions have illustrated the ability to change investor confidence in the airline industry as a whole. Virtually any factor that could deter individuals from feeling comfortable about flying could negatively impact the stock value of Southwest Airlines. Southwest is currently able to maintain a generic strategy of low cost. However, the future will likely require Southwest Airlines to undertake a generic strategy of best value. The company has already built up recognition as a best value provider by providing considerable amenities to provide comfort and flexibility for its passengers. They will need to utilize the recognition in coming years to change their pricing schedules by redefining the company in terms of public opinion.
Disclosure: I have no positions in any stocks mentioned, and no plans to initiate any positions within the next 72 hours. I wrote this article myself, and it expresses my own opinions. I am not receiving compensation for it (other than from Seeking Alpha). I have no business relationship with any company whose stock is mentioned in this article.