Though the bears took a toll two weeks ago, the bulls weren't willing to yield control for two weeks in a row. That's a major victory too, considering that stocks were nearly on the brink of a significant meltdown. That's not to say a major correction is still out of the question, but the bulls at least bought themselves some time.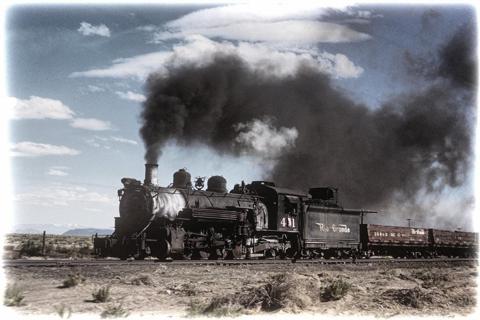 We'll look at how the scales are tipped below, right after detailing some of last week's and this week's most critical economic data.
Economic Calendar
It may not have been a very full week in terms of the amount of economic data we had to digest last week, but much of what we got was important.
On the real estate front, we got more good news than bad, and even the bad wasn't too bad. New home sales reached an annual pace of 417,000, topping estimates of 415,000, and beating March's pace of 411,000. Home prices were up a little too - by 0.7% - in addition to the 0.6% improvement in FHFA home prices for February. Non-FHFA home loan prices have been rising similarly. All told, the FHFA reports that home prices are now 7.1% higher than they were a year ago. The only disappointment (and bear in mind that's a relative term) was the NAR's existing home sales figure. The organization reported that existing home sales fell from a pace of 4.95 million in February to 4.92 million in March. That was also short of the expected pace of 5.01 million. Still, the longer-term trend is a positive one.
Durable goods orders were also weak, with or without transportation orders. Total orders without planes and automobiles fell 1.4% for March; the pros were expecting no change from February's numbers.
Of course, first quarter's GDP was the big news for last week. As it turns out, Q1 wasn't quite as strong as first thought. Last quarter, the GDP only grew at a pace of 2.5%, shy of estimates of 2.8%. It's still better than the tepid growth rate we saw in Q4, however, and it's still a decent growth rate.
Everything else is on the table below.
Economic Calendar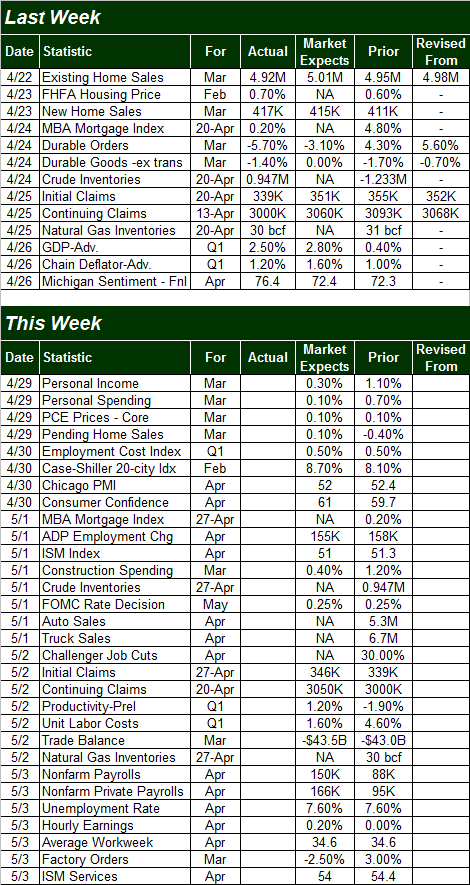 This week will dole out an almost exhausting amount of economic data. There's no way we can preview all of it. We will, however, offer some perspective on the most important pieces of data.
Tuesday: We'll hear the Conference Board's consumer confidence score for April. The Michigan Sentiment Index was up for April, falling from March's score of 78.6 to 76.4 this time around. Economists expect the Conference Board's measure to rise, from 59.7 to 61.0. Both indicators are still in long-term uptrends, and we're not worrying too much about one month's swing (for better or worse).
Consumer Confidence Scores (Michigan Sentiment and Conference Board)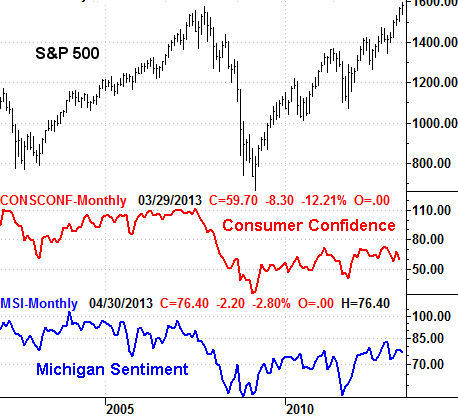 Wednesday: The ADP Employment change number is expected to show 155,000 new jobs were created in April. That's a "just ok" number, but also serves as an omen of what to expect Friday when the government figure of the same data comes out. Still, a weak number from ADP could be enough to get the sellers into action.
Friday: By far the most important day of the week (at least in terms of economic numbers), Friday is the day we hear the DOL's unemployment rate and the number of jobs created. Economists are looking for an unemployment rate of 7.6% again, and are expecting (hoping for?) 166,000 new nonfarm private payrolls. That would be a big - and much needed - jump from March's mere 95,000 new jobs. There's no room for disappointment here.
Stock Market
We're going to start this week's technical look at stocks by examining the weekly chart, as the bird's-eye view paints the bigger picture we need to understand first before diving into the details of the daily chart.
We mentioned above that the S&P 500 (NYSEARCA:SPY) (SPX) was on the cusp of a major meltdown following the big pullback two weeks ago. Specifically, the S&P 500 brushed the support line (dashed) that extends all the way back to the November low. The index bounced back in the latter part of that week, though a rebound wasn't a foregone conclusion. With last week's 26.99 point/1.7% rally, however, the S&P 500 seems to be back in full bullish mode. Take a look.
S&P 500 & VIX - Weekly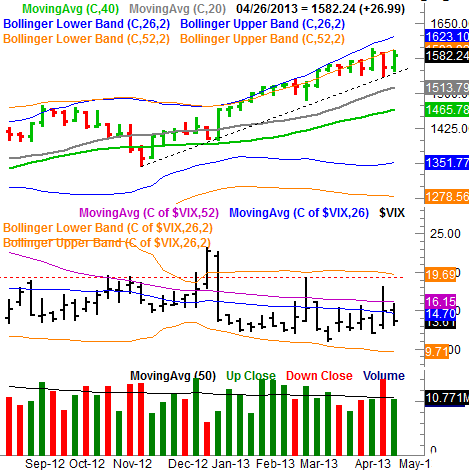 While the weekly chart is encouraging, there's still an equally-valid bearish argument. It's the monthly chart. Specifically, it's the monthly chart's resistance line (dashed) that tags the last three major highs. The third node of this line was only confirmed three weeks ago when the SPX peaked at 1597.35. Though the bulls are in the driver's seat for the time being, we know it could take a couple of weeks - and a couple of tries - for the bears to use a brush with a major resistance line as a way to start a big correction . In other words, there's still plenty of opportunity for the market to stumble into a big pullback [which would begin with a move under the support line on the weekly chart].
S&P 500 - Monthly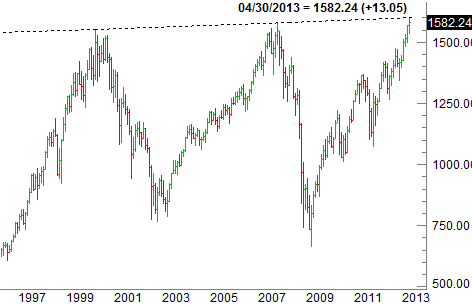 Now that we've got a feel for the bullish and bearish undertows, we can zero in on the daily chart's details…. though the daily chart may not actually add much clarity.
Two and a half weeks ago, the S&P 500 pulled back from a high of 1597, largely because it bumped into the upper 20-day and 50-day Bollinger bands. In the same way, a week and a half ago, the S&P 500 bounced up and off the 50-day moving average line. Now it's waffling in between that floor and ceiling. Although the SPX - as well as the Dow (NYSEARCA:DIA) and the NASDAQ (NASDAQ:QQQ) (NYSEARCA:IWM) - are all above their 20-day moving averages right now. That's technically bullish, but not impressive.
More than anything right now, traders aren't sure what to do. The SPX being trapped in between key levels (and seemingly content to be there) is one clue of that indecision. Another clue is the way the CBOE Volatility Index (VIX) (NYSEARCA:VXX) has gotten comfortable right in the middle of its Bollinger bands, and right on top its key moving average lines.
S&P 500 & VIX - Daily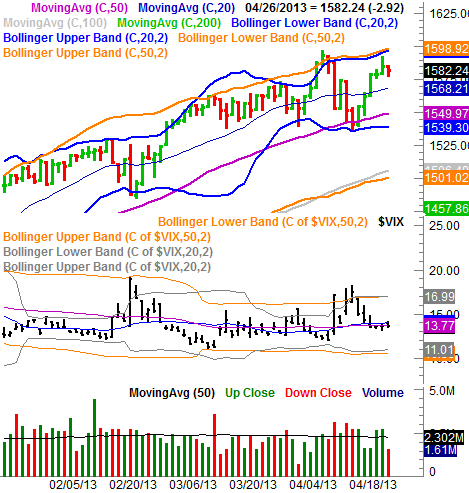 The right 'move' from here may be not making one at all. One side or the other is going to have to play their hand soon, and we'd rather wait to respond to that move rather than try and predict it. Just bear in mind, however, that there's a reason they say "Sell in May and go away."
Disclosure: I have no positions in any stocks mentioned, and no plans to initiate any positions within the next 72 hours. I wrote this article myself, and it expresses my own opinions. I am not receiving compensation for it. I have no business relationship with any company whose stock is mentioned in this article.
Additional disclosure: BigTrends.com Rapid Options Income subscribers have an open SPY options position.