If there is a reason I hear a lot for investing in IBM (NYSE:IBM) nowadays, it is the popular 'argument from authority' fallacy: "Warren Buffett owns 67 million shares. Therefore I should own the stock."
This is illogical. Although we all recognize that he is the best in the field, it is not true that Buffett always makes good investments. It is also a contradiction. Believing in Buffett this time would be against the number 1 Buffett rule of investment: never lose money. The decline in the share price since the disappointing first quarter revenue report has caused a paper net loss of more than $1B (assuming no shares have been sold recently).
I'm not going to pay attention to the amount Buffett owns at this time. In what follows I am going to develop a bear case for avoiding IBM this year, even now that it is trading at a great discount to its 52-weeks high.
(click to enlarge)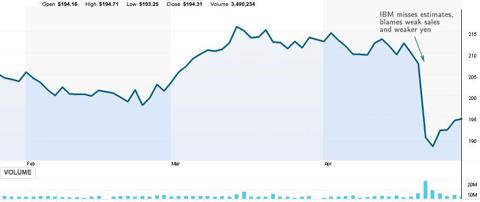 Main thesis: The full-year earnings guidance of $16.70 (which disappointed analysts, as the consensus was $16.77) that lead to a sudden share drop on April 19th is just the beginning. They reflect long-term changes in the main markets that IBM addresses: a contraction in global demand for IBM's high-end systems & hardware, and growth limits in the private cloud computing segment.
(click to enlarge)

This trend is not recent. It is causing overall revenue to decline 5% y/y. Free cash flow (FCF) also declined 200 million ($1.7 billion now versus $1.9 billion generated in the first quarter of 20112). Furthermore, FCF, which is the main determinant of long-term value in a firm, has been decreasing since 2009. What we know after the earnings call is that IBM has not been able to reverse the decreasing trend, even after the recent refresh of its System Z portfolio and the 70% revenue growth in the private cloud business.
This is very disappointing. Most of us believed that IBM would finally manage to reverse the decreasing FCF trend by focusing exactly on private clouds, the System z portfolio and Smarter planet analytics. Since IBM started to shift to these areas as early as the first quarter of 2012, the fourth quarter's revenue report was the perfect opportunity to show investors that the new focus had finally managed to reverse the trend, by giving better than expected results. After all, in this particular business segment, the longer customers use the competitor's solutions, the harder it is to catch them.
But the announcement showed IBM didn't manage to stop the decreasing FCF trend, even after investing and focusing in private clouding and analytics. Since hardware is doomed, these business are everything IBM counts with to produce consistent FCF in the future. And they are not doing well.
In the remaining part of the article I will show why I believe that the only growth engine IBM counts with is the private cloud and analytic solutions businesses. Then, I will show why I believe these are not going to perform well in the future, leaving Big Blue with no further room for growth unless it embraces a different product concept. Finally, I end the article with a valuation, showing that Big Blue is overvalued.
Fourth-Quarter 2012: It's not just a quarter's miss
If we divide the results according to IBM's core businesses, we obtain the following:
Negative figures
Hardware revenue: -13% from the year-ago quarter.

x86 Servers: -2%

Power-servers: -32%

Storage arrays: -11%
Positive figures
Mainframe revenue: +7%.

Smarter planet: + 25%

Private cloud:+ 70%
Let's start with the first group of businesses:
Hardware: We know that hardware is dead. The market is not going to grow and at the same time there is no evidence that IBM can recover competitive advantage in this field, as the company seems to be more focused on software and services nowadays.
Servers: Server revenue is also in a dangerous position. The graph shows how the market changed from 2008 through 2012, favoring the Iaas (infrastructure as a service) hosting business model (Amazon (NASDAQ:AMZN) and Rackspace (NYSE:RAX)), while leaving the server-side infrastructure business model in great trouble. At this point, the trend towards adoption of hosted Iaas as a replacement for traditional in-house server-side infrastructure can't possibly be reversed.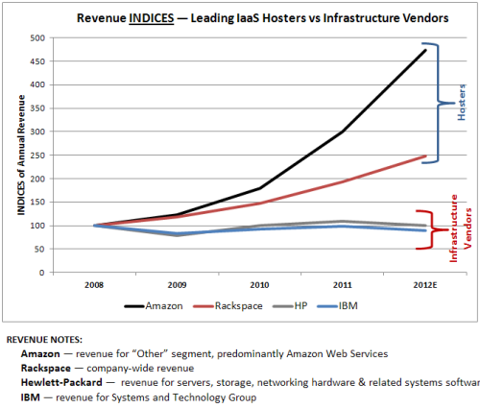 x86: With regards to the specific x86 server business, it seems that IBM is considering the possibility of fully divesting it. According to Morgan Stanley, the server business generated about $4.9 billion of the company's $15.4 billion in server sales last year. This enormous volume is due to the fact that IBM may be producing the overall market's highest volumes, at the lowest profit level; which suggests this segment is doomed. Finally, IBM has a history of aggressive shifts to areas with better growth prospects and margins. For example, the company agreed to sell off the PC business to Lenovo (OTCPK:LNVGF) at a moment where the PC still seemed attractive.
The Last Hope: Private Clouding and Smarter Planet
So far, I have showed that there are no growth signals in the first group of businesses. Let us move to the next group, which is were IBM has put all its hopes: mainframe revenue, private cloud and Smarter planet.
Mainframe (System z): This segment was expected to perform very well, in order to offset the (also expected) bad performance of the first group of services. Considering that IBM put a lot of emphasis in its System Z portfolio, a 7% grow y/y to $650 million is very disappointing. Furthermore, it seems that about $400 million in expected sales weren't closed. Why is this occurring?
System Z is a mainframe designed to complement the private cloud computing solutions. I believe that these sales were not closed because the demand for cloud computing is reaching its limit.
Private Cloud Solutions: The segment where IBM has put all its future growth hopes. This is the only business were IBM experienced outstanding growth. However, the market has showed Big Blue that it is going to take more than that to be valued in the 220s.
Considering that the first group of businesses won't grow anymore and that System Z sales performance is extremely related with private cloud implementation, it is evident that the performance of IBM in the private cloud field will ultimately shape the stock performance this year.
Unfortunately, although the future prospects of overall cloud computing look more than bright, the particular field of virtual private clouds is in a difficult position, even after experiencing a 34% growth rate in the past 2 years, as the graph shows. The reason? Too many firms are already accustomed to the "Infrastructure as a Service" or "Software as a service" versions of cloud computing. Unless there is an urgent and very important reason for doing so, no firm would consider shifting to a private cloud, due to high installation and maintenance costs.
Private cloud solutions aren't for everybody. Clients are limited to governments, financial institutions and some corporations that are willing to pay twice or three times the price they would have paid for a public cloud solution, for an additional 5% improvement in security.
(click to enlarge)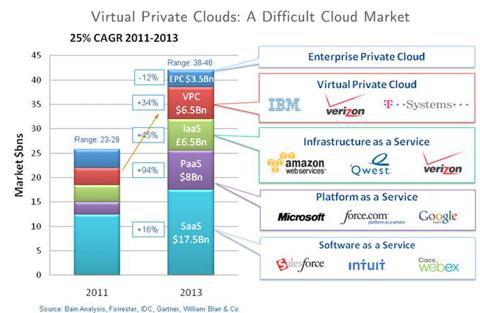 It seems, however, that these type of clients already count with a virtual private cloud. Most of them are already IBM clients. This puts IBM in a difficult situation for the next 3 quarters. The company has a great product but it is not in the right market.
The bottom line is that IBM can adapt itself to new markets, challenging conditions and paradigms. IBM knows when to divest and when to invest. It also has an enormous budget allocated to R&D. The emphasis on virtual private clouds is certainly not correct from a business perspective, but it will not destroy the firm's core value. I expect bad performance this year because there is no more room for growth left in private clouds. But as IBM shifts to a new category of services, things might get better in the long term.
Valuation
At $194 a share, IBM is overvalued. Using a DCF approach, I obtain a fair value of $162 per share if I assume that the 10 year multi-year performance average growth rate (4.4%) will not change for the next 10 years. I also assumed a 3% terminal growth rate and a 9% WACC discount rate.
If we are more optimistic and assume that for the next 10 years IBM will experience a constant 7% growth rate (which is unlikely at the moment), while keeping the same terminal growth rate, I obtain a fair value estimate of $186.50 per share, a figure much closer to the current price.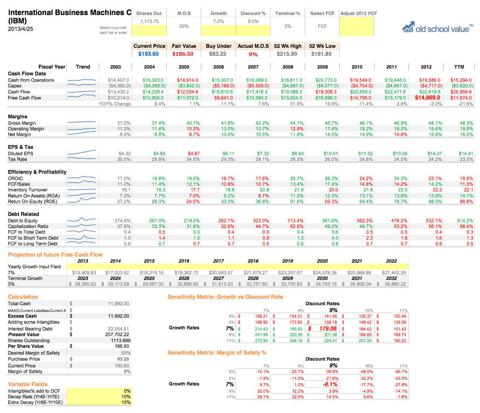 I performed a sensitivity analysis using OldSchoolValue software to know how much IBM would need to grow in the next 10 years to justify its current stock price.
Assuming the same discount rate, I estimated that IBM would need to grow approximately 8.3% y/y in the next 10 years, which is extremely optimistic, if we take into consideration the last 10 years performance average and the shrinking trend of the demand for IBM's high-end systems.
These numbers support the thesis that Berkshire Hathaway [(NYSE:BRK.A) (NYSE:BRK.B)] paid a price ($170) slightly above the real value of IBM shares ($162 in our first scenario). For more information about this topic, refer to this IBM must-read bearish article or to this valuation using Warren Buffett's "owner's earnings" model.
Final Remarks
Rate: Neutral
Price target: $162
Investment Horizon: 1 year
Uncertainty: Middle
Disclosure: I am long QCOM. I wrote this article myself, and it expresses my own opinions. I am not receiving compensation for it (other than from Seeking Alpha). I have no business relationship with any company whose stock is mentioned in this article.