As the economy begins its comeback, the utilities companies that will benefit the most are the ones whose stock prices have suffered for being located in poor housing markets and those with significant counter-party risk. These companies lack the stability an investor looks for in utilities companies during a time of economic hardship. However, as the economy begins its turn around, these investments will once again become attractive.
A company that fits the aforementioned profile is Sempra Energy (NYSE:SRE), a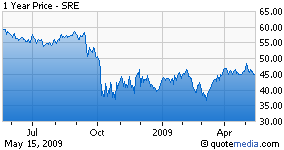 diversified gas utility company based in Southern California. Sempra has two core utility subsidiaries in Southern California Gas (SoCalGas), the largest gas utility in the United States and San Diego Gas & Electric (SDG&E), which serves 3.4 million customers in the San Diego area. Combined, these two entities comprise 60% of Sempra's revenue stream. The remaining 40% comes from its natural gas infrastructure businesses, which includes Sempra Generation and Sempra Commodities.
Sempra had a bumpy 2008. For starters, the company's stock lost over 28% of its value. One of the key drivers behind this decline was Sempra's location in Southern California, which proved to be one of the hardest hit housing markets in the United States. A poor housing market tends to accompany abundant foreclosures, which is problematic in terms of electricity demand for a utility company servicing that area.
In addition, Sempra has a unique joint venture with the Royal Bank of Scotland (NYSE:RBS), in which essentially RBS provides Sempra the capital to operate its commodities trading business. On October 6, 2008, rumors that RBS might be nationalized surfaced, putting into question the bank's capital commitment to Sempra. Sempra's stock was down over 16% on this day alone.
However, these same tribulations will be the basis for Sempra's comeback when the economy turns around. On February 26, 2009, RBS reaffirmed its capital commitment to Sempra, as the UK Financial Services Authority determined that this capital commitment was of regulatory status. This means that RBS's capital commitment to Sempra is backed by the UK Government. On the heels of this backing, Sempra has come out and projected that its commodities joint venture with RBS will realize a 26% return on invested capital and bottom line increases in a range of 25-33% from 2009 to 2013.
In addition, Sempra reaffirmed its 2009 company-wide earnings guidance of $4.35 to $4.60 per share given this more transparent perspective on it's revenue stream. In summation, Sempra's joint venture with RBS is safe and will only be enhanced if an economic turnaround helps to strengthen the bank's capital position.
Furthermore, the Southern California housing market has seen a deceleration in its decline. March home sales were up over 27% from February levels. Price levels did remain the same however, possibly indicating that home prices have yet to settle at a bottom. A large majority of these home sales were believed to be foreclosure resales. An economic turnaround will do nothing but help improve Southern California's housing market, as people will have greater access to credit and more spending power. As SoCal's housing market comes back, so will an increase in electricity consumption, making Sempra's regulated entities more profitable.
Along with the the positive outlook for the RBS venture and an improvement in SoCal's housing market, Sempra has an extensive project portfolio that will fuel the company's long term growth. Some of these projects include:
Gulf Coast Expansions – Sempra has made three separate major investments in the Gulf Coast region of the United States. With these investments, Sempra has given itself the infrastructure and supply chain capabilities to push natural gas and LNG from the Gulf Coast to the Northeast and Southeast regions on the United States. The three investments are the Cameron LNG storage facility, which has 1.5 Bcf storage capacity, the $250 million Liberty Storage Facility and the purchase of EnergySouth, two large natural gas facilities with 57 Bcf capacity. The EnergySouth purchase alone could potentially add $.30/share to Sempra's annual earnings.
La Rumerose Wind Project – The La Rumerose wind plant is one of Sempra's green initiatives. The plant is a 20-year project based in Northern Mexico that has the potential to supply Southern California and Northern Mexico with 1000 MW of wind energy.
Sunrise Powerlink – The Sunrise Powerlink, which could potentially add $0.32/share in earnings, is a renewable energy investment. Specifically, it will bring wind, geothermal, and solar energy into SDG&E and SoCalGas's distribution portfolio.
Energia Azul LNG Terminal/Bajanorte Expansion – The Energia Azul LNG Terminal is the first LNG storage facility on the west coast of North America. The terminal, located in Mexico, is being built by Sempra in order to supply SDG&E with LNG to be distributed throughout Southern California. The Bajanorte Expansion is an addition to the Bajanorte, a natural gas pipeline that runs through northern Mexico. The expansion brings the LNG from the Energia Azul LNG Terminal though Mexico, ultimately getting delivered to SDG&E.
The last six weeks in the equities markets have shown us glimpses of which stocks will benefit from a bull market. Since March 1, 2009, Sempra has seen its stock appreciate 15.76%, while the utilities spider (NYSEARCA:XLU) has returned just a little over 5% in that same time frame. This is a terrific relative out-performance of over 10%. Expect more of the same from this California gem if the economy continues to show improvement.
- T.J. Smith
Disclosure: None.