BP's Deepwater Horizon Oil Spill is "considered the largest accidental marine oil spill in the history of the petroleum industry." The thing is, Mr. Market is not a history major and doesn't reward brownie points for jeopardy factoids. Yes, the spill was devastating to the environment, let alone BP's financials… but this is old news. As they say, "what doesn't kill you, can only make you stronger," and this certainly seems to apply to current state of BP.
To be sure, the oil spill is not entirely behind the company as some of the fine points of the litigation regarding the spill are still being argued over in the courts. Nonetheless, BP has already set aside a trust fund of $20B to cover the remaining costs/penalties, of which $14B is still available for the looming Clean Water Act fines.
Since the spill, BP has slimmed down its operations, selling off some of its stake/activities in Canada, Venezuela, Vietnam, Namibia, Botswana, Zambia, Tanzania, the North Sea, Malawi, as well as some parts of its business in the United States and even in the United Kingdom. Overall these sales brought in over $30B. Besides having the effect of relegating BP to the position of 3rd largest player in the Big Oil field, these sales have allowed BP to refocus its efforts and efficiency on the core aspects of its business. Specifically, those aspects of its business that generate revenue. For example, whereas BP both historically as well as currently, at least nominally, prides itself on its alternative energy interests, in the years since the spill, BP has departed from the solar energy market and intends to sell off their wind energy units in the US.
In summary, I will present some facts which demonstrate that the negative market sentiment toward BP due to their potential negligence (I know this a loaded word, particularly in light of some of the ongoing legal debate) in the oil spill incident seems to be having an irrational effect on BP's stock price, thus making it an attractive entry point for a value oriented investor. And for the cherry on top, BP offers a robust (and growing?) 5% dividend.
Chart
Over the last two and half years since the spill, BP's stock price has been in a holding pattern. When compared with Exxon Mobil (NYSE:XOM) on the other hand, which in the same time frame has appreciated in excess of 30%, this is even more noteworthy. See the chart below. In other words, while Big Oil has been making nice and steady progress (along with the whole market for that matter), has been stuck in the sand. While no one can be trusted to know when these divergent trends will have some "regression to the mean," it certainly seems less plausible that they will continue to perpetuate longer. This is especially the case as we put the oil spill further and further into our rear view mirror, with the passing of time.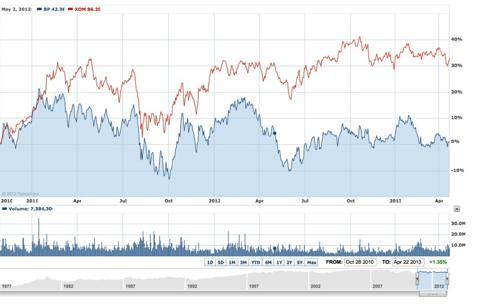 Valuation
BP has a forward P/E ratio of 8.32, which compares favorably when compared with XOM's forward P/E ratio of 10.68, and Chevron's (NYSE:CVX) forward P/E ratio of 9.58. Moreover, BP's Price/Book ratio is a staggering 1.14! (a screaming value by industry standards). On the other hand, XOM has a Price/Book ratio of 2.39, while CVX has a Price/Book value of 1.69.
Dividend
BP's current dividend yield is a 5.1.% While Big Oil is known to feature a healthy dividend, BP's dividend yield healthily surpasses that of XOM and CVX whose yields are 2.6%, 3.1% respectively. Moreover, since reinstating the dividend payment in Feb 2011, in the past two years they have twice increased the dividend payment amount by 14% and 12.5% respectively.
Recommendation.
To be fair, in considering BP an investor must be aware that as BP is still involved in litigation regarding its negligence in the oil spill incident. Accordingly, for the risk averse investor this potential litigation risk may justly scare you away from this stock. On the other hand, the litigation risk notwithstanding, I believe a fair risk/reward calculation for BP seems to indicate that BP is a strong buy at its current levels. Here is a nice article, discussing the remaining lawsuit risks for BP.
Disclosure: I am long BP. I wrote this article myself, and it expresses my own opinions. I am not receiving compensation for it (other than from Seeking Alpha). I have no business relationship with any company whose stock is mentioned in this article.