Investing in high-quality dividend equities is a popular strategy to combat an increasingly uncertain stock market. Many investors follow the axiom of "sell in May," but if you hold your dividend stocks, you can still generate income, even when the market is volatile. The Dow rebounded nicely from a very poor week, despite the fake tweet crash that temporarily crashed the market. The combination of political and economic indecisiveness is resulting in a flight to high quality US equities. Most companies with high yields have strong financial positions that make them attractive to investors. Additionally, these companies usually have high cash flows from operations, one of the most important factors in a prospective investment. While some investors are buying Italian ten-year bonds yielding four percent, I suggest considering relatively safe American equities with comparable, or higher, yields.
This week six candidates have been analyzed below based upon SA readership criteria. The majority of the companies are energy companies including oil/gas firms and utilities. Market capitalizations are higher than usual this week with only four equities in the lowest bracket. I prefer that my ex-dividend candidates have market caps greater than five billion dollars, but that is not a requirement, especially with smaller financial services. The ex-dividend dates are spread throughout the week and at least the company is trading ex-dividend each day.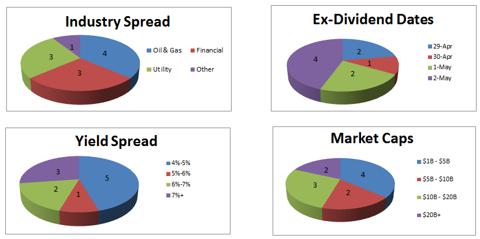 Click to enlarge
For details of the strategy and my screener details, please consult my methodology on the topic (last modified 4/7/2013). In brief, the screen focuses on relative stable equities with a concentration on liquid companies at affordable valuations. This is summarized below:
Dividend Yield ≥ 4.0%
Ex-Dividend Date = Next Week
Market Capitalization ≥ $1B
P/E Ratio: 0-20
Institutional Ownership ≥ 15%
Ideally Modest YTD S&P 500 Underperformance
Minimal European Exposure
After applying this screen, I arrived at the equities discussed below. Depending on your belief in the investment hypothesis, you may decide to hold long enough for the dividend or to hold for long term. The information presented below should simply be a starting point for further equity research in consultation with your professional financial advisor before making an investment decision. My goal is to present new companies to you and provide a brief overview of their recent developments; this should not be considered a substitute for your own due diligence.
Legacy Reserves LP (NASDAQ:LGCY): 8.23% Yield; Ex-Dividend 5/2
Legacy Reserves LP ("Legacy") is an oil and natural gas limited Master Limited Partnership ("MLP") that specializes in the acquisition and development of these key resources in the United States. Legacy operates primarily in the Permian Basin in Texas, which it calls its "home." Oil production in the basin has increased nearly 30% since January 2011 and it is currently one of the largest US onshore sources of oil. Aside from organic growth, Legacy has expanded operations via acquisitions. Recently, the partnership has been averaging approximately $200M in deals per year; however, in 2012 the partnership closed on $635M in deals. The bulk of this amount was a $520M purchase of assets from Concho Resources (NYSE:CXO), also in the Permian Basin.
Net income/(loss) has been very volatile for the past six years ranging from a low of ($92.8M) to a high of $158.2M. Adjusted EBITDA has also fluctuated, but distributable cash flow has generally exhibited a positive trend. 2012 saw net income, adjusted EBITDA, and distributable cash flows all dip by approximately five percent. Earnings per share are forecasted to increase 5.6% in the next year but contract slightly over the next five years.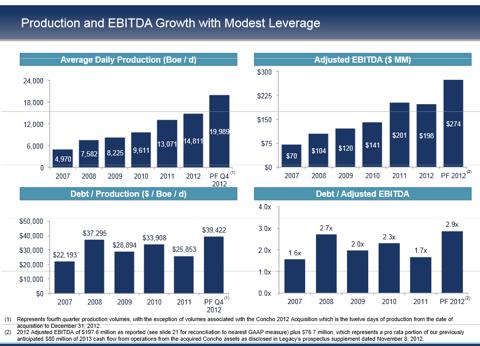 Click to enlarge
(Source: Legacy April 2013 Oil and Gas Investment Symposum Presentation)
The dividend stagnated for years but has been slowly increasing. Since the initial public offering, the distribution has increased annually by 3.6% and has slightly outgrown the rate of inflation. The yield has inched higher recently and has found a floor around eight percent. The stock is up 19% in 2013 thus far, which has pushed the yield down from ten percent to eight percent. There are both positive and negative factors in play for Legacy, but the yield is high enough to merit consideration for dividend capturing purposes.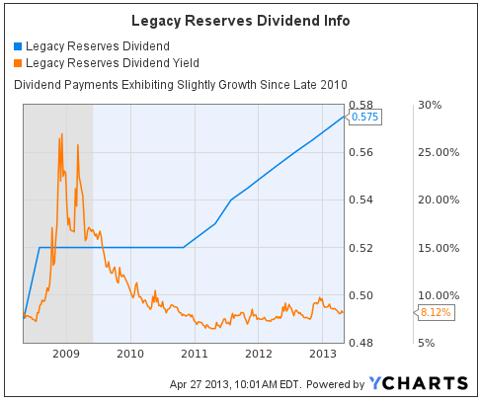 Click to enlarge
New York Community Bancorp, Inc. (NYCB): 7.47% Yield; Ex-Dividend 5/3
NYCB primarily engages in traditional banking: receiving deposits and originating loans. The stock was a strong performer in 2012 but has slumped 6.7% in the past month. The stock appreciated sharply in March when it was rumored to be a potential buyer of OneWest Bank, the former IndyMac. Optimism for the stock has tempered and the stock has retreated to around $13. I continue to recommend NYCB because it has a very sleepy business model compared with underwriting, trading, etc. that have recently caused volatility for other financial stocks. Essentially this is a bank in the traditional sense of the word and offers a robust dividend to compensate patient investors. Earnings in 2012 continue to impress in this environment and important negative metrics such as past-due (non-performing) loans have been declining. Earnings have slipped in certain quarters but overall performance remains strong. First quarter 2013 results continue to tell a strong story and the percentages of non-performing loans are declining across the board. The allowance for losses on non-covered loans percentage increased sharply this quarter. Management stated that:

Click to enlarge
In addition to being a solid company, NYB is always an important barometer to follow because it provides insight into the broader real estate market. Note that the company changed its ticker symbol back to logical 'NYCB' in November 2012, which may explain why charts and other prior period information appear incomplete depending on your data source.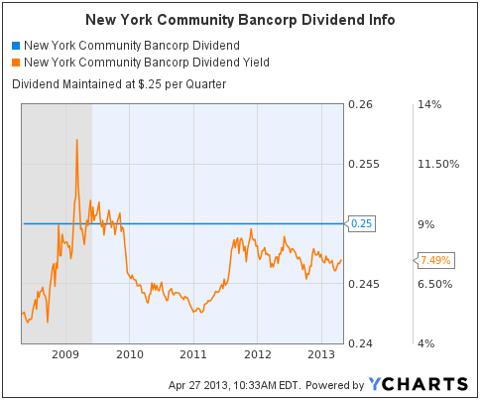 Click to enlarge
Energy Transfer Partners LP (ETP): 7.31% Yield; Ex-Dividend 5/2
Energy Transfer Partners LP is an MLP that operates approximately 70,000 miles of natural gas, natural gas liquids (NGL), refined products, and crude oil pipelines throughout the Southern and Eastern United States. ETP is a unique partnership because it is somewhat uncommon to find one pipeline operator that specializes in so many different products. ETP has been active recently in diversifying its operations, and there are currently three other publicly traded partnerships in the Energy Transfer family of operations. Management admits that the organization structure has gotten complex and is less than optimal. The objective in the upcoming years will be on realignment and optimization. For example, operational assets will likely be moved from the general partner to ETP in the next year or two.
As you can see from the chart below, ETP changed its profile dramatically in 2012 as the new crude/refined operations account for almost 25 percent of adjusted EBIDTA. Interstate is also forecast to rise by approximately 15 percent with intrastate declining 20 percent. Propane operations were primarily divested to AmeriGas Partners. Unlike most MLPs, ELP does not hedge commodity prices far out into the future. As of December 2012, only 16 percent of intrastate fuel was hedged and no NGL hedges were utilized. This risk is mitigated due to the use of fee-based contracts that are largely independent of commodity price movements.
(Source: ETP Presentation at Wells Fargo Securities 11th Annual Pipeline, MLP, and Energy Symposium 12/4/12)
Net income through the twelve months ended 9/30/12 is twice as high as comparable 2011 net income due to the deconsolidation of Propane Business. Revenue is down approximately $1B, but 90 percent of the decline was due to the propane business. Despite the $1B decline in revenue, operating income dropped by only $70M. Due to the large non-recurring gain, prior period comparisons are unreliable but non-GAAP distributable cash flows have been over $275M for each of the past three quarters and adjusted EBITDA continues to rise. Overall I believe Energy Transfer Partners is pursuing a very strong diversification strategy and profit margins should improve in the next two years based upon consolidation synergies. Analysts are forecasting 10.9% EPS growth in the next year but an overall 14.3% contraction in the next five years. As mentioned, the cost savings should help near-term results, but there are longer-term headwinds that must be considered. The yield has generally held between 7% and 8.5% in the past year, thus is currently trading near the low end of the range.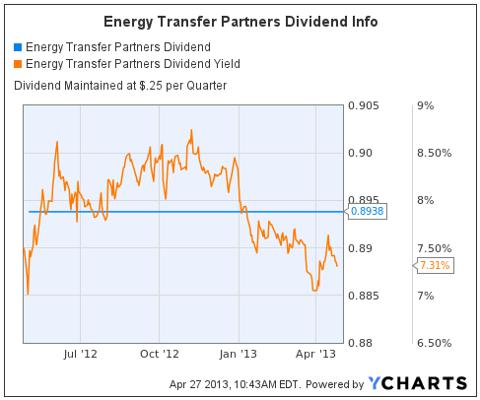 Click to enlarge
FirstEnergy Corp. (FE): 4.75% Yield; Ex-Dividend 5/3
FirstEnergy is a diversified, regulated energy company that services six million customers in the Mid-Atlantic United States. FirstEnergy has a low return on equity (5.8%), even for the utility sector but is one of the few utility companies with recent revenue growth. FirstEnergy was hit decently hard by Hurricane Sandy but fortunately most of FirstEnergy's customers were not in the disaster region. Damage estimates are around $500M, which essentially wipes out an entire quarter of net income.
The stock has jumped from $42 to $46.48 in less than one month, which has pushed the P/E higher and the yield sharply lower. When I last covered FirstEnergy in February, the yield was approaching 5.5% (whenever a utility company has a yield in the ballpark of 5.5 percent it starts to grab my attention) but now it has slumped back down to 4.73%. Based on its low RoE mentioned above, I always am cautious with FirstEnergy. In February I recommended going long solely because the stock was so beaten-up and the stock has had a solid ~16% return since that time. The forward P/E is still modest at 15.44 and the company continues to generate strong cash flows from operations so I am not overly worried about short-term fluctuations in performance but I would wait for a pullback as I have not seen any dramatic news to justify the 12% appreciation this quarter.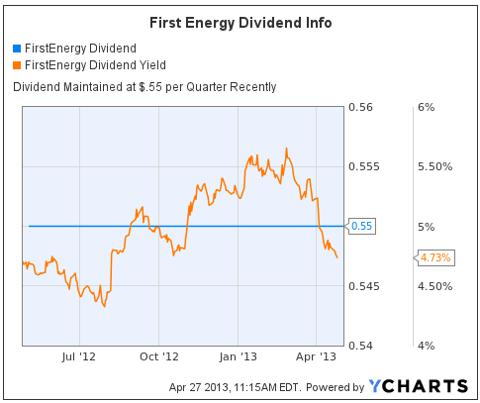 Click to enlarge
The Southern Company (SO): 4.22% Yield; Ex-Dividend 5/2
The Southern Company is a utility company with more than four million customers in the Midwest. The Southern Company is unique because it is still dedicated to nuclear energy and is proactive in trying to adapt to the realities of the energy market. This is one of my preferred utility companies and it is affordable with a forward P/E around 16 but that metric has been rising, as discussed below. Todd Johnson has an extremely detailed article that breaks down the company's recent performance. The financial results have deteriorated recently, but this is still a solid company that is worth considering for its stable yield.
The Southern Company reported first quarter 2013 earnings last week that were mixed: costs of a new plant were higher than expected but revenue experienced a very strong eight percent year-over-year increase. Fortunately it appears that most of the expenses associated with the new coal plant have been baked into the stock as the stock is still trading less than two percent from its 52-week high.
This month both Barclays and Deutsche Bank increased their price targets to $51 and $48, respectively. The stock is up over 13% this year and is not nearly as cheap as it was earlier in the year. I continue to like the Southern Company for dividend capturing but this week I would be more careful than normal given the earnings miss and high valuation. Furthermore, the yield is near its five-year low and there may not be as much for the stock at this level.
Click to enlarge
Plains All American Pipeline, L.P. (PAA): 4.00% Yield; Ex-Dividend 5/1
Plains All American is an oil and well MLP servicer that specializes in the transportation and storage of refined products. The business model is similar to the other pipeline companies discussed above; however, PAA focuses more on petroleum products. PAA is one of the largest players in the industry while still trading at an industry average PE with a respectable yield. 70% of cash flows are fee-based which results in a more predictable distribution policy for the firm. From 2001 to 2012 adjusted EBITDA grew at a 30% CAGR as the firm was active with acquisitions but such growth has become unsustainable as the company became larger. The company still has over $5B in growth capital invested in the past two years with another $1.1B planned in 2013, so this growth story is far from over.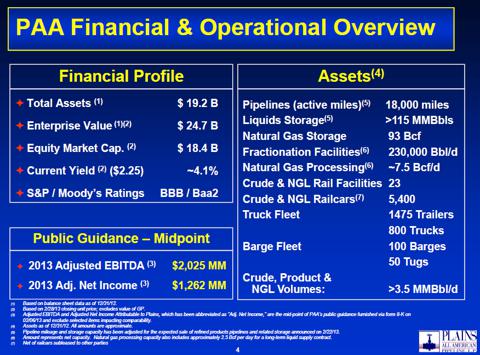 Click to enlarge
(Source: March 2013 Investor Presentation)
The company has been one of the best performers recently and is up almost 50% in the past year. 2013 has been full of positive analyst reports and the stock is now trading near the consensus analyst opinion of $57. Unfortunately for us dividend investors, this is another stock that is trading close to its high and the easy profits have already been earned.

Click to enlarge
(Source: Finviz.com)
The yield and dividend have converged as the yield continues to be pushed down the stock's appreciation, despite the solid growth exhibited over the past two years in particular. Plains All American is right on the cusp of being a potential dividend play, but ideally I would like to see the stock to pull back close to ten percent to have a higher margin of safety built in.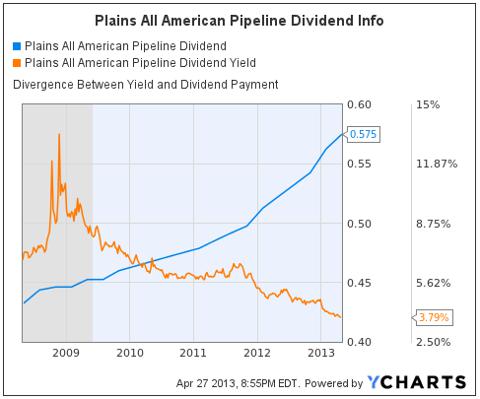 Click to enlarge
The information presented has been summarized below. I make no guarantees regarding the information in the chart as industry classifications and yield calculations are frequently imperfect. Orange and green represent "avoid" and "consider" classifications, respectively.

Click to enlarge
Please refer to profile page for disclaimers.
Disclosure: I have no positions in any stocks mentioned, and no plans to initiate any positions within the next 72 hours. I wrote this article myself, and it expresses my own opinions. I am not receiving compensation for it (other than from Seeking Alpha). I have no business relationship with any company whose stock is mentioned in this article.
Additional disclosure: Please refer to profile page for disclaimers.