Summary
The market looked fairly solid this past week, rising on the back of decent housing data and earnings. That rise came one week after the market showed some weakness on the back of weak data for March. The up and down movement of the market is showing that it has a solid floor below it with good support from the Fed and solid momentum. At the same time, weaker data and how extended this market is right now causes concern for further upside. The market appears to be fairly range bound for those reasons. The market has a VERY busy week, so we could see a break of support or resistance if a lot of news/data goes in one direction. At the same time, such a bevy of information could mean that the market moves more flat overall with volatile moves in between.
Chart Overview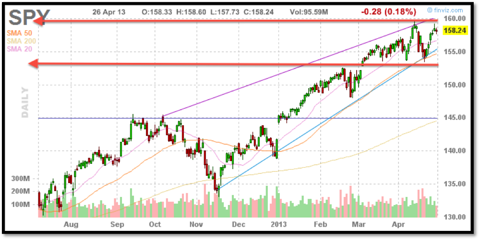 As we can see from the chart above, the market is fairly range bound right now between 1525 - 1590 on the SPY. That range is because of the situation we mentioned in the "Summary." The triple test of the bottom and double top test has shown some strong lines of support/resistance. It will take a fairly strong week of poor data/news/earnings to break support and vice versa for positive to break that upside. We look for that range to hold for several weeks through mid-May.
Economic Data
| | | | |
| --- | --- | --- | --- |
| Date | Data Report | Market Expectations | Previous Report |
| April 29 | Personal Income - March | 0.3% | 1.1% |
| April 29 | Personal Spending - March | 0.1% | 0.7% |
| April 29 | Pending Home Sales - March | 0.1% | -0.4% |
| April 30 | Case-Shiller Index - February | 8.7% | 8.1% |
| April 30 | Chicago PMI - April | 52.0 | 52.4 |
| April 30 | Consumer Confidence - April | 61.0 | 59.7 |
| May 1 | ADP Employment Change - April | 155K | 158K |
| May 1 | ISM Index - April | 51.0 | 51.3 |
| May 1 | Construction Spending - March | 0.4% | 1.2% |
| May 1 | Auto/Truck Sales - April | N/A | 5.3M/6.7M |
| May 2 | Challenger Job Cuts - April | N/A | 30% |
| May 2 | Initial Claims - April 27 | 346K | 339K |
| May 2 | Trade Balance - March | -$43.5B | -$43.0B |
| May 3 | Nonfarm Payrolls - April | 150K | 88K |
| May 3 | Unemployment Rate - April | 7.6% | 7.6% |
| May 3 | Factory Orders - March | -2.5% | 3.0% |
| May 3 | ISM Services - April | 54.0 | 54.4 |
It is an extremely busy week of economic data, and the market will likely be made or broken on these reports. The key reports to watch this week are going to be Consumer Confidence, ADP Employment, ISM Index, and Nonfarm Payrolls. The reports that focus on April will be what is important to the market as the story for March was already written. Consumer Confidence is supposed to rebound in April. If it does not, the market could suffer. Employment data for April will also be fairly important, as last month was so weak. Finally, ISM needs to stay strong in April as it's supposed to decline month/month. Any reading below 50 would mean a contraction for the market, which is not positive.
Foreign Markets
Outside of the USA, Europe and Asia will likely take a backseat with data, earnings, and the Fed all on the docket for the week, but there are some key things to watch this week. The most important market moment is the Thursday ECB report on rates. Many are speculating that the ECB may cut rates, which helped European markets rally strongly last week. If they do cut borrowing rates, it would help European markets and drop the euro. Strength in Europe would definitely help American markets, but the strength in the dollar would hurt commodities. Additionally, we should be watching Tuesday's Germany/Italian unemployment information, Wednesday's Chinese Manufacturing PMI, and Thursday's HSBC Manufacturing PMI.
Earnings
| | |
| --- | --- |
| Date | Key Company |
| April 29 | Hartford Financial (NYSE:HIG) |
| April 29 | Newmont Mining (NYSE:NEM) |
| April 30 | Pfizer (NYSE:PFE) |
| April 30 | Sirius XM (NASDAQ:SIRI) |
| April 30 | Valero (NYSE:VLO) |
| May 1 | Chesapeake (NYSE:CHK) |
| May 1 | Comcast (NASDAQ:CMCSA) |
| May 1 | Merck (NYSE:MRK) |
| May 1 | Time Warner (NYSE:TWX) |
| May 1 | Archer Daniels Midland (NYSE:ADM) |
| May 1 | Facebook (NASDAQ:FB) |
| May 1 | Seagate Tech (NASDAQ:STX) |
| May 2 | General Motors (NYSE:GM) |
| May 2 | American International (NYSE:AIG) |
Lots of key reports to watch this week, but the market will mostly be reacting to other data and news that develops. The earnings sentiment has mostly been set for the market, and it's been a mixed season. With a lot of reports already out, only large surprises will really move the market. The key reports to pay attention to are PFE, SIRI, CHK, CMCSA, MRK, FB, and GM. If those reports do not do well, it would definitely give the market some weakness.
Fed Outlook
The Federal Reserve will play a crucial role in the market this week with the FOMC Rate Decision as well as Monday's Dallas Fed report. The Fed is not expected to adjust the rate, but the report always brings attention to the Fed. The more important question on everyone's mind will be the Fed's quantitative easing. As soon as the Fed signals an end to the plan, the market will definitely start to weaken. If there is no change, the Fed continues to liquidate the market and provide a floor to the market. Currently, Fed Minutes have shown no quit to QE, so any change to current plans would be a major market moment. No change, though, likely provides little upside, so it's definitely an issue of potential downside versus lack of immediate effect.
The market has a big week ahead of it. If all goes well with April data, the ECB rate cut, and Fed, the market has a lot of potential upside. If things are weak with April data, the ECB does not cut its rate, and the Fed signals an end to QE, we can kiss support goodbye. It will be a volatile weak with lots of headlines risk.
Stocks To Trade
Ticker: TripAdvisor (NASDAQ:TRIP)
Analysis: One stock to watch this week will be TripAdvisor. The travel review website looks quite enticing to start to break out to the upside. We believe the company has a very enticing look heading into earnings along with near-term catalysts. The company is expected to see around 21-22% earnings and revenue growth in this coming quarterly report that is due out May 7. We expect to see a lot of potential upside into that report and beyond. TRIP is seeing a lot of positive growth from its online website group of travel companies, and what we like about TRIP is that we believe it has started to build an economic moat through its large acquisition moves that have taken out a lot of competition. The company has about twenty websites under its umbrella. The company, in the last year, for example has seen a 50% year/year review and opinion level to over 100M. Further, a 10%+ short float means that TRIP could see a "short squeeze" into and out of earnings.
One of the reasons to avoid TRIP has been its large P/E and valuations. With a P/E nearing on 40, many investors see the stock as overvalued. Yet, with growth of 20% per year, that valuation is enticing. The future P/E for TRIP is just under 25, which is enticing for a high-growth name. That P/E will continue to grow until signs that TRIP's growth start to dwindle. We do not see that happening into earnings, and we believe that earnings will be very positive. What excites us about TRIP's potential is that the company has only 10% market penetration into travel review. According to Trefis, the company could see 120M users by 2017. Every new user is more money for the company as advertisements become more expensive and more users means more revenue from third-part sites that use TRIP for hotel rentals and vacation packages.
Look for the stock to breakout if it can get over $55.
Buy Point: $55
Target: $57.50 before earnings
Ticker: Apple (NASDAQ:AAPL)
After the latest round of earnings for Apple, things do not look worse, and for this beleaguered stock, that is a plus. The latest round of earnings showed us what was expected: weakening margins from a larger mix of mini iPads, low expectations (as AAPL always does), and lack of fireworks or mention of new products. The company also increased its dividend and will start a share buyback plan, which were both expected as well. One point of their earnings, though, was not as expected and gave us reason to be quite excited about AAPL. The company noted that they are going to start borrowing. The plan to start returning cash to shareholders is tough to do if the company plans to bring back money that is sitting overseas (around $100B). The company would be taxed on that money. Therefore, the company wants to borrow money to increase money to shareholders and utilize its cash.
We believe that this move makes the company shareholder friendly for the long-term as well as not putting pressure on the company when it brings cash back into the states. With the company increasing its dividend 15% and raising its share buyback plan to $60B, the company can attract new investor classes. Dividend investors will be attracted by the company's new 3% dividend yield, up from 2.5%. Additionally, the $60B buyback plan will reduce shares outstanding from 938M to 840M. That move alone takes the current P/E from 10 to 9, reducing it by about 10%. That move should help attract value investors that see solid growth, strong cash, and a pipeline of products that make AAPL an attractive 2HFY13 stock. A new iPhone, iPad, and iMac should release in the second half of the year.
A great way to play AAPL is to go long the stock, but we also like complementing that with an options spread. That spread can give us exposure to a drop in Apple to own at a lower price but also makes us money if AAAPL stays above a certain level. The spread we like is 390/385, which is offering about 12% in gains for May18 expiration.
Trade: AAPL, May18, 390/385 Bull Put Spread
Max Gain: 12%
Ticker: Abercrombie & Fitch (NYSE:ANF)
One stock that we are looking at with a bearish tinge is ANF. The teen retailer reports earnings in just over two weeks, and we would be cautious into and out of that report. ANF is expected to report a slight rise in revenue of about 2-3% in line with GDP growth but still see a loss in the quarter. While the February - April quarter is the weakest for retailers, we are cautious of discretionary companies due to the sequestration and March spending drop. Consumer spending for March comes out on Monday, and we believe that the report could be a confirmation of what a lot of other retailers like Wal-Mart (NYSE:WMT) and Target (NYSE:TGT) have noted about March.
A lot of potential for ANF has been noted due to plans for 20 international Hollister stores being opened, but we are not sold on this. While a move internationally makes sense, 20 stores does not provide the type of growth potential to match the company's 15% EPS growth per year plans. 20 stores could potentially bring about a strong international presence for Hollister in five to ten years. We believe expectations off this news are just too high. The company is not expensive in share price with a P/E at 16 and price/sales at 0.8, but we do not see this earnings report for Q1 as providing a strong catalyst for shares. A macro issue we see with ANF is that bricks 'n mortar stores are continuing to become less influential in the retail world. Online sales continue to grow, and while online sales should grow for ANF, a lot of the potential may appears to be already baked into the cake. As Forbes noted:
We currently forecast Abercrombie's direct-to-consumer revenues to reach somewhere around $1.6 to $1.7 billion by the end of our forecast period. However, consider a scenario where growth in international markets picks up, Abercrombie outperforms its peers with the right product mix and marketing and online retail sales in the U.S. grow faster than what we forecast. If this drives direct-to-consumer revenues to $1.9 billion by the end of our forecast period, there can be 10% upside to our price estimate. On the flip side, if competition becomes exceedingly fierce online, economic growth remains sluggish and Abercrombie continues to battle inventory issues that limit revenues to $1.4 billion, there can be 10% downside.
ANF has lagged the market over the past quarter, and we believe that shares could see correcting in a flat market even. The $46 level is the place to watch for shorting.
Trade: ANF, Short
Targets: $43, $40
Ticker: Coca-Cola (NYSE:KO)
We continue to like KO very much in this market, and we actually upped our price target on the stock to $59 for the next twelve months. We believe that the stock has great upside moving forward due to increases in profitability margins and decent value seen in their 18 future P/E and 2.5 price/book. We predict the company will outperform its current valuation over the 2013 fiscal year. One of the catalysts that can spark this growth is a new product, Caffeine Free Coke Zero, that KO recently announced will launch mid-July.
In a recent press release, KO announced that this summer they will be offering a caffeine free version of Coke Zero. This is an extension of one of the best-selling sparkling beverages on the market. Stuart Kronague, Head of Sparkling, Coca-Cola North America Group stated, "Caffeine-free products are growing in popularity, making up nearly 30 percent of all sparkling beverage sales in the U.S. By introducing Caffeine Free Coke Zero, we're giving fans exactly what they want, making the brand accessible for enjoyment all day along". Coke Zero has become visible to the public through many different marketing initiatives including sponsorship of the 2013 NCAA Men's Final Four and title co-sponsorship of ESPN's College GameDay. This platform will give marketers endless opportunities in promoting Caffeine Free Coke Zero. This new product will be available nationwide mid-July and will be available coast to coast in August. KO will be offering Caffeine Free Coke Zero in 12-packs of 12-ounce cans and 2-liter bottles as well as sampling opportunities for consumers.
KO is currently valued with a P/E of 20.0 and a future P/E of 18.2. Compared to the industry average, 18.9, KO is a little more highly valued compared to the market but when we compare to leading competitors later in the article we will find that KO is overall undervalued at 20.0. Looking at KO's key ratios like ROA, ROE, and ROIC in comparison with market competitors will give us a good idea of this company's performance against the others. KO reported ROA at 10.9%, ROE at 28.0%, and ROIC at 13.9%. PepsiCo (NYSE:PEP), one of KO's market competitors, reported their ROA at 8.4%, their ROE at 28.7%, and their ROIC at 11.2%. Another competitor, Monster Beverage (NASDAQ:MNST), reported ROA at 28.3%, ROE at 41.9%, and ROIC at 41.9% as well. Compared to these two companies KO finds itself between the competitors. Altogether KO has strong key ratios and is predicted to grow in the coming months.
Disclosure: I have no positions in any stocks mentioned, and no plans to initiate any positions within the next 72 hours.
Business relationship disclosure: The Oxen Group is a team of analysts. This article was written by David Ristau, one of our writers. We did not receive compensation for this article (other than from Seeking Alpha), and we have no business relationship with any company whose stock is mentioned in this article.