While doing research into an online publisher I was interested in covering, I found another larger company holding a substantial number of shares. One thing led to another and in the end I came across a stock that appeared so attractive I had to write about it: Starz (NASDAQ:STRZA) is a premium movie service provider operating in the United States. A recent spin off, this is a relatively poorly followed company.
First off, a takeover is not as likely, according to the WSJ, as it was right after the spinoff, but remains a possible catalyst for gains in the near future. A second possible catalyst for appreciation would be a homerun in their portfolio of original content. I took an in depth look at the short term potential and will go into that.
There is a significant interest from "smart money" as insider monkey shows. Steven Owsley of Madison Street Partners has a whopping 13.22% of his fund in this company although he is decreasing the stake. Understandably so, just for the sake of diversification alone. The Biggest stake in absolute number of shares is an investment made by Berkshire Hathaway (NYSE:BRK.B). Although I'm by no means a Berkshire expert, it appears likely that either Todd Combs or Ted Weschler is responsible for this stake and not Buffett himself.
An important case I would like to make is that you are able to buy a company that is transitioning into a company producing more and more original content, as opposed to packaging licensed content, at a decent price.
The main risk I identify is Starz development of original content suffering a large setback and not being able to replace the loss of the Disney (NYSE:DIS) content on which Netflix (NFLX) outbid them. On the bright side it frees up significant capital to produce original content.
Market
The market for entertainment and media is huge, it's global and it's growing. To quote PwC's Global Entertainment and Media Outlook 2012-2016:
"Over the next five years, global spending on entertainment and media is projected to rise from $1.6 trillion in 2011 to $2.1 trillion in 2016, a 5.7 percent compound annual advance…."
They also report in their global entertainment and media outlook insights and analysis:
"Digital spending continues to drive growth: During the next five years, digital spending will increase at a 12.1 percent CAGR compared with just 2.8 percent for non-digital spending. 67 percent of total E&M spending growth to 2016 will be generated by digital."
Starz is actively expanding their pay TV subscriptions on a global level and also has ongoing online initiatives that are offered to their subscribers as well.
Strategy Change
When Starz decided to let Disney go to Netflix it marked a deliberate change of strategy. Christopher Albrecht (CEO) wants to develop more unique content. In his words: "Invest prudently in original programming." Which is music to my ears. He expects they can start to do from 2013 forward. With Starz now in full control of revenue instead of Liberty Media (NASDAQ:LMCA) there is cash flow to fuel these investments.
Although investing in originals is riskier and it has the downside of having to pay up front, it has several advantages over carrying licensed content:
The margins can be substantially better with great execution
Owning the right to content as opposed to licensing means you get to milk the content for many years to come. I like the strategy of building up a library
Originals increase Brand value, even when content gets pirated; at least it builds Brand awareness
One of the reasons I feel confident Starz can pull this off is because of their CEO. Christopher Albrecht is steering the company in the right direction and if anyone can run a successful execution of the chosen strategy it's him, given his track record with HBO.
Albrecht came to Starz, LLC from Foresee Entertainment, which he founded in 2008. Mr. Albrecht spent more than 20 years at HBO and was Chairman and Chief Executive Officer from 2002 to 2007.
Before becoming Chairman, he spent seven years as President of HBO Original Programming, directing all day-to-day operations of West and East Coast original programming for HBO, Cinemax and HBO Independent Productions. In addition, he oversaw HBO Sports and HBO Film Programming.
During his tenure, HBO was noted for critically acclaimed series including Sex and the City, The Sopranos, Six Feet Under, Real Sports With Bryant Gumbel, Deadwood, Band of Brothers and Entourage.
The Telegraph has an excellent piece on HBO's history and Albrechts role in it's success. Warning, it's pretty long. Given he was forced to leave HBO there is a decent probability he is hungry for success.
Starz Original Content Pipeline
To get an idea of where Starz was at, I took an in depth look at their original content portfolio and what they have in the pipeline.
Currently running original series:
Da Vinci's Demons: Two episodes are out so far. The 1st was in my opinion not of the level of HBO hit shows (it got a record number of viewers though), the 2nd episode was much more promising. Watch the trailer. I expect it will do alright but it's not homerun material. (Metacritic score)
Original series coming soon:
Magic City: The second season of Magic City is starting soon. Ike Evans tries to keep his luxurious Miami Beach hotel, the Miramar Playa out of the hands of gangsters in 1959 Miami. Absolutely gorgeous drama, action and adventure show. I can't say it really is Mad Men meets Sopranos but the intentions are there. (Metacritic score) It's not impossible this show will work out very well for Starz.
The White Queen: Costume drama centered around the powerful women behind the men in England's conflict for the throne in 1464. The House of York faces the House of Lancaster. There is only a teaser and some behind the scenes material available. Definitely a high quality production. If it is sufficiently gripping to draw in a huge audience I'm not sure. I don't like to see a second struggle for a throne on TV when such a mega hit like Game of Thrones is at it's peak.
Black Sails: This production will be launched in 2014. The trailer looks like it will be a high quality and edgy production but with so little to go by and it's release is so far off, it's hard to make a meaningful prediction about it's potential.
There is also an earlier article on Seeking Alpha that deals specifically with the Vietnam TV production: Airborne, they want to produce.
After going over their line-up and assessing the quality of their originals, coupled with Starz still having Disney content up to 2017 and Sony until 2021, I estimate they will be able to grow their subscriber base through 2013 by ~6%.
Risks
An investment in Starz is certainly not without risks. These are what I view as the main risks that the company faces, although the list is not meant to be exclusive or complete.
Failing to develop/secure enough original content to replace the Disney contract
Changes in the rate of technology being adopted and streaming media consumption taking flight
Difficulties with and or pressure on the rates affiliates pay for Starz content.
Loss of subscribers due to economic pressure on the consumer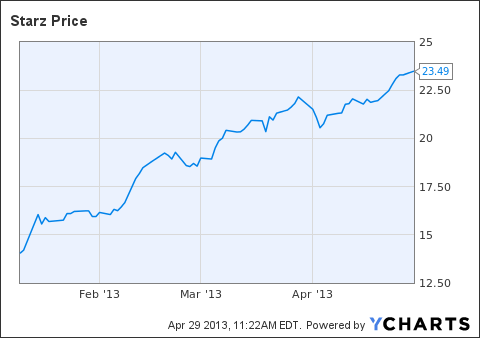 Valuation
After the stock ran up pretty fast year to date this can't be called a value investment. It's currently trading at around 13.5 forward P/E at $23.29 a share. Investing in Starz at the current valuation is more in the tradition of Fisher than Graham: Investing in a good company at a fair price.
The management has been careful not to disclose what they paid for the deal with Sony (NYSE:SNE) that locks them in to 2021. What I read into the statements made by the CEO were that a reasonable price was paid. Perhaps there was even some value in the deal.
He stated the deal was in line with market circumstances and the economics at Sony. Taking in account output of films at Sony but also their box office records.
If Starz successfully transitions into their new strategy of carrying more original content acquired at reasonable prices, the current valuation is low as pulling that off will significantly increase earnings in the future.
If Starz fails to acquire original content at reasonable prices or produces a series of "strikes" before the contract with Disney runs out in 2016, the company will run into trouble.
Cliff notes
Growing global market
Growing subscriber base
Company transitioning to a strategy that creates more value for shareholders
Hungry CEO with a stellar track record producing hit shows
Starz could still become the target of a takeover
Stock is fairly valued given the current economics
A takeover remains a possibility
It's my opinion that the upside/downside potential of the stock still indicates a favorable buying opportunity. However, the stock is certainly not without downside risk.
Disclosure: I have no positions in any stocks mentioned, and no plans to initiate any positions within the next 72 hours. I wrote this article myself, and it expresses my own opinions. I am not receiving compensation for it (other than from Seeking Alpha). I have no business relationship with any company whose stock is mentioned in this article.