Since coming public in 2002, shares of Wynn Resorts Ltd. (NASDAQ:WYNN) are up nearly 1,000%. However, for a variety of reasons, I now believe caution is warranted.
Steve Wynn's Ex-Wife
One reason why I am cautious about WYNN is the possibility that Steve Wynn, the company's founder, CEO, and chairman, may lose control over the company. Steve Wynn risks losing control over WYNN if his ex-wife, Elaine Wynn, is given approval to sell her 9.6% stake in the company. Under current agreements, Steve Wynn controls the voting rights on Elaine's shares. If Elaine is granted the right to sell her shares, then Steve Wynn could lose control over the company he founded. Of course, it is too early to predict how this situation may unfold. However, if Steve Wynn loses control over the company, I would expect a major decline to ensue. Simply put, Wynn Resorts is Steve Wynn. In my opinion, Steve Wynn is the reason why WYNN has surged nearly 1,000% since coming public.
Debt
As shown by the chart below, WYNN has increased the amount of debt it has significantly in recent years.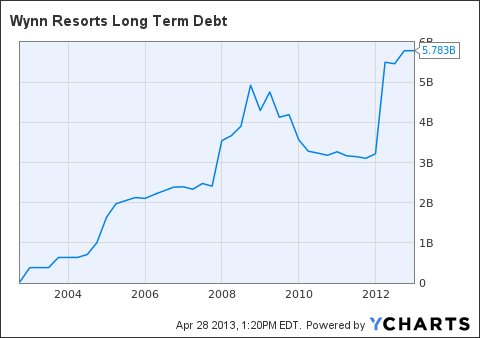 WYNN Long Term Debt data by YCharts
Prior to 2012, WYNN had been decreasing the amount of debt outstanding relative to 2008-2010 levels. However, that changed when the company decided to forcibly buyout its largest shareholder, Kazuo Okada, in 2012 after a dispute regarding Mr. Okada's improper payments to gambling regulators in the Philippines. In order to buy out Okada, WYNN was forced to issue a $1.9 billion debt note. WYNN's increasing debt load is a problem for a few reasons. Firstly, it has the potential to cripple the company given a difficult operating environment. It is important to remember what happened to WYNN's peers, Las Vegas Sands (NYSE:LVS) and MGM Resorts International (NYSE:MGM) during the 2008 financial crisis. Both MGM and LVS came very close to bankruptcy due to their debt load and both MGM and LVS shares traded in the low single digits in 2008. Comparably, WYNN never faced that same financial situation because the company was not as leveraged as MGM or LVS. Following the increase in debt, credit agency S&P has made some negative comments about the company's credit rating. Another reason why the increasing debt load is a problem is that it limits WYNN's ability to expand. Simply put, the company cannot take on much more debt, so it is limited in terms of pursuing new opportunities.
Urban Hotels Will Focus on Luxury over Gaming
Steve Wynn recently said that the future of WYNN will focus on luxury, not gaming. Currently, WYNN is in the process of bidding for rights to open a property in Philadelphia. WYNN recently announced a deal to open a $1.2 billion property in Massachusetts. The deal still requires state approval. Wynn said:
Slot machines and blackjack tables have no power at all. What we are not building is a box of slots. We're building a beautiful hotel that just happens to have a gaming room in the back.
The issue I have with this strategy is that Wynn will now be competing in what is a different business, luxury hotels. Seasoned hotel companies such as the Four Seasons, the Ritz Carlton, the Fairmont, and others will be competing in the luxury hotel market. To me, what is more important than Wynn's strategy shift to luxury hotels is its lack of interest in online gaming. Wynn said:
I've often thought this whole subject of online gaming was getting everybody jazzed up, but it's difficult to distinguish yourself online. We'll have our oar in the water, but I don't know how to make an experience on a computer screen as unforgettable as an experience in a luxury hotel.
Online gaming is the future, and Wynn needs a strategy better than "we have our oar in the water" if WYNN is to stay a dominant force in the gaming market.
Conclusion
Certainly, Steve Wynn has proved a man to bet on, not against. While I would certainly not short the stock given Wynn's track record, I would suggest caution at this point. The unfolding situation with Steve Wynn's ex-wife, massive increase in company debt, lack of online gaming plan, and shifting of focus to luxury from gaming are all reasons to be wary of taking a long position in WYNN right now.
Disclosure: I have no positions in any stocks mentioned, and no plans to initiate any positions within the next 72 hours. I wrote this article myself, and it expresses my own opinions. I am not receiving compensation for it (other than from Seeking Alpha). I have no business relationship with any company whose stock is mentioned in this article.