Of course the word chaos is used in rather a vague sense by a lot of writers, but in physics it means a particular phenomenon, namely that in a nonlinear system the outcome is often indefinitely, arbitrarily sensitive to tiny changes in the initial condition. ~ Murray Gell-Mann
The title's inclusion of the words "Period Three Chaos" is a reference to the academic paper that coined the term chaos, as it relates to Chaos Theory. Without turning this into an article on Chaos Theory, which I am not qualified to write, it is fair to say that complex systems -- including financial systems -- can be quite susceptible to unforeseen shocks. Protection from these events should never be underestimated. The main point behind this article is to emphasize that Apple's (NASDAQ:AAPL) large cash reserves should be seen as an attraction for risk-wary investors, rather than as a deterrent. This does not change much because of the increased dividend and share buyback, because even after those uses, the cash hoard will still likely be well over $45B.
At the 2010 Apple shareholder meeting, Steve Jobs said:
[c]ash gives us tremendous security and flexibility. When you take risks, it's like jumping up in the air, and it's nice to know the ground will be there when you land.
This quote illustrates a view that many investors and money managers sometimes disregard -- that tail risk is often underestimated when it comes to EVERYTHING. Steve Jobs spelled out his reason for maintaining the cash -- security, but most investors didn't want to hear it. They wanted a piece of that cash. Aside from the potential of a Black Swan event, or a major product failure, is there any historical basis for a company wanting to maintain that cash hoard?
Probably. In the book "The Living Company" the author notes a former study he did while working for Royal Dutch Shell (NYSE:RDS.A). They noted that the life span of the average multinational, S&P 500-level corporations was estimated to only be about 40 to 50 years. They looked for attributes in companies that lasted far beyond this 40 year time frame. They noted four key attributes, and the fourth of these was: a company that was conservative in their financing.
So whether the risk Jobs worried about was related to: a larger economic recession; some major product failure; avoidance of financing risks; or whether he just thought his successor would screw things up for a while, he saw the need for a large cash "cushion" as very important to Apple. Now Apple will be slightly going away from this standpoint to please customers, because it will be borrowing money to pay for the buyback. But it would cost more to repatriate the funds [U.S. Corporate Tax Rate] from its overseas accounts, so this makes the most sense to accomplish the buyback and dividend payments.
The investor desire for a substantial dividend is reasonable, but a large cash position is important when talking about having a corporate life span that beats all others. Therefore, accomplishing a good balance between holding cash and using cash is important. After using $100B over the next two years to pay its dividend and execute its stock buyback, it should still have $45B plus any profits during that time period. That will likely still be a huge cash position. But in an uncertain world where risks to Apple or to the economy exist, having that cash cushion is priceless. That is especially true if you are a long-term investor with a time horizon beyond ten years because Apple is approaching that 40-50 year average lifespan -- it is 37 years old! A large amount of cash on hand could help extend that lifespan.
Are there other reasons to have a positive outlook regarding Apple right now?
Value
Apple has receded 40% from its September high. Where does that put its metrics?
Most people still probably consider it a growth company, but I don't know how accurate that classification is. Besides the fact that the company sits on $145B in cash, it sports a forward P/E of 9.42. EPS for the next 5 years are expected to average 20% annual growth, providing the company with a PEG of .48, which is quite low. This 20% estimate seems reasonable if you consider the fact that it has averaged 62% EPS growth the past 5 years. Apple could be considered a value play now.
One caveat concerning its shorter term valuation is how much revenues decrease between now and when the fall product releases occur. Beyond that I believe that regular product releases will see strong demand from Apple groupies that has been present since the initial iPhone. If that is not the case, the company can buy revenue growth due to its cash hoard and its great free cash flow.
Chart
As you can see immediately below, the weekly chart shows the downward move from $706. What is interesting on this chart is that AAPL has reached and seemingly bounced off its 200 weekly moving average.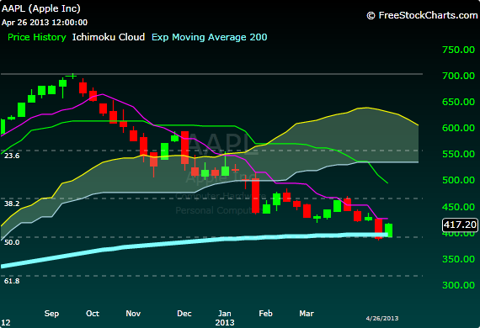 In the chart above you may also notice the horizontal dotted lines. Those are from a Fibonacci Retracement that I plotted from the March 2009 Apple "bull run beginning" at about $82. I plotted that up to the high of $706 and as you can see the price stopped right on the 50% retracement level. (While the 50% retracement is based more on Dow Theory than Fibonacci, it is included in the Fibonacci charting tools and many times marks the end of a correction). Combined with the bounce off of the 200 period MA, the Fibonacci bounce tells me that a purchase now could use a price just below $400 as a stop -- say $390.
You can see the Fibonacci levels and 200 period weekly MA better on the longer-term chart below.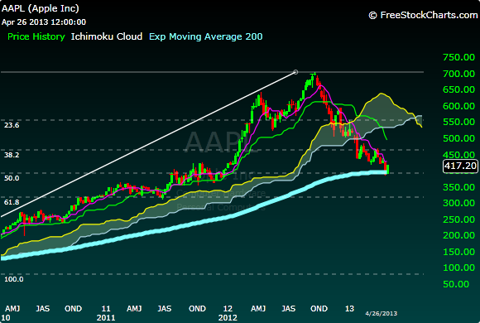 The Play
You could buy the stock with a stop at $390. Alternatively, you could make a trade (shorter time frame) with the idea that there won't be major resistance until the price reaches the Kijun (green line) or the Cloud. An options trade could be a Jun $440/470 call spread for a debit of $4.60. You would exit the options trade if the underlying stock broke $390. If the stock does not fall below $390, but does not rally above $440 by the first week of June, you would exit the options trade or roll the spread forward. Having sold the $470 should help limit any theta burn (time decay) on the position (exiting or rolling in the first week of June should also help). Max loss is $460 per spread, and maximum profit is $2,540 per spread.
Disclosure: I have no positions in any stocks mentioned, and no plans to initiate any positions within the next 72 hours. I wrote this article myself, and it expresses my own opinions. I am not receiving compensation for it (other than from Seeking Alpha). I have no business relationship with any company whose stock is mentioned in this article.
Disclaimer: We do not know your personal financial situation, so the information contained in this article represents an opinion, and should not be construed as personalized investment advice. Past performance is no guarantee of future results. Do your own research on individual issues.