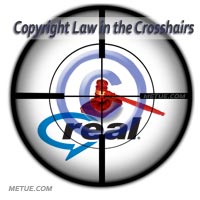 It was a case of now you see it, now you don't. Last fall, RealNetwork's (NASDAQ:RNWK) then newly launched DVD copying software platform, RealDVD, went from controversial to contained in the blink of an eye. Just days following the program's launch, with litigation already filed by both sides, U.S. District Judge Marilyn Patel issued a temporary restraining order blocking all sales of the program pending a broader review of the software's legality. The program has yet to resurface and now the ongoing copyright litigation is poised to expand.
Designed to enable consumers to create digital to digital archival copies of DVDs, the program was intended to allow owners to store DVDs on a computer for viewing, or backup, without the need to have the disc in the drive.
In reference to the copyright principle of "Fair Use," RealNetworks said the software was a way to "protect your discs from scratches and damage." It also gave a DVD owner the option of taking a digital copy of their disc on the go.
Any playback was handled on a proprietary player and secure. The disc's digital encryption wasn't removed (a violation of the Digital Millennium Copyright Act (DMCA) and Real even went so far as to add extra protection against improper use by adding another layer of copy protection. Real said this was permissible and within the letter and intent of copyright law.
The collection of studios and content owners jointly represented by the MPAA vehemently disagreed. The MPAA alleged the software was a violation of the Digital Millennium Copyright Act which explicitly prohibits the circumvention of a digital copyright mechanism. They also claimed that RealNetworks "misuse[d] a limited license [RealNetworks] obtained to make authorized DVD products."
The dueling cases (Real filed first to seek a pre-emptive judicial ruling) challenge the court to address the very question of what is "fair use" in this context – they ask the court to address what rights a consumer has to duplicate a digital entertainment product they've purchased for their own personal use. It's about ownership and licensing terms. Is it your right, for example, to take a purchased DVD and convert it to watch on an iPod, or computer? Or is it the movie studio's right to ask you to pay separately for each different medium you want to watch the program on?
With the case still lingering, RealNetworks is now turning up the heat. The company has asked to expand its prior to suit to charge the DVD Copy Control Association (DVD CCA) and the group of major movie studios (Disney (NYSE:DIS), Paramount, Sony Pictures (NYSE:SNE), Twentieth Century Fox (NASDAQ:NWS), Warner Brothers (NYSE:TWX), NBC Universal (NYSE:GE) and Viacom (NYSE:VIA)) with acting as an illegal cartel in violation of the Cartwright Act, California's Unfair Competition Law and the Sherman Act.
Real Networks says the DVD CCA and studios are conspiring to keep RealDVD out of the market. The behavior, the company says, is an illegal, anti-competitive act.
From the company's website,
Hollywood's six largest movie studios have banded together in a lawsuit to shut down RealDVD, a possibility that would be a blow to your consumer rights. The bottom line is that Hollywood does not want you to have the same "fair use rights" to make a backup copy of your DVDs in the same way that you have had with your music CDs for more than a decade.
RealNetworks is seeking an injunction and damages. Perhaps more valuable though is the finding. Judge Marilyn Patel is tasked with crafting that map and resolving the copyright issues at hand. It's a case that could have even greater impact on the technology of entertainment than another major case to cross her docket: the Napster case.
As was true at the outset, this remains a case to watch.
(The court filing is embedded below)