After the bell last Thursday, UGG maker Deckers Outdoor (NASDAQ:DECK) reported their fiscal first quarter earnings. Deckers was helped by a colder winter, and you may remember that it was the warm prior winter that did in the stock for many months. Q1 results came in a bit above expectations, although that was partially due to reduced expectations after Deckers gave weak guidance a few months back. Despite the solid quarter, Deckers' shares fell more than 8.5% on Friday, because Q2 guidance was very weak. Also, because the stock had more than doubled from its 52-week low, expectations were high, and the report did not justify all of the rally. Today, I'll cover the first quarter report, and show why there is an opportunity here.
First Quarter Overall Results:
For the quarter, Deckers reported revenues of $263.76 million, which represented a 7.09% increase over the year ago period. This number handily beat analyst estimates for $252.27 million, or growth of approximately 2.4%. However, it is important to note that when Deckers reported Q4 results, they guided to flat revenues for Q1 (year over year). Going into the Q4 report, analysts were expecting more than $257.2 million in Q1 revenues, or 4.4% growth. So about one-third of Deckers' revenue beat was due to reduced expectations.
On the bottom line, Deckers reported net income of $0.03. This number handily beat estimates for a loss of $0.10. However, this was again due to reduced expectations. Deckers guided to a loss of $0.12 for Q1, and analysts were originally expecting a profit of $0.06. In this case, Deckers actually came in below what analysts were looking for going into Q4. At that point, Deckers' stock was under $41.00. Deckers' earnings have continued to be helped by the company's stock buyback program. The diluted share count, the one used to calculate quarterly earnings per share, declined from 39.094 million in Q1 of 2012 to just 34.788 million in Q1 of 2013. The buyback has significantly reduced the share count over the last year. However, as I'll explain later, earnings per share have not really been the problem.
Margin / Expense analysis:
The following table shows Deckers' three primary margin categories in Q1, against last year's period. I will use these numbers to further break down the company's quarterly results:

Deckers reported an 85 basis point improvement in gross margins. While revenues increased by 7.09%, the cost of goods sold rose by just 5.40%. On the conference call, Deckers stated that this year's period had a great proportion of higher margin sales, which was more than able to offset a rise in sheepskin prices. Overall, gross margin dollars for the period rose by 9.07%. The rise in sheepskin prices was one item that really hurt Deckers over the past 18 months, and it still is to some extent. Deckers stated that its Fall 2013 lineup should start to reflect lower sheepskin prices. Deckers is also launching Pure, a wool pile textile, that should help the company to lower its product costs as well as provide new growth opportunities.
On the operating side is where Deckers has struggled in a sense, and this is something I've been discussing for over a year now. Deckers is expanding their retail footprint, and that has led to a higher amount of operating expenses. The company is targeting new stores with margins in the mid 20s, as opposed to previous stores in the mid 30s. Also, many of their operating expenses are fixed over time. That means that in lower revenue quarters like Q1 and Q2, SG&A costs will be a higher percentage of revenues. Deckers told us on the fourth quarter call that 2013's first half would see a large amount of these expenses thanks to the opening of new stores in the second half of 2013. However, I've always been concerned by these high SG&A costs, and targeting lower margin stores is not a good decision in my opinion.
In fiscal Q1, Deckers' operating expenses rose by more than $19.5 million over the year ago period. That represented a rise of 19.29%, nearly three times the rise in revenues, and more than twice the rise in gross margin dollars. For this reason, the company's operating income fell by almost 78% year over year. You can see that above in the margin table, as operating margins fell by 384 basis points. Again, Q1 and Q2 are the slowest quarters of the year and the ones that usually have the lowest profits, but Deckers can't afford to keep seeing costs rise dramatically like this.
Deckers also reported a huge increase in their effective tax rate. Obviously, the dollar amount of the tax was much lower than the year ago period thanks to a fall in pre-tax income, but the effective tax rate jumped from 34.85% to 59.88%. On the call, the company said that the rise was due to a number of one-time items. For the quarter, Deckers produced a profit just over $1 million, well below the $8 million plus in last year's period. You can see the fall in net income above in the net profit margin, which plunged by 288 basis points. Deckers usually has a small profit in Q1, but thanks to the extra expenses, this was the lowest Q1 profit in a number of years.
Balance Sheet Update:
Deckers' balance sheet appears to be a bit weaker than in the year ago period. Because this is such a seasonal business, and Deckers is even more seasonal than many other retailers, you really can't compare the balance sheet from quarter to quarter (Q4 to Q1). You have to look at the year over year numbers.
Looking strictly at the numbers, Deckers' current ratio declined from 6.81 to 4.22. With that fall, working capital declined from $552.5 million to $410 million. This fall was mostly due to a plunge in cash and equivalents, which fell from $228.6 million to $64.6 million. The decline in cash is primarily due to the company's stock buyback program. Over the past year, the company has bought back just over $200 million in stock. However, they did not buy back any stock in Q1 of 2013.
At the same time, Deckers also had outstanding borrowings of $10 million at the end of Q1, and they had no outstanding borrowings a year ago. This has pushed the debt (liabilities to assets) ratio up from 15.02% to 18.81%, but that still is a very low number. Inventories also rose more than 23% to $257.1 million. That might seem a bit too much for a company that's barely growing revenues, but it is mostly due to new store openings. You can't open new stores without inventory.
Deckers' balance sheet looks to be in worse shape than a year ago, but that's not really the case. The investment in new stores and stock buyback have made the numbers appear worse, but they are still very acceptable for a growing retailer. I'm a little concerned that they didn't buy back any stock during the quarter, but the balance sheet appears fine for now.
Stock Buyback:
As I've been detailing above, Deckers has been aggressively buying back stock over the past year or two. Initially, this was a negative for the company, as they were paying $50, $60, or more to repurchase shares. When the stock fell to $40 and even $30, the buyback looked tremendously foolish. The early stages of the buyback still do in some respect, although shares purchased in the second half of 2012 are starting to look more respectable.
The two buyback programs that Deckers authorized were to repurchase up to $300 million worth of shares. Deckers did not repurchase any shares in Q1, and thus approximately $79 million remains on the current plan. Based on Friday's close, that equates to roughly 1.45 million shares, or about 4% of the outstanding share count. Those that are long the name point to this buyback as a reason that they are long, because the share count has been dramatically reduced in the past year or so.
Deckers is still a fairly profitable company, and produces a solid amount of cash each year, which has allowed the company to buy back stock. One may think that once the current buyback is finished, a new one might be started. It is definitely possible, and if Deckers can continue to reduce the share count from here, that would certainly help.
However, this buyback has come at a cost, and that is revenue growth. I've long since maintained the opinion that Deckers made a great acquisition when they acquired Sanuk. Had the company not made that acquisition, revenue numbers the past year or so would have been even worse. However, I also believe that Deckers could have used the more than $200 million in share buybacks in a slightly different manner. Deckers' earnings per share numbers have not been terrible over the past year or so, if you ignore the drop in net income. The real problem lately has been revenue growth. Had Deckers spent about half as much on buybacks, they probably would have been able to make an acquisition of a similar size to the Sanuk one. Revenue growth would have looked a bit better now, and they still would have been able to reduce the share count somewhat.
Q2 guidance and full year guidance:
Deckers gave the following guidance for Q2 of 2013:
Revenues expected to be flat with 2012. In that quarter, the company's revenues were $174.44 million.
The company expects a loss of $1.10 compared to a loss of $0.53 in the second quarter a year ago.
Both numbers were extremely disappointing. Analysts were looking for revenue growth of 6.1% to more than $185 million, and a loss of just $0.94. However, the earnings disappointment is even larger than expected, because Deckers essentially "pre-announced" a large loss on the Q4 conference call. Going into the Q4 report, analysts were only looking for a loss of about $0.64. Obviously, the larger loss is due to the operating expenses involved with the new stores.
If you thought Deckers was going to issue guidance above expectations, then you really have not been following this company very well. This is now the 6th straight quarter where Deckers has issued guidance below analyst expectations. Now you might say that they are just being conservative, but that's not really the case. Deckers has missed original expectations a couple of times, and they've even missed reduced expectations a few times as well. You can expect to see analysts lower their Q2 forecasts over the next couple of weeks.
Due to the lower than expected guidance for Q2, Deckers only maintained their full year forecast, even after the large Q1 beat. The company still expects revenues to be up by 7% for the year, and earnings per share to be up 5%. They also are still targeting gross margins of 46.5% and operating margins of 12.5%. Even with investors expecting more share buybacks this year, the company expects a smaller rise in earnings per share, as opposed to revenues. That's a little disconcerting.
A gradual short squeeze:
Deckers' shares had been rallying nicely over the past 6 months before Friday's fall, as you can see in the chart below.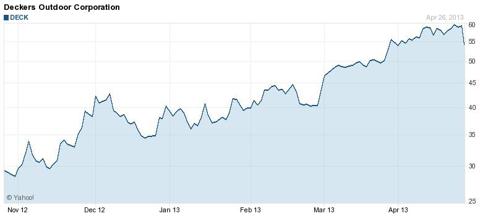 (Source: Yahoo! Finance)
Investors have become less bearish in Deckers, although generally speaking, the results in my opinion haven't justified the full rally. That's why I think you saw such a fall on Friday, despite the Q1 results. However, over the past five months, the number of shares short in Deckers has come down quite dramatically. In the middle of December, more than 16.2 million shares were short in Deckers, representing almost 45% of the outstanding share count. Since then, as you can see from the chart below, the number of shares short has come down by approximately 5.23 million. At the mid-April update, about ten days or so before earnings, roughly 11.05 million shares were still short. That still represents more than 30% of the outstanding share count.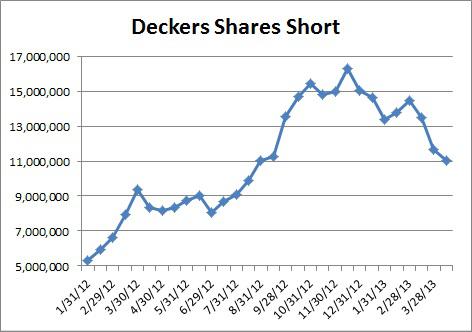 Now I'm sure some of you will be looking for a Netflix (NASDAQ:NFLX) like short squeeze. Don't expect one to occur. Deckers does have some similarities in relation to Netflix. However, because Deckers continually gives weak guidance, you won't see a massive short squeeze. Deckers is not likely to jump 30%, 40%, or more in one single day, like Netflix did in the chart below. You're more likely to see the number of shorts cover gradually, over time, which pushes the stock up in a more gradual fashion, as seen in the Deckers chart above. Netflix produced quality results in two quarters and gave decent guidance, plus has Carl Icahn backing shares. Deckers has not been giving impressive guidance, and doesn't have Icahn's blessing.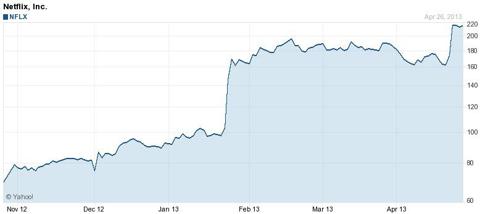 (Source: Yahoo! Finance)
This gradual short squeeze can have a significant impact on the stock. I almost see it as a "double buyback", meaning that you have almost two buybacks going on at once, when Deckers is repurchasing shares. This helps to put a bit of a floor under the stock, and if you watch Deckers daily like I do, you can certainly notice when certain intra-day short squeezes occur. These aren't likely to push Deckers 20% higher in one shot, but they push the stock up a dollar or two each time. Over a longer period of time, the stock moves quite a bit, as Deckers has. I'll be curious to see how short interest in Deckers moves over the next two short interest reports (end of April and mid May), as investors start to digest the earnings report.
Industry Comparisons:
When it comes to these smaller, growth oriented specialty retailers, there aren't a ton of comparisons out there. However, there is one name that is about the same size as Deckers, and has a very comparable profile. That is Crocs (NASDAQ:CROX), originally known for its open hole shoes. You might think that this comparison doesn't fit, but it surely does. Crocs is currently working to expand its product line, and they are looking to add UGG-like boots to their collection later this year. Obviously, UGG has a foothold in this market, but Crocs could put a small dent into that lead this year and a bigger dent next year. This is why I've been arguing that Deckers needs to diversify, as UGGs have sometimes accounted for more than 90% of Deckers' sales in a quarter.
Now onto the financial comparison. The following table shows some comparisons between Deckers and Crocs in terms of expected growth this year and next, as well as valuations. The abbreviations "CFY" and "NFY" represent current and next fiscal year.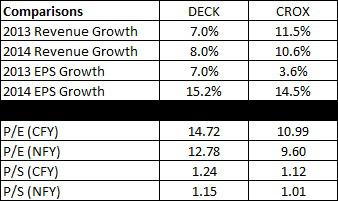 Crocs offers a bit more revenue growth than Deckers in both years, as well as almost comparable earnings growth. Don't forget, Deckers is expected to do $3.69 in earnings per share this year after $3.45 last year. That might seem like good growth, but don't forget that Deckers did $5.07 in earnings during 2011. Deckers is only starting to see an earnings rebound now, and it could be years before they hit that $5.07 level again. That includes the fact that the buyback has significantly helped earnings per share, by 10%, 15%, or more, depending on the quarter. Crocs also trades at a sizable discount to Deckers at this point, which tells you investors believe a bit more in Deckers.
The pullback you wanted:
Deckers had run too much in my opinion, and shares pulled back as Q2 guidance was a bit soft. However, all hope is not lost. We recently saw a similar thing happen in fellow momentum name Green Mountain Coffee Roasters (NASDAQ:GMCR). See the chart below for details.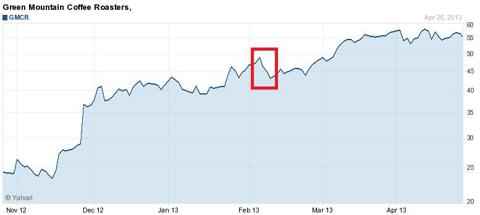 (Source: Yahoo! Finance)
Green Mountain had also risen nicely from its 52-week low, and then we hit an earnings report. Green Mountain beat nicely for the quarter they were reporting, but guidance for the next quarter was a bit soft, basically what we saw with Deckers. The company also did not buy back any shares in the quarter (after their previous quarterly report - they had already bought some back early in the quarter). Green Mountain shares declined about 14% from a short-term high, but then started higher again. You can see the pullback in the red box on the chart above. For Green Mountain, it was simply a case of too far, too fast. Deckers' bulls are hoping we have a similar case here.
Still with some risk:
Deckers is not without risk, and perhaps has more risks than the average investment. The first is obviously with UGGs. The company's trademark brand is the live and die product to watch. While the company has diversified its product line a bit in recent years, it is still mostly UGGs. If those that believe UGGs are a fad are correct, or if Crocs' new boots do pose a serious threat, Deckers' sales could be in trouble, and that also would pressure earnings even further. UGG sales are only expected to grow 4% this year, and the company actually reduced its yearly forecast for the Sanuk line.
The second biggest risk is that Deckers is dependent on a huge second half of the year. In 2012, Deckers kept promising a big second half, telling you to just wait for Q3, wait for Q4. Well, Q3 and Q4 were both really bad. This year, they are again promising a big second half of the year. In fact, on the call, an analyst asked them about the roughly $4.70 in earnings that is expected in the second half of 2013. Deckers said to only expect 10% to 15% of that in Q3, meaning a large share of earnings will have to come in Q4. It is possible, but if Deckers falls flat again in the second half of this year, the non-believers will be out in full force once again.
Final Thoughts:
Deckers reported a solid Q1, but Q2 guidance was very weak, and weak guidance is nothing new with Deckers. The company is promising a big second half of 2013, and it must deliver. If it does, this name could go substantially higher. The company's buyback has a lot of firepower behind it, and with almost a third of shares short, a nice squeeze could certainly occur over time. The recent pullback might have just been what investors were waiting for. Deckers could get even more attractive if we trade down towards $50.
Disclosure: I have no positions in any stocks mentioned, but may initiate a long position in DECK over the next 72 hours. I wrote this article myself, and it expresses my own opinions. I am not receiving compensation for it (other than from Seeking Alpha). I have no business relationship with any company whose stock is mentioned in this article.
Additional disclosure: Investors are always reminded that before making any investment, you should do your own proper due diligence on any name directly or indirectly mentioned in this article. Investors should also consider seeking advice from a broker or financial adviser before making any investment decisions. Any material in this article should be considered general information, and not relied on as a formal investment recommendation.