On Sunday, April 28th, JPMorgan Chase (NYSE:JPM) announced the ninth departure of a key executive since the fallout from the bank's infamous 'London Whale' scandal.
According to Dan Fitzpatrick of the Wall Street Journal, "Frank Bisignano would be stepping down as the company's Co-COO for the top post at First Data and is considered to be the ninth executive since early last year to exit Mr. Dimon's operating committee".
In the wake of Mr. Bisignano's departure, I want to examine several of the catalysts behind my decision to consider a long-term position in this particular bank.
Recent Performance: On Friday, shares of JPM, which currently possess a market cap of $185.25 billion, a P/E ratio of 8.73, a forward P/E ratio of 8.23, and a PEG ratio of 1.24, settled at $48.88/share at the end of the trading day.
Based on its closing price, shares of JPM are trading 1.82% above their 20-day simple moving average, 0.72% above their 50-day simple moving average, and 15.02% above their 200-day simple moving average. These numbers indicate a short-term, mid-term and long-term uptrend for the stock which generally translates into a buying mode for traders.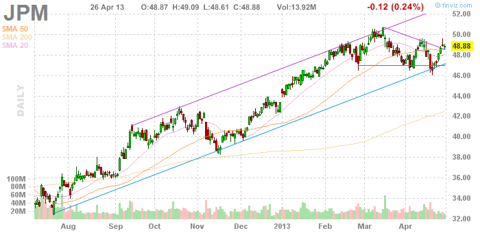 Q1 Earnings: On April 12th, it was announced that JPM had beat Q1 estimates in terms of quarterly EPS but slightly missed the Street's expectations when it came to revenue. Analysts expected JPMorgan Chase to earn to $1.38/share on revenue of $25.87 billion. To most everyone's surprise, the bank announced earnings of $1.59/share on revenue of $25.80 billion, which was led by consumer deposits (up 10%) and mortgage originations (up 37%).
According to Jamie Dimon, JPM's Chairman and CEO,
JPMorgan Chase had a very good start to the year. All our businesses had strong performance, and our client franchises did exceptionally well. The Corporate & Investment Bank was #1 in fees, global debt and equity, syndicated loans, and announced M&A. Those leadership positions reflect the volume of business we do with clients and it is a great result. Consumer & Community Banking deposits were up 10% compared with the prior year, client investment assets were up 15%, and mortgage loan originations were up 37%. Asset Management also had strong performance with loan balances up 27% compared with the prior year. Assets under supervision were up 8% to $2.2 trillion. This business achieved a record $31 billion of net long-term client flows for the first quarter.
Mortgage Performance: One of the biggest catalysts behind JPMorgan Chase's record setting quarter was the performance of the banks' mortgage segment. Mortgage originations of $52.7 billion were up 3% quarter-over-quarter and 37% year-over-year and the company's mortgage pretax income had fallen 43% year-over-year thanks in large part to narrowing margins.
Although it is believed that margins will continue to narrow throughout the industry, I honestly think JPM's mortgage performance will continue to strive as long as the Fed keeps rates at or near record-low levels.
According to Marianne Lake, JPMorgan Chase's Chief Financial Officer,
Strong originations of $53 billion were up 37% year-on-year and 3% sequentially. While applications were actually down 8% from last quarter, but we continue to expect high levels of refinancing and close loan volumes in the next quarter to remain solid.
Dividend Behavior: Since April 2nd 2009, JPM has increased its quarterly dividend a total of two times by an average of $0.125 each time. From an income perspective, the company's forward yield of 3.11% ($1.52) coupled with its payout ratio (currently 21.00%) and its continued annual increases could equate into a very viable income option for long-term investors.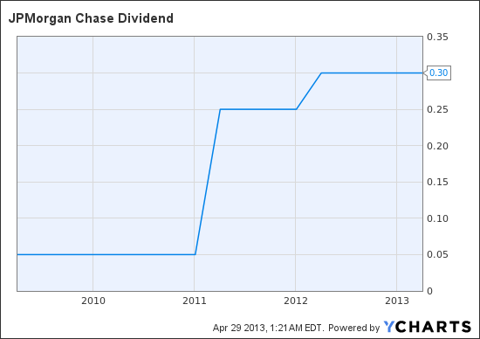 JPM Dividend data by YCharts
Conclusion: Although the company's most recent earnings were a mixed bag at best, I'd actually be more inclined to keep a closer eye on the improved performance of the bank's mortgage segment over the next 6-12 months as well as any indication of a possible dividend increase over the next year.
Disclosure: I am long JPM. I wrote this article myself, and it expresses my own opinions. I am not receiving compensation for it (other than from Seeking Alpha). I have no business relationship with any company whose stock is mentioned in this article.