Prior to reporting quarterly earnings, Cliffs Natural Resources (NYSE:CLF) was speculated to be approaching a price support level in the mid-teens. High operational costs, a recent drop in iron ore prices, an unhealthy balance sheet, and low earnings estimates were only a few of the reasons bearishness was high for the company.
Shares were steady at $17.50 before quarterly earnings were announced, but when earnings beat bearish analyst estimates, the stock surged: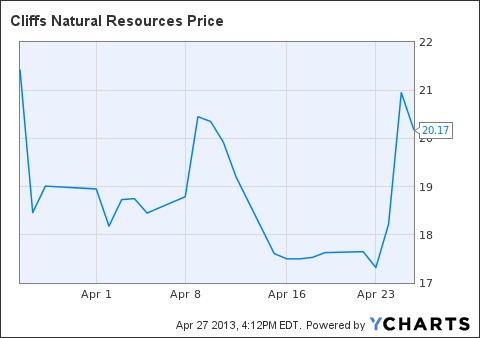 Macroeconomic headwinds are being led by factors that include slowing growth in China, a big consumer of iron ore. If the weakness persists, weak players in the sector could hurt shareholders of Cliffs Natural Resources. Cliffs has $3.4 billion in debt, and is still adjusting its operations to lower its high cost of production. If the recovery in iron ore prices does not hold, investors need to determine if the downside in Cliffs shares is still there.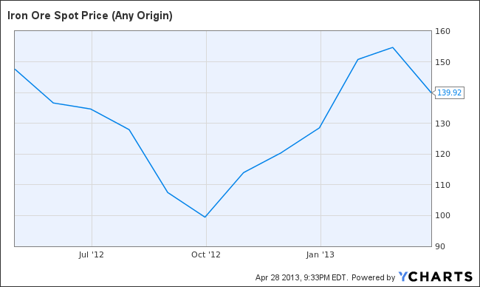 Iron Ore Spot Price (Any Origin) data by YCharts
There are a number of key takeaways from the quarter earnings report.
1) Long-Term Iron Ore Contracts
On its cash flow statement, Cliffs reported a decline in deferred revenue and below-market sales contracts:
Three Months Ended March 31, 2013

(In Millions)

2013

2012

Changes in deferred revenue and below-market sales contracts

-14.9

-23.3
Source: PR Newswire
Cliffs still has long-term requirements contracts with North American customers over the next 3.5 years. This will lower the impact of lower iron ore prices, and provide profit visibility for investors in this segment. In the United States, the company has 800 million tons of proven and probable reserves that the company processes into higher grade iron.
2) Higher Sales Forecast
Cliffs raised its 2013 sales volumes for iron ore to 21 million tons, a 5% increase. Stronger demand from the U.S. is driving the higher forecast.
2013 Outlook Summary

U.S.

Iron Ore (1)

Eastern

Canadian

Iron Ore (2)

Asia Pacific

Iron Ore (3)

North

American

Coal (4)

Sales volume (million tons)

21

9 - 10

11

7

Production volume (million tons)

20

9 - 10

11

7

Cash cost per ton

$65 - $70

$95 - $100

$70 - $75

$95 - $100

DD&A per ton

$6

$18

$15

$16
Footnotes:
(1) U.S. Iron Ore tons are reported in long tons.
(2) Eastern Canadian lron Ore tons are reported in metric tons, F.O.B. Eastern Canada.
(3) Asia Pacific Iron Ore tons are reported in metric tons, F.O.B. the port.
(4) North American Coal tons are reported in short tons, F.O.B. the mine.
Source: PR Newswire
The sales forecast is based on a $148 per ton outlook. This has a sales volume and realized price sensitivity that is summarized in the table below.
2013 Realized Revenue Sensitivity Summary

U.S. Iron Ore

Eastern Canadian Iron Ore

Asia Pacific Iron Ore

Revenues Per Ton

$115 - $120

$120 - $125

$120 - $125

Sensitivity Per Ton (+/- $10 )

+/- $2

+/- $7

+/- $7
Source: PR Newswire
3) Developments Delays
Development for Bloom Lakes will continue to be delayed, though the company took delivery of truck, dozer, shovel, and drill equipment for the mine. A truck dispatch system installation was also completed. Cliffs said on its conference call that a mining royalty tax proposed by Quebec could threaten the rationale for further activities at Bloom Lake.
Construction of the concentrator and loan-out facility was not restarted, and remains stuck at 65% complete.
At Wabush, the pellet plant at Pointe Noire could be idled once customer commitments are met by June 2013.
The net result in the delays will not impact the capital expenditure budget for Cliffs. The company is maintaining an $800 - $850 million CapEx budget. $300 million of the CapEx will be used for sustaining capital. Future growth projects will be supported by a full-year cash outflow of $85 million.
4) Weak Volumes in Asia-Pacific
Volume declined from 2.8 million tons to 2.3 million tons for Asia-Pacific iron ore. A lack of sales volume from the Cockatoo Island operation hurt volumes.
5) Balance Sheet Stabilizing
The move by Cliffs Natural resources earlier this year to improve its balance sheet earned a stable outlook from Moody's and S&P. During the first quarter, Cliffs raised $995 million through an equity offering. The funds were used to pay down an $847 term loan. SG&A expenses are expected to be $230 million for 2013, while unfavorable working capital adjustments will be $250 million.
6) Quarterly Earnings Beat Estimates
Cliffs managed to generate a positive income in the first quarter. The company earned $97 million ($0.66 per diluted share). The earnings beat analyst estimates of $0.33 per share. In 2012, earnings were $375.8 million ($2.63 per diluted shares), but included a $255 million tax benefit. U.S. Iron Ore revenue rose from $117 per ton in the previous year to $120 per ton, while costs remained stable. At Bloom Lake, cash costs dropped 9% to $89 per ton, while at Wabush mine, cash costs were up 12% to $135 per ton. For 2013, Cliffs still believes it could operate the mine at an average cost of $115 - $120 per ton.
Competitive Analysis
Vale (NYSE:VALE) also reported quarterly results that beat expectations. Vale cited lower costs and better performance from its mines helped in the quarter. Vale earned $0.62 per share on revenue of $11.1 billion. Iron ore output declined 3.5% compared to the previous year, but was offset by higher production of coal, nickel, copper, and cobalt.
Rio Tinto (NYSE:RIO) is selling non-core assets to improve its balance sheet. Its 57% ownership for Ivanhoe Australia Limited could bring in around 90 million. The Northparkes copper and gold mine was worth $405 million and could fetch a premium.
BHP Billiton (NYSE:BHP) forecast it would output 183 million tons of iron ore at its Pilbara mine in Australia. BHP has a freeze for new projects, and is hesitant in making any big investments in the near-term.
Cliffs is valued with a forward P/E (or Price of Profitability) of 12, while Vale and Rio Tinto both have a forward P/E of 8. BHP has the highest forward P/E at 14: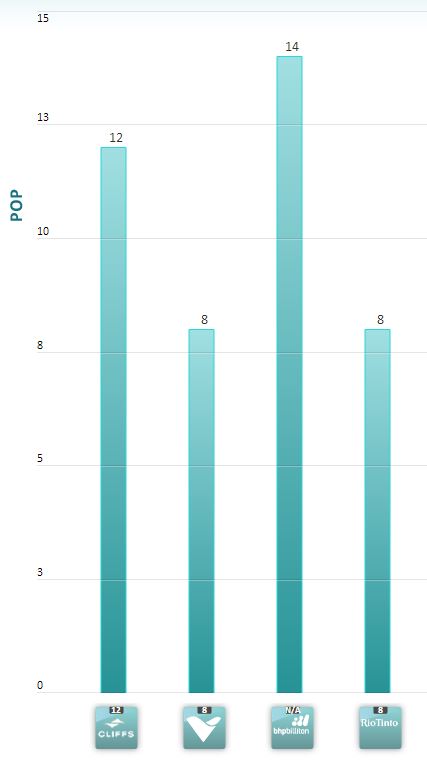 Source: Kapitall.com
Throughout 2012, inventories declined steadily, with the exception of Rio Tinto:
Conclusion
Cliffs was clearly a oversold company before reporting quarterly results. Bearish investors thought the company would not beat the $0.33 per share forecast, but the company proved otherwise. Looking ahead, a move by all iron ore producers to reduce output should be sufficient to stabilize iron ore prices. This would benefit all miners, including Cliffs. The risk in Cliffs Natural Resources is shrinking, because the company raised its cash level by a net $345.9 million in the quarter. This improvement in its cash flow was also helped by lower dividend payments, which cost $22.9 million compared to $39.7 million last year.
Should profit-taking push shares down to the $16.74 low again, shares may find support with rumors once-again speculating that the company would be a takeover target. Ignoring the speculation, investors may be more comfortable this time in accumulating Cliffs shares. The expectation for lower iron ore spot prices and slowing global growth is accounted for at current levels. Cliffs is also in a better position operationally to survive in these less favorable market conditions.
Disclosure: I have no positions in any stocks mentioned, but may initiate a long position in CLF over the next 72 hours. I wrote this article myself, and it expresses my own opinions. I am not receiving compensation for it (other than from Seeking Alpha). I have no business relationship with any company whose stock is mentioned in this article.