The share price of Johnson & Johnson (NYSE:JNJ) has appreciated by 32% over the past 12 months and just made its 52-week high at $85.74. In my opinion, investors should refrain from buying the shares at this level given the frothy valuations. There are 5 reasons supporting my view:
1. JNJ's forward P/E multiple at 15.6x is currently trading at a 7% premium over the same multiple of S&P 500 Index, which is at 14.5x now (see chart below).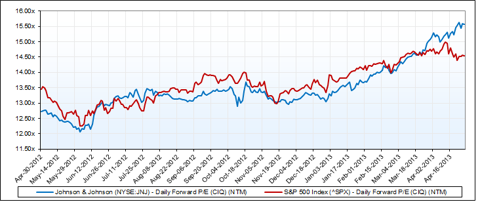 This relative valuation level appears to be somewhat expensive for JNJ provided that 1) the stock traded almost on par with the S&P 500 Index in the past 12 months; 2) the company's 5-year earnings growth estimate at 6.2% is below the average estimate of 8.2% for the S&P 500 companies; and 3) JNJ's consensus revenue and EPS estimates for 2013 and 2014 have experienced multiple downward revisions over the past 12 months and their current levels are on par with or slightly below the historical figures in a year ago (see charts below).


2. JNJ's trailing EV/EBITDA multiple has expanded by 23% over the past 3 years (see chart below).

The valuation expansion was primarily driven by the robust revenue and EBITDA growth in the period. The consensus revenue and EBITDA growth estimates for the next 3 quarters in 2013 also suggest a solid prospect (see chart below).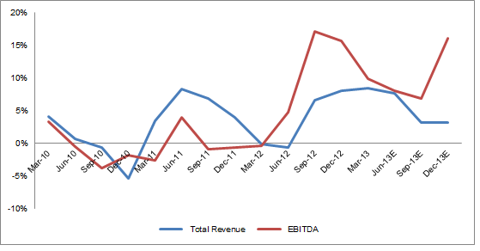 However, the market seems overlook the following negativity:
1) JNJ's capital return performance as measured by ROA, ROIC, and ROE ratios has been riding a downtrend over the 3-year period (see chart below); and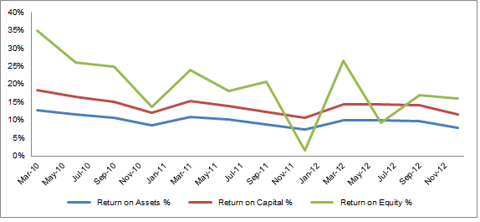 2) The company's profitability margins have experienced no improvements and their current levels are slightly below the historical figures in 3 years ago (see chart below).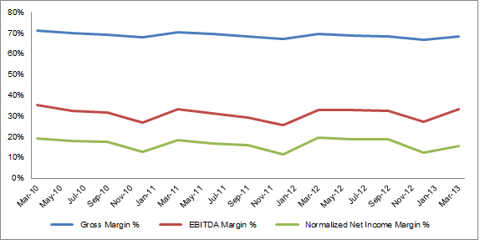 3. Of the total 23 stock ratings compiled by Thomson One, there are 6 strong buy and 7 buy ratings. Nevertheless, analysts' average 1-year price target at $86.5 is only 1.6% above the current share price. Based on the capital asset pricing model, JNJ's cost of equity should be above 7% (see chart below). As such, sell-side's average price target actually implies JNJ shares are overvalued by more than 5% if the theory holds.

4. JNJ's dividend yield is near its 3-year low, and it is now in line with the historical levels seen in 2009 and 2010 (see chart below).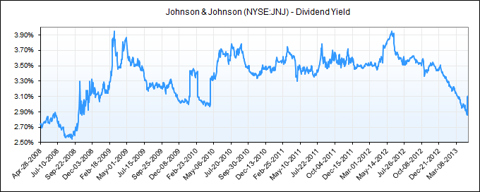 5. In a Jefferies research note dated April 19, Jeffrey Holford commented on his view for JNJ's Q1 earnings performance, which I tend to agree with (sourced from Thomson One, Equity Research):
"We were unimpressed with the Q1'13 earnings given that one-off benefits in Pharma made up for the miss in MD&D. Key Pharma growth franchises such as Zytiga, Incivo and Xarelto performed well and Consumer made decent progress in its recovery. Dividend yield and PEG valuations are beginning to look fully valued and we suspect outperformance will be limited from here."
Despite the above concerns, there remain some good reasons for existing shareholders to continue holding the stock:
1) JNJ shares appear to be fairly priced relative to its comps. Although the stock's current price multiples at 10.1x forward EBITDA and 15.0x forward EPS are on average 9% above the same multiples of its industry comps, the valuation premium appears to warranted by JNJ's superior growth potential and capital return performance (i.e. higher ROE and ROIC) (see chart below).

2) The stock's 3.1% dividend yield would continue to attract institutional income investors under the current low-interest market environment. In addition, the share price would also get some support from the company's share repurchase program.
For potential buyers, however, I would recommend waiting for a pullback or selling out-of-money put options for a better margin of safety.
All charts are created by the author except for the consensus estimate tables, which are sourced from S&P Capital IQ, and all financial data used in the article and the charts is sourced from S&P Capital IQ unless otherwise specified.
Disclosure: I am long JNJ. I wrote this article myself, and it expresses my own opinions. I am not receiving compensation for it (other than from Seeking Alpha). I have no business relationship with any company whose stock is mentioned in this article.