On April 25th, Facebook (NASDAQ:FB) revealed it had acquired Parse, in an attempt to get into a new business: paid tools for mobile app developers, a market that could be worth as much as $100B by 2015. This article discusses everything about Parse and its ability to make revenue in the future, the premium paid by Facebook and the potential of this new business.
(click to enlarge images)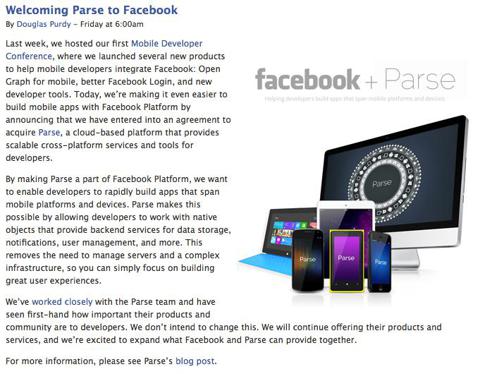 What is Parse?
Parse is a startup founded 2 years ago that provides back-end tools for mobile developers: a "cloud" for mobile apps. They provide an integrated set of solutions, so that developers can forget about the complex details of infrastructure, data storage and server maintenance; and focus on development. Main services include:
Parse Data: For data storage.

Parse Push: A software development kit (SDK) that provides push notifications and other engagement tools for developers.

Parse Social: A SDK for making apps social.

Cloud Code: A set of tools that makes the job of developers much easier, by writing the code of the app locally and deploying it to the Parse Cloud with a single line of code.
These services are similar to what Heroku (sold for $212 million to Salesforce.com (NYSE:CRM)) provides for the web. I have tried the free version and can assure you that they are top quality. Furthermore, it seems that Facebook is not only buying technology and talent here. The Parse pricing strategy is very efficient: you start for free, but as your app gets bigger in traffic size, you can migrate easily to better plans (the cheapest one is $199 per month). This way of pricing is smart in the sense that it first makes developers get accustomed to the Parse Cloud and Parse framework. As Parse becomes an important tool for development and as traffic starts coming, Parse starts charging them. The more requests the app receives, the more Parse charges.
The Deal
According to Tech Crunch, Facebook paid $85 million for Parse, in a deal that includes both cash and equity. There is no official information about the size of the deal, apart from Facebook saying "the size was not material." Let us assume, for the time being, that the size of the deal is indeed $85 million. In exchange, Facebook will have access to:
Technology: An excellent platform for mobile developers.

Market: About 60,000 developers use Parse. Around 10% of them can be monetized. Notice that Parse achieved this number in only 2 years, which demonstrates the quality of its product, the need in the market for back-end services and the efficiency of having a freemium pricing system.

A new revenue stream.

Exposure to the mobile app development market, which could be worth as much as $100 billion by 2015.

Opportunities for integration and synergies: For example, according to TechCrunch, Facebook "could increase the likelihood that third-party apps integrate with them and buy their ads."

No known tangible assets.
Analysis
Parse has made a big exit, considering it only had a first round of funding, raising $7 million. However, we believe that Facebook could benefit enormously from this $85 million deal in the long run. The $85 million price won't have an immediate effect on Facebook revenue or the stock performance. But by having Parse in its business portfolio, Facebook is not only adding diversification: it is addressing the right market with the right technology, at the right time.
Although there is no official data about revenue, Parse CEO mentioned about half a year ago that the firm was in a "hyper-growth" phase. By November 2012, the company still didn't have a sales team but revenue was already growing 30% month-over-month in terms of apps and traffic.
Let us assume that Parse can monetize 10% of its community. That is about 6,000 developers. Let us be very conservative and assume that, on average, they spend $200 per month, which is the price of the Basic plan. Roughly speaking, Parse could obtain as much as $1.2 million in monthly revenue, or $14.4M per year under this scenario. But considering there are many high-traffic apps running under Parse (see the "clients" list in the website), I expect the real number to be much bigger: $16-18 million per year. Thus, the amount paid for Parse is equivalent to 5 years of revenue, assuming no growth (which is highly unlikely!). This is by far a better deal than Instagram. Profitability is a different issue, but most likely Parse will continue growing in the 20s for the next 2 years. The bigger the community size, the lower the infrastructure costs.
Finally, Facebook's acquisition is very strategic. It is well-known that Facebook "has a mobile problem." Apple (NASDAQ:AAPL) has a mobile OS and a content and payments ecosystem. Google (NASDAQ:GOOG) has a mobile OS, Gmail, Google Play and the search engine. Amazon (NASDAQ:AMZN) also has its own content and payments ecosystem, limited mobile presence and strong cloud infrastructure. But Facebook doesn't have a payment ecosystem. It doesn't have a store. It has the social network and that's about it. Furthermore, its presence in mobile is limited to its app and the nowadays not-so-ubiquitous Instagram. As a user comments on YCombinator, by acquiring Parse:
(Facebook) is trying to get the benefits of having a mobile OS without actually developing one and building market share.
Indeed, Facebook is trying hard to expand its presence in mobiles. Here a few examples:
May 2012: Facebook acquires Karma, which makes mobile apps for gifting friends and family.

June 2012: Facebook hires the team of app developer Lightbox.

June, 2012: Facebook acquires Pieceable, which created an easy way for publishers to build apps and preview them in a web browser.
The acquisition of Parse therefore contributes to the "everything but an OS" mobile strategy of Facebook.
The App Development Market
We mentioned earlier that the most charming point of acquiring Parse is the opportunity of getting exposure to the app development emerging market.
According to Research2Guidance, the market for app development services (which includes app creation, management, distribution and extension services) will grow in value to $100 billion in 2015.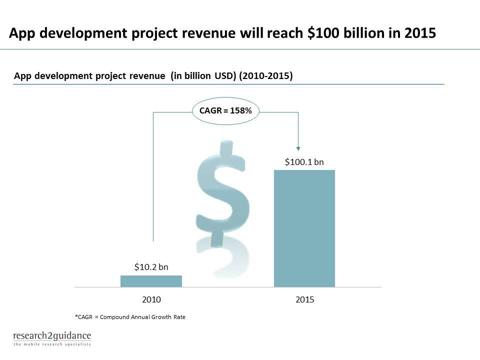 According to the same source, in 2010, app maintenance, analytics, distribution and extension services constituted merely 2% of earnings. However, this share will grow significantly between now and 2015. Furthermore, most of apps are developed by third party application developers (currently 66% of all publications), who are likely to use services like Parse in order to minimize costs without losing efficiency. With 450,000 developers, Appcelerator is probably the leader in this field. Parse, with its top quality services, 60,000 developers community (achieved in 2 years) and Facebook support, has what it takes to become a major leader in this emerging fast-growing market.
Final Remarks
Rate: Neutral

Investment Horizon: 1 year

Strategy: Growth

Uncertainty: High
Disclosure: I am long QCOM. I wrote this article myself, and it expresses my own opinions. I am not receiving compensation for it (other than from Seeking Alpha). I have no business relationship with any company whose stock is mentioned in this article.