Between January 2010 and July 2011, shares of Netflix (NASDAQ:NFLX) jumped over $250 to reach their all-time high of over $304 before ultimately crashing due to managerial missteps. Within the last nine months, shares have jumped over $160 in a seemingly similar and unnerving recurrence.
Of course, perhaps even more troubling about this climb is that it has been far from methodical. Whereas the biggest monthly jump for shares in the stock's preceding run was just over $38 in January 2011, shares have so far jumped $73 in January and over $55 over the past two weeks.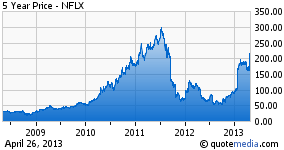 The run might be defensible if earnings were keeping up with the rise. However, even after a couple of well-accepted reports from management, the company's profit is only a fraction of what it once was. After posting a profit, excluding one-time debt-related charges, of $0.31 for the first quarter, the company is scheduled to report full-year 2013 earnings of $1.59.
That figure remains well below the 2010 full-year earnings of $2.96 and full-year 2011 earnings of $4.26 reported as shares sat around the same level they do now. Even anticipated 2014 earnings of $3.00 would leave the company arguably overvalued and with a P/E ratio of around 71 at current levels.
Of course, there remain a variety of things that could impede such growth. The perhaps greatest threat is the growing level of competition the company faces from Hulu, Coinstar (NASDAQ:CSTR) and Amazon (NASDAQ:AMZN) just to name a few. Forecasts already have this growing competition scheduled to dent subscriber growth.
After adding two million new streaming subscribers in the first quarter, expectations are for the company to add only 230,000 to 880,000 in the second quarter.
This competition also creates a better environment for studios which are in the midst of demanding more money for their content. With Netflix coming out after their recent earnings report and announcing no planned near-term changes to their base $7.99 per month price, look for the company to eventually succumb to some sort of increases to maintain their stronghold in the business. After all, Netflix is already responsible for $5.6 billion over the next few years in licensing fees alone.
The move by the company to release all episodes of their own original programming at once has also brought some worry that a customer could sign up to watch a whole series and then promptly cancel before their free trial expires. Although according to the company fewer than 8,000 customers did just that in the first quarter, this sort of move may become more commonplace with time and upon learning that such a strategy can work.
Now in defense of Netflix, the company does enjoy a total of 29.2 million subscribers. The service is also incredibly cheap for the amount of content provided and would still be even if management did raise prices ever so slightly. However, for those investors burned by the company's prior mistakes and subsequent fall in stock price, it's important at this time to be cautious. After all, a 125% year-to-date rise in shares isn't typically defensible, even if growth remains strong.
Disclosure: I have no positions in any stocks mentioned, and no plans to initiate any positions within the next 72 hours. I wrote this article myself, and it expresses my own opinions. I am not receiving compensation for it (other than from Seeking Alpha). I have no business relationship with any company whose stock is mentioned in this article.