Asian markets are providing us with little direction this morning as both China and Japan were closed this morning. In Europe we are seeing markets react to the new Italian government which was formed and it shall be interesting to see how long this one lasts. We will go on record as saying it shall be much shorter than is typical of an American administration and probably somewhere along the lines of the average Italian government so long as they are not forced to make hard decisions on austerity anymore. More austerity measures being forced down their throats at this time would cause the populace to clamor for a chance to once again go to the polls and start the process all over again. When democracy takes on a role such as this it is no wonder why politicians are unable or unwilling to do the right thing.
Chart of the Day:
Yes investors are obviously disappointed with Apple's (NASDAQ:AAPL) performance, which is mostly due to growth concerns for the company as a whole and across their product line. The feeling is that innovation is slowing, not altogether untrue, and that maybe Steve Jobs really was the heart and soul of the company, using his drive and will to push products through from concept to reality. Regardless of what one thinks about all of that, one thing is for certain, the company is by far (about 30% to be more precise) the most profitable company in the US. Microsoft (NASDAQ:MSFT) is still near the top of these rankings and investors know how long it has been since they were Wall Street's darling, so the world will not change overnight but with the quickness in which tides now change in the industry it is fair to say that Apple could very well reach that point much faster should they make the same mistakes.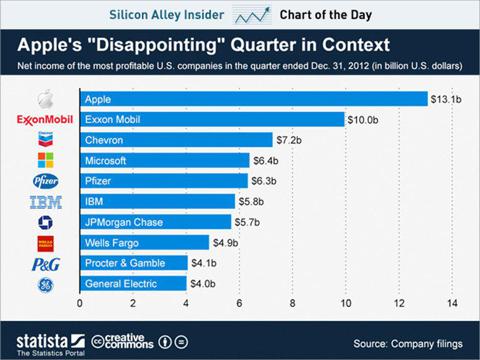 Chart courtesy of businessinsider.com
We have economic news due out today, and it is as follows:
Personal Income (8:30 a.m. ET): 0.3%
Personal Spending (8:30 a.m. ET): 0.1%
PCE Prices - Core (8:30 a.m. ET): 0.1%
Pending Homes Sales (10:00 a.m. ET): 0.1%
Asian markets finished higher today:
All Ordinaries -- up 0.50%
Shanghai Composite -- CLOSED
Nikkei 225 -- CLOSED
NZSE 50 -- up 0.71%
Seoul Composite -- down 0.20%
In Europe, markets are trading mixed this morning:
CAC 40 -- up 0.60%
DAX -- up 0.21%
FTSE 100 -- down 0.01%
OSE -- down 0.63%
Retail
News that George Soros had amassed an 8% stake in retailer JC Penney's (NYSE:JCP) shares sent the stock higher on Friday, finishing the session at $17.00/share after rising $1.76 (11.55%) on volume of 56.5 million shares. One has to wonder exactly how Soros's game-plan is set up with this position because if it is a long-term buy, then that is certainly one thing but if it is merely a trade due to his belief that we could see an epic short squeeze due to the extremely high percentage of shares sold short, well then that is an entirely different story. We continue to believe that the company made the correct move in ousting Johnson, but their replacement choice is most certainly uninspiring...to put it kindly. With Soros joining the mix of hedge fund managers already involved on opposite sides of the trade, the JC Penney story just got that much more interesting.
Telecom
We have had a few names get away from us this year before we could pull the trigger and get on board, with Vodafone (NASDAQ:VOD) being the one we kick ourselves over the most (as far as the retirement picks go). As we have waited for a pullback on the initial Verizon (NYSE:VZ) rumors, there has been none and the stock has remained strong. We have seen a few good articles on this over the past few weeks, but ran across two this morning which we found interesting. Verizon is trying to do this deal at a cheap enough price to make the numbers work for them and to structure it as such so that taxes do not eat up the bounty they shall turn over to Vodafone in exchange for the 45% of Verizon Wireless that they hold.
The more that is eaten up in taxes, the higher the price must go, because Vodafone is looking at their takeaway cash, not the pre-tax figures. This article (located here) discusses the tax advice Verizon is getting and the hurdles with getting the deal done. The logistics to this complex deal require tons of experts, and should a deal be done we can only imagine what the final cost of fees for advisors shall be. However a complex deal might not be the best deal. It seems some investors want either more money, or an outright takeover, much like what was discussed with Verizon and AT&T (NYSE:T) doing a joint bid earlier this month. More on that can be read via this article by CNBC (available here).
All of this deal talk brings us to Clearwire (CLWR) and the drama unfolding with Sprint (NYSE:S) and Dish (NASDAQ:DISH). Clearwire shares have risen to $3.44/share after Friday's rise of $0.13 (3.93%) on volume of 32.8 million shares. Whether Clearwire is merely a pawn in this game or a key player remains to be seen, but we must tip our hat to Dish for making some very bold moves in order to unhinge this wireless roll-up before they were permanently locked out of the game. Although we have serious doubts that their appeal to US lawmakers regarding the national security risks with a Japanese company taking control of these assets will advance very far, it is a curve ball that was unexpected by everyone and shall add another layer to the process, buying them enough time to potentially convince the special committee at Sprint that their bid is superior and can be completed. But Clearwire shareholders have to ask themselves where that would put them. Are they still as valuable to Dish at that point, or does Dish then take the same route as Sprint did when the majority owner and try to buy it at the lower price?
Financials
It has been a rough few years for H&R Block (NYSE:HRB) and the rest of the tax preparers, with some names even having to file for bankruptcy protection recently. After this large run-up, we are of the opinion that this is most certainly a position one wants to 'sell in May and go away' due to the recent history in regards to the shares' performance around the end of tax season. We have had discussions with owners of these tax services and they make their money from January through April and are cash flow positive for only 4 or 5 months out of the year. Even more amazing is the fact that we have heard that some franchisees have over three months out of the year when they have literally no revenue at their store locations. This is all well known to Wall Street, but just the same we would take profits on this large move higher and enjoy the profits now, before they have the opportunity to dissipate. With shares having closed at $28.66/share on Friday, Monday morning seems as good a time as any to hit the sell button.
The past few years have been rough for shareholders around this time of year, and with the dramatic run which has resulted in a double it seems only prudent that investors should take something off of the table here.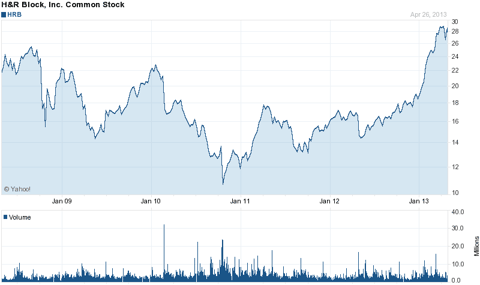 Chart courtesy of Yahoo Finance.
Homebuilders
There are a few trends developing in the homebuilding industry that make us even more bullish than before, and the conference call for D.R. Horton (NYSE:DHI) - located here - could be viewed as a must read to get a glimpse into the national picture. Nationwide homebuilders are scrambling to find lots to build on because the housing market has turned sharply and with their financing issues the homebuilders were forced to sell off many of their assets primed for development to either better financed competitors or investors. These lots have increased dramatically in value, but the issue we want to highlight is that the pipeline of 'developable' land going through the permitting process and getting financing to have roads and utilities put in place dried up during the downturn and we are still not quite yet seeing new supply hit the market in certain areas. We know that in our market new developments basically were put on hold while the well financed regional/multi-state players simply bought lots from those who could no longer afford to build or simply could not due to banks not lending.
Pay attention to the lot inventory numbers, for they shall tell the real story of the recovery in housing. If the inventory continues to increase we are seeing new neighborhood developments come online and builders bullish, but we hope to see the number increase slowly as this pent up demand eats up whatever supply comes online. Remember, so long as new housing prices remain strong and/or continue to climb in this economy we do not have enough new inventory, but if we see rising sales and prices begin to stall out and maybe even decrease, we know that supply is beginning to push the market into equilibrium once again. These are just some of the things we are looking at, but the reason why we remain so bullish at this time.
The charts of the homebuilders resemble closely the values of finished lots available for resale in many markets. The markets that are lacking are resort-style properties and we see a glut of inventory remaining in many of those markets which overheated here in the south, although beach property seems to be showing the first signs of recovery.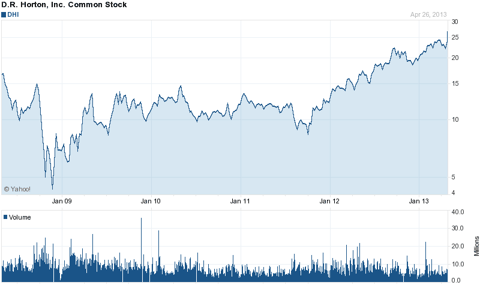 Chart courtesy of Yahoo Finance.
Disclosure: I have no positions in any stocks mentioned, and no plans to initiate any positions within the next 72 hours. I wrote this article myself, and it expresses my own opinions. I am not receiving compensation for it (other than from Seeking Alpha). I have no business relationship with any company whose stock is mentioned in this article.