Last week was not an altogether bad week, but it was not an altogether good week either. We were up, which is not something to complain about, but we also saw some sell-offs on Friday which left us a bit worried about this week ahead. With oil prices rebounding we would have hoped to have seen a bigger rally in the general oil and natural gas market, but did not get it. We shall see if this week we do, and at least today we are optimistic for natural gas prices are once again on the upswing and headed higher.
Commodity prices this morning are as follows:
Gold: $1471.10/ounce, up by $17.50/ounce
Silver: $24.235/ounce, up by $0.477/ounce
Oil: $93.39/barrel, up by $0.39/barrel
RBOB Gas: $2.8278/gallon, down by $0.0071/gallon
Natural Gas: $4.257/MMbtu, up by $0.034/MMbtu
Chart of the Day:
Yes there is still some science being worked out in the play, however there has been a dramatic rise in permits issued by month and various new companies beginning their drill programs recently. As they become more comfortable with results and the geology, they shall drill more and not less. One other issue to be aware of is that the infrastructure is not yet built out, and some have had to slow drilling down and adjust their plans for drilling in order to better coordinate their well placement to that of takeaway facilities. Once production is flowing, expect an Eagle Ford type growth curve.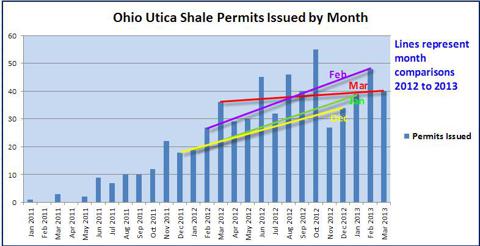 Chart courtesy of Uticashaleblog.com
Oil & Natural Gas
Shares in SandRidge Energy (NYSE:SD) rallied on Friday by $0.21 (4.39%) to close the session at $4.99/share on volume of 9.1 million shares. We are back at the $5/share level and any dramatic rise above $5/share could very will signify an opportunity to take profits and once again move to the bearish side of the trade. It has worked as of late, and one would think it shall continue to work. We would not be putting the trade on at the $5/share level because we would rather make our move if it becomes apparent it has overplayed its bounce, but that is the point ($5/share that is) which has provided either support or resistance for shares lately. One should also pay attention to the well data that the trusts in the Mississippi Lime put out as that could be a good indicator moving forward of the declines at the company's wells in the area. They can continue to drill new wells which are higher in oil and liquid content, but at some point they do morph into a gas company as their older assets become a larger part of the production mix.
We have spent some time reading up on articles which have been saved for us since we just went through our busy season and needed to catch up on non-core happenings which are nonetheless pertinent to our long-term investments and we are a bit disappointed with the level of pessimism still surrounding Chesapeake Energy (NYSE:CHK). It is one thing to get down on their past history and the debt pile, but they continue to monetize assets and turn a hefty profit doing so, even if less than what the market anticipated. We less concerned about those obvious issues but more focused on the talking heads who are discussing the failures of the company's exploration efforts in areas such as the Utica. If the Utica is a failure, we wish all of our oil and natural gas investments would have failures such as the Utica, and often. As the story plays out in Ohio there will be ups and downs, but the Utica and Eagle Ford shall help transform the company as management has been predicting.
Solar
SunPower (NASDAQ:SPWR) is on the move again with shares outpacing the market on Friday with an almost 9% move higher that pushed shares back above the $13/share level. With the close at $13.25 and volume having been 10.4 million shares on Friday we are left to wonder if this is a mini bull developing. We strongly dislike the solar industry, but one thing is for certain; as more and more of the players bight the dust, it becomes more difficult for one to be bearish on the industry as a whole to the same extent as before. It is corporate and economic Darwinism, and as of right now it seems that SunPower will be one of the winners, but could investors win bigger elsewhere such as natural gas?
After five awful years, is this the beginning of a new run or a head fake? If we break through this resistance here it might be time to identify this as a phoenix rising from the ashes finally.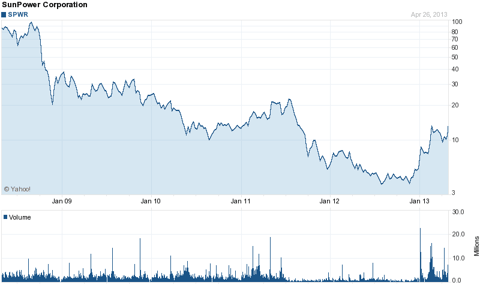 Chart courtesy of Yahoo Finance.
Gold
For those wondering why names such as Goldcorp (NYSE:GG) and Barrick Gold (NYSE:ABX) have not gone parabolic over the course of this gold rally as was the case during previous gold bull markets, the answer is simple. In the past gold rose due to gold and the rest of the commodity markets stayed relatively calm, giving the miners a huge boost in their operating margins. These days that is not the case, with oil prices being a large expense along with the equipment, labor (see this recent article here from Bloomberg) and other energy costs. It is a sad reality and one which has forced many gold bugs to avoid the equities altogether save for the juniors where bonanza gold finds can still lead to outlandish gains. With many now calling for gold to have a steady rise as it builds back support, this shall be a good learning opportunity for readers to analyze how this market works. Pay attention to how the miners move in relation to gold, and how those moves transcend the divide...that is across actual producers, developers of future mines and those exploring for gold. This will make you a better commodity investor, this is promised.
It is certainly a telling chart, and shows that the smart money has learned their lesson as it pertains to physical gold v. gold equities.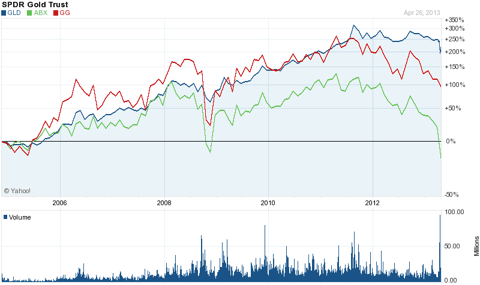 Chart courtesy of Yahoo Finance.
Disclosure: I have no positions in any stocks mentioned, and no plans to initiate any positions within the next 72 hours. I wrote this article myself, and it expresses my own opinions. I am not receiving compensation for it (other than from Seeking Alpha). I have no business relationship with any company whose stock is mentioned in this article.