BP (NYSE:BP), a partner in the Angola LNG development, plans to invest $15 billion in Angola over the next decade. The LNG plant should be one of its biggest start-ups worldwide this year.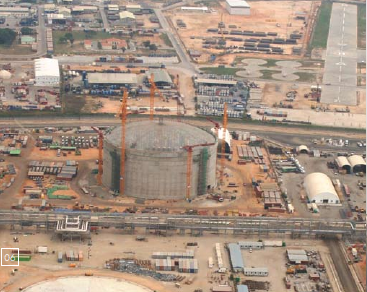 Source: Angola LNG
Angola LNG's operation is located in Soyo, 195 miles north of Luanda in Zaire Province, Angola. The project is a joint-venture consisting of Sonangol (the state oil company of Angola) at 22.8% and affiliates of Chevron (NYSE:CVX) with 36.4%, Total (NYSE:TOT) at 13.6%, BP at 13.6% and Enersis (ENI) with 13.6%.
The project is an integrated gas utilization project with offshore and onshore operations to monetize gas resources from blocks located offshore of Angola. It has a one-train plant of nominal 5.2 million tonnes per year of LNG production capacity and includes production of NGL (natural gas liquids) and condensate.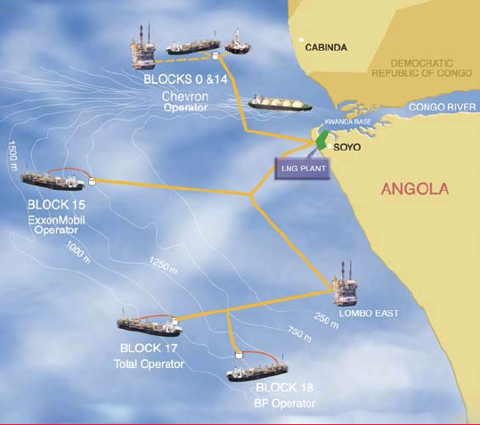 Source: Angola LNG
Chevron produced 5,074MCF/D of natural gas in 2012. Production should grow this year with several projects under way including the Angola LNG Project which is expected to ramp-up production soon. In the U.S., prices at Henry Hub averaged $2.71 per MMCF during 2012, compared with about $4.00 during 2011. International natural gas realizations averaged about $6.00 per MMCF during 2012, compared to about $5.40 per MMCF during 2011.
According to the company, total net production of liquids and gas are estimated at 2.65MBOED this year compared to 2.61MBOED produced in 2012 with the objective of reaching 3.3MMBOED by 2017. To accomplish this goal, the company is assuming that the BBL price for the Brent will be at $79/BBL level. Its current producing base will only decrease by 4% annually.
Angola LNG should start producing as expected by Q2 2013. As a matter of fact, the potential of the project is estimated at 125MCF/D of natural gas and it should be available from the date of plant start-up. For the purpose of simplifying calculations, let's assume for this year that total production would be at its full potential for estimation purposes. Chevron's share of production would be about 45.5MCF/D, a growth of 0.9%, for a total increase of 16,607.5MCF annually.
Therefore, according to Chevron's 2012 annual report, this added production would translate in sales on the U.S. market of $123,305 per day. On the international market, it would translate in sales of $273,000 per day. Overall capital and exploratory expenditures in 2012 were at $34.2 billion, from which $2.3 billion was spent in Africa on various offshore development and natural gas projects. For more on Chevron, read the complete analysis here.
According to BP, Angola LNG should commence to ship LNG by the end of May or early June. Angola is Africa's second-biggest oil producer. Angola LNG was originally intended to export to Mississippi, but the shale gas revolution in the U.S. has left the country with surplus gas. The Angolan government has pushed the industry to cooperate on creating more than 311 miles of pipeline infrastructure to take the gas to the new LNG plant where it will be cooled to minus 256 degrees Fahrenheit, allowing it to be transported for sale on giant tankers.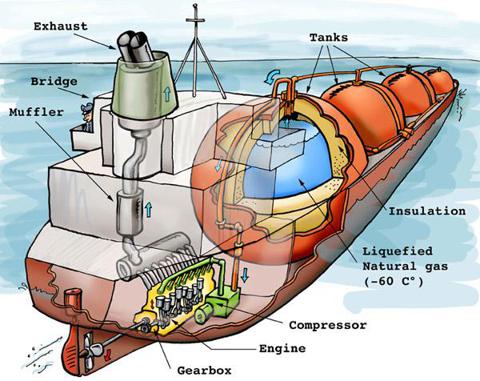 BP said that LNG from Angola is targeted to be sold in Europe and Asian markets because of its much higher prices. Angola LNG should ship more than 70 cargoes a year. With Angola LNG up and running, BP would add 17MCF/D to its 6.6BCF/D of natural gas produced in 2012, a 0.26% increase. Thus, on the U.S. market, this added production would translate in sales of about $46,070 per day while it would represents added sales of $102,000 per day on the international market. 2012 overall capital expenditure totaled $17.9 billion.
Angola LNG proved reserves are over 10 trillion cubic feet of gas and are expected to rise as oil and gas operations increase. New projects such as BP's giant PSVM floating production, storage and offloading vessel, which began oil production last December, will also be hooked up to the LNG plant. BP and Chevron are about to see the return on its investment. Angola LNG Project seems ready to make Angola's proud.
In conclusion, BP and Chevron are well positioned to benefit from the worldwide increasing demand for LNG with projects like the Angola LNG. As a matter of fact, these two giants producers, well renowned for producing crude oil and other petroleum products, are more involved in the natural gas production business by investing more heavily in LNG export terminals for the purpose of moving that cheaper commodity to Europe and Asian markets where the price of natural gas is much more expensive. Investors looking for a long position in a solid oil and gas producer, whether it is BP or Chevron, should act quickly. Securing shares of these players would eventually translate in an increased value of the shares. However, it would be wise to do so before Angola LNG's Terminal starts producing and exporting LNG.
Disclosure: I have no positions in any stocks mentioned, and no plans to initiate any positions within the next 72 hours. I wrote this article myself, and it expresses my own opinions. I am not receiving compensation for it (other than from Seeking Alpha). I have no business relationship with any company whose stock is mentioned in this article.