TransCanada's (NYSE:TRP) Keystone XL pipeline has been the subject of much public debate for years now as proponents and opponents trade arguments over the merits of the pipeline. As designed, the pipeline will stretch 1,179 miles from Northern Alberta to Steele City, Neb., where it will connect with the Keystone pipeline and continue down to the Gulf Coast. If approved, the 36-inch pipeline will carry up to 830,000 barrels per day of bitumen, heavy, tar-like oil. The second leg of the pipeline, from Cushing, Okla., to the Gulf Coast was previously approved and is currently under construction.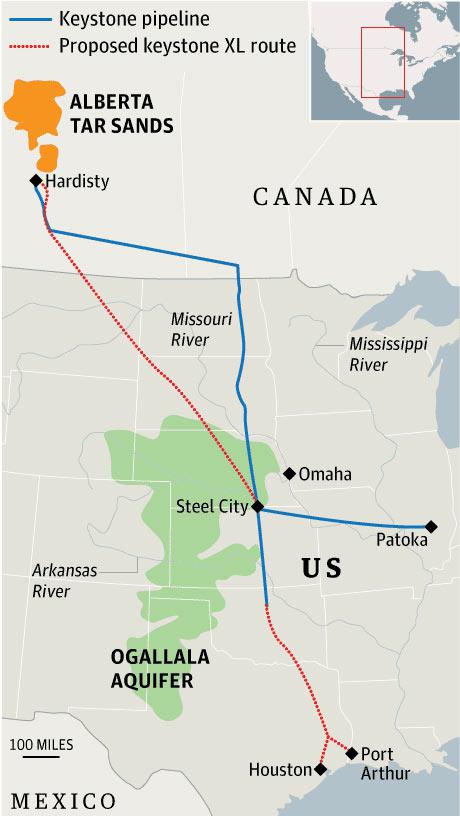 Because the pipeline crosses an international border, it must be approved by the State Department before construction can begin. The president has indicated he will make a final decision on the pipeline by the end of summer. It appeared approval of the pipeline had gained some momentum after the State Department completed an environmental impact study that showed the pipeline would have little environmental impact, and the state of Nebraska, which had objected to the original route of the pipeline, gave approval to the new proposed route. However, last Tuesday the Environmental Protection Agency released a report criticizing the State Department's environmental study and called for a delay in approval of the project to allow for another environmental impact study to be conducted. The EPA report has given ammunition to those who would like to see the pipeline delayed and/or rejected.
I personally do not know if the president will approve or reject the pipeline. At best, I think it is 50/50 that the pipeline is approved. However, I do believe that if the pipeline is rejected, there is one publicly traded company that will benefit the most from the fallout. That company is Canadian National Railroad (NYSE:CNI).
As I stated in an article I wrote in February, CNI owns the best track system in North America as it is the only railroad that has tracks that cross the continent from east to west and north to south. However, in reference to oil sands, the key track it owns is the track that runs to the oil sands region of Alberta. Below are two maps -- the first map shows the oil sands region located near Fort McMurray and the second map shows the Canadian National rail network, including a closeup of the CNI lines in the oil sands region. As you can see, CNI has lines that run right into the heart of the oil sands region, something no other rail line has. It is my belief that if the Keystone XL pipeline is delayed or rejected, CNI will benefit greatly by being able to provide "crude by rail" service to the oil sands producers.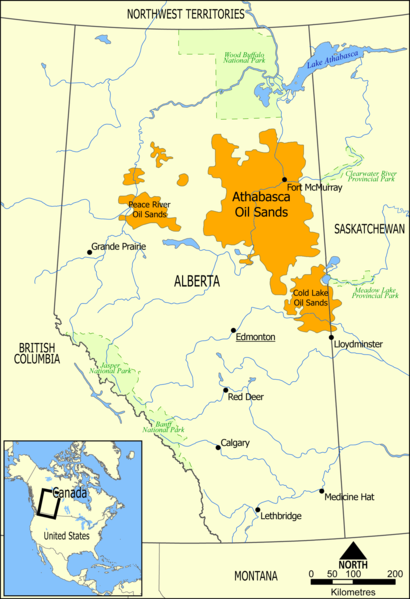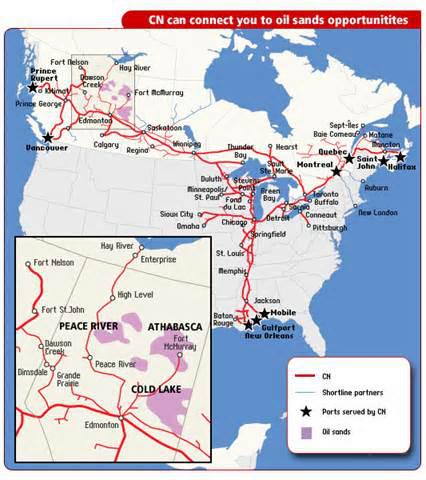 CNI has already seen benefits from the oil sands production. Below are some quotes from CNI management during the recent first-quarter conference call:
Petroleum and chemical, the revenue was up 16% on only a 3% carload growth. Crude by rail revenue was up 300%, and we now have roughly $75 million of our book of business in the first quarter, which was directly crude. As you know by now, crude is a very long haul business for CN, and we at CN are directly serving single-line the U.S. Gulf and all of the Eastern Canada refineries.

On the merchandise side from an outlook point of view, we expect solid growth -- solid revenue ton-mile growth from our crude by rail. CN's story in rail in crude is a story of revenue ton-mile. We expect new crude loading terminal to open on our line in the coming months. Rail complements pipeline. In fact, CN and pipeline companies cooperate where it makes sense.

Also, from a point of view of the refiners, the refiners today are still extremely bullish on leasing cars, buying cars, doing backstop capital investments for those who are willing to build a terminal for the product to move. And they're still very much of the view that getting product by rail allows them to get a price that they can't get from a pipe. So we're still very positive on -- well, not still. We are very positive on crude by rail. A number of people around us are also very positive; the refiners investing into fleet, you see pipeline companies getting interested in doing multimodal with the railroad and themself investing in some terminal to load. A number of people in the U.S. Gulf and our CN line are investing into receiving facilities. More and more players are looking at going the way of unit trains. So this is just still picking up momentum from one quarter to another. And the capital investment by all these different players is very encouraging.
As you can see from the above quotes, CNI management is very high on their "crude by rail" future. One of the reasons CNI loves moving oil/bitumen is the product is long haul, the most profitable for railroads. Much of the product is carried by CNI from Canada all the way down to Mobile, Ala. Although there is much to like about CNI's crude hauling future, there is still much infrastructure to build, purchase, and/or contract for.
Rail Cars: To transport bitumen through pipeline, a diluent has to be added to allow the heavy oil to flow through the pipeline. The same is true of rail cars, unless you purchase specially designed rail cars that can heat the bitumen once you reach your destination point. Using rail cars that heat the bitumen saves the producers money by eliminating the need for the diluent. Crude tanker cars are in high demand and the cost for the specially designed cars is high. Not all the cost falls on the railroads as in many cases producers and terminal operators purchase cars for use.
Loading Facilities: Once the producers harvest the heavy oil, special loading facilities have to be built to load the heavy oil onto the trains. Currently, Canadian National has, or will soon have, access to 10 of these facilities. Like railcars, the expense for the facilities does not always fall on the railroad. Facilities are often operated by the producers, by pipeline companies, and in some cases there are joint ownership operations. The best loading facilities are unit train loading terminals; however, few of those are currently in operation.
Refinery Destinations: This is where the Canadian National rail network, which I showed above, shows its advantage over Canadian Pacific (NYSE:CP). CNI has the advantage of loading the bitumen onto its railroad and delivering it directly to various Gulf Coast refineries. The CP network (shown below) does not have that ability; thus it would have to enter into agreements with other railroads to get the product to the refineries that can handle the heavy crude, most of which are on the Gulf Coast.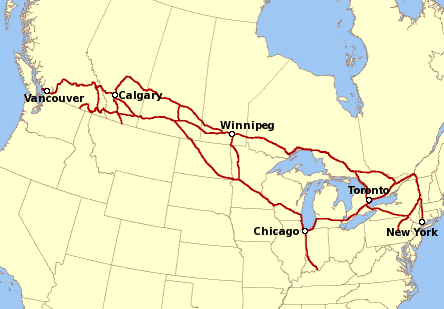 CNI, in partnership with Arc Terminals, is currently building a tank car unloading facility in Mobile, Ala. The facility when completed will handle 40 tank cars a day, with the ability to expand as demand increases. Each tank car can hold approximately 600 barrels of heavy crude. Arc Terminals President John Blanchard said the following concerning the facility:
'The rail transload terminal will … provide Canadian producers single-haul service to our Mobile destination,' he said. 'A single-line haul is more efficient and less expensive than those involving two or more rail carriers and multiple terminal switching.'
CNI also signed an agreement in March to move crude through the LBC Tank Sunshine terminal in Geismar, La. No other railroad can offer that single line haul service from the oil sands region.
The Potential: Andrew Potter, analyst at CIBC World Markets, said he expects production from the oil sands of northern Alberta, the world's third biggest crude resource, to jump 2 million to 2.5 billion barrels a day by 2020 from 2011's output of 1.6 million bpd. Potter believes oil sands from production from both mining and steam could jump to 4.1 million barrels a day in eight years. Knowing that Exxon Mobil's (NYSE:XOM) Kearl Oil Sands project is just beginning production and will eventually be processing 350,000 barrels a day and other major producers are still ramping up their production, I believe that forecast will be relatively accurate.
What About Other Pipelines? Besides the Keystone XL pipeline that would carry 830,000 barrels a day, Kinder Morgan (NYSE:KMI) plans an expansion of its Trans Mountain pipeline from 300,000 barrels a day to 890,000 barrels per day, and Enbridge (NYSE:ENB) has proposed the Northern Gateway pipeline, which would carry 525,000 barrels a day of bitumen to the coast of British Columbia. Enbridge has also applied to reverse a pipeline that runs to the East Coast and would carry 300,000 barrels a day. If all these pipelines get built, that is additional capacity of over 2 million barrels a day, far short of what will be needed to carry all of the oil sands potential production. In addition, none of the pipelines have even started construction. The Northern Gateway pipeline is facing stiff opposition from a number of groups and may not get built. Kinder Morgan's Trans Mountain proposal is in the first year of a two-year approval process and would not be complete until 2017. Enbridge's other proposed pipeline reversal to the east coast is a relatively new proposal and is also years away.
Rail Best Alternative: So if President Obama rejects the Keystone XL, it is clear to me that CNI may be asked to haul quite a bit of oil. Even if it is approved, TransCanada has stated it would not go into operation until the second half of 2015. Even if all the pipelines are built, I do not believe there is enough overall capacity to move all the oil without railroad participation. There are many deep pocket producers in the Athabasca oil sands region, including Exxon Mobil, Royal Dutch Shell (NYSE:RDS.A), Suncor (NYSE:SU), ConocoPhillips (NYSE:COP), and Total (NYSE:TOT), to name a few. These producers will not stop production after having sunk in billions of dollars developing the area because the Keystone XL is rejected. The crude will be moved and will be moved by rail if necessary.
Final Thesis: I believe CNI will benefit from the continued build out of the oil sands production in Canada and will benefit even more if the Keystone XL is rejected. CNI's one-of-a-kind rail system will allow CNI to provide one-line service from the oil sands region to the various heavy crude refineries, and will also allow CNI to bring various supplies into the oil sands region for the producers. The increase in crude by rail service will be substantial and will be accretive to earnings.
The crude by rail business will not increase exponentially overnight, but rather slowly and steadily over years. Investors with a long-term horizon should benefit from the growing earnings and will be additionally rewarded from CNI's growing dividend.
Disclosure: I am long CNI, XOM. I wrote this article myself, and it expresses my own opinions. I am not receiving compensation for it (other than from Seeking Alpha). I have no business relationship with any company whose stock is mentioned in this article.