Late last week, both H&R Block (NYSE:HRB) and Intuit (NASDAQ:INTU) reported their volumes of tax filings each company did this year. Both companies admitted it was a rough tax season (Really? Because the rest of America loves tax season!) H&R Block reported .9% fewer filings than last year, at 22 million. H&R Block did report that its online filings increased by 10%, which is why Intuit's Turbo Tax saw declining numbers. Intuit had projected Turbo Tax filings to increase by 4%, but instead saw a 2% decrease. Intuit, which had similar growth in the last year to the S&P 500, saw most of its gains lost in one day as shares dropped 11% on Thursday.
On April 15, I wrote that it was probably time to dump H&R Block given its tendency to see its stock price drop this time of year, regardless of the report. Last week's news about H&R Block shouldn't be surprising, and I think that is why the stock bounced back on Friday. However, the news from Intuit is surprising, which is why it dropped so dramatically.
Take a look at the following charts. H&R Block does not display the growth and increase you want to see in sales, net income or EPS. Meanwhile over the last decade, Intuit has had steady and consistent improvements in each area.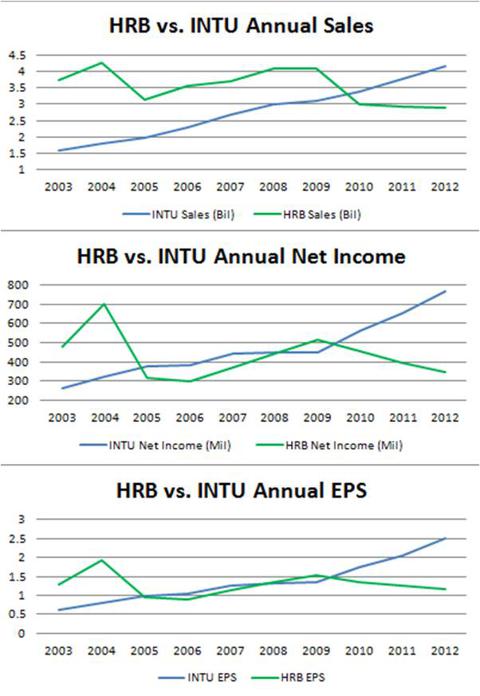 Click to enlarge
If you bought H&R Block before January, I congratulate you. Take those gains, along with your tax refund (and the $25 gift card you got from H&R Block if you experienced delays) and enjoy yourself! As for Intuit, it may be a good time to buy on the overreaction of last week.
Disclosure: I have no positions in any stocks mentioned, and no plans to initiate any positions within the next 72 hours. I wrote this article myself, and it expresses my own opinions. I am not receiving compensation for it (other than from Seeking Alpha). I have no business relationship with any company whose stock is mentioned in this article.