Amarin Corporation (NASDAQ:AMRN) is one of the most controversial and debated stocks in recent memory. Plenty of information exists that helps validate both the bull and bear case to the stock with recent events taking place that have more than proven the short-term bears correct. Fortunately for the Amarin faithful, the company is in a unique position to begin and continue a steady upward climb in share price without overcoming the main foundation to the bear argument, something that is extremely rare and could make this stock an extremely long and painful trade for the bears.
What are we talking about?
Amarin Corporation Plc is a biopharmaceutical company focused on the commercialization and development of therapeutics to improve cardiovascular health. Their flagship drug is Vascepa, a drug developed to treat patients with hypertriglyceridemia (high levels of fats in the blood), specifically those with TG's <500mg/dL. A market that has billions of dollars in established sales. Major competitors to Amarin's drug Vascepa are GlaxoSmithKline's (NYSE:GSK) Lovaza, Pfizer's (NYSE:PFE) Lipitor, AstraZeneca's (NYSE:AZN) Crestor, and Abbott Laboratories (NYSE:ABT) Tricor. Each of these drugs has routinely eclipsed the 1 billion a year in sales mark, giving them the prestigious title of blockbuster. Blockbusters are the holy grail of pharmaceutical companies. They greatly help fund research and development, marketing, acquisitions, and every other function of the company.
Why the broken chart?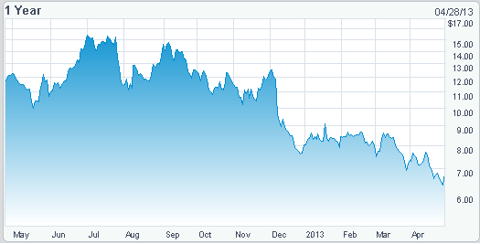 It doesn't take a seasoned trading veteran to recognize that Amarin has had a horrible run over the last twelve months and as I said above, the bears have been correct in shorting this stock (selling borrowed shares of a stock with a promise to buy and return them at a later date, meaning the sellers think the price will go down). The company has a current market cap of 1.03 billion and has a 52-week trading range of $6.34-$15.96. The stock has lost 45% in the last 6 months and 20% since January alone. It's trading at a 60% discount to the mean sell side price target of $19.50. It has been a consistent loser and has been an absolute failure when looked at on a 12 months basis. Most of this share price drop has been the result of Amarin not receiving New Chemical Entity (NCE) status from the FDA following its approval of Vascepa on 7/26/2012. NCE is paramount to the exclusivity protection of a drug and therefore its projected sales, which entirely dictates the market cap and share price potential of Amarin. Without the promise of protection against generic competition, Amarin has found it difficult to find a partner to help them market and sell their drug. Sales expectations have slowly been guided down from a peak of 2 billion to 500 million. They have been forced to try to launch and sell their product on their own which puts them at a huge disadvantage when compared to the alternative route. The bears have punished the stock for not having NCE and this is the foundation of their argument against Amarin.
Why should I consider this a buying opportunity?
Even without NCE, Amarin has the possibility of being granted NCE once a month when the FDA updates its Orange Book, there are numerous reasons this dip should be bought, most notably the fact that Vascepa is a superior drug to the four listed above. That's right, Vascepa has fundamental advantages for patients its competitors simply do not. Remember, the share price drop hasn't taken place because Vascepa isn't a better product, it's taken place based on exclusivity fears. For instance, GSK's Lovaza has an Atrial Fibrillation (increases in the frequency of a heart rhythm problem) warning on its label and raises LDL, which is considered the "bad" cholesterol. Abbott Labs' Tricor increases HDL, generally considered a "good" cholesterol but for those being treated for extremely high levels of cholesterol any increase is considered not good. Vascepa can be taken without an increase to either.
Peace also has built in advantages that will be priced into the stock, in my opinion, going forward. For instance, Amarin's ANCHOR trial results have shown the drug's ability to reduce ApoC-III, which increases cardiovascular event risk. An increase in ApoC-III levels induces the development of hypertriglyceridemia, exactly what these drugs are meant to treat. Amarin's ANCHOR study has shown to this point the drugs efficacy in treatment of patients when combined with statins. Although the REDUCE-IT study isn't expected to be completed until 2016, the results of the ANCHOR study showing the ability to lower triglyceride levels in patients on statin therapy and reduce ApoC-III, which is associated with cardiovascular risk, look extremely promising for the future results of the REDUCE-IT study. The FDA also recently accepted Amarin's NDA for Vascepa to treat patients with high triglycerides, specifically those with TGs >200mg/dL and = 500mg/dL, which is basically 1 in 5 adults. This would increase Amarin's current market by ten. If approved for this, they could very reasonably reach 2 billion in sales. This along with the stock trading just above its 52-week low is reason enough to justify the risk-to-reward ratio of buying the stock as many believe this is a mere formality before approval.
There's also the recent "patent cliff" experienced by Pfizer's drug Lipitor, that with growing prescriptions for Vascepa and even a short-term exclusivity could have a large pharma convinced this is a short-term patch for the massive drop off in revenue that comes with their drugs exclusivity running out. If Amarin can continue to increase the uses and treatable patient populations for Vascepa, they may be able to attract a partner or a buyout from a company needing to help transition their move to a more streamlined and focused approach. Sales for Lipitor have been hammered starting in Q3/2011 because of generic competition, the same exclusivity fears that have pounded Amarin's stock have played out in the chart below, illustrating just why the market is so concerned about NCE. Remember, Amarin does in fact have a short-term exclusivity even without NCE: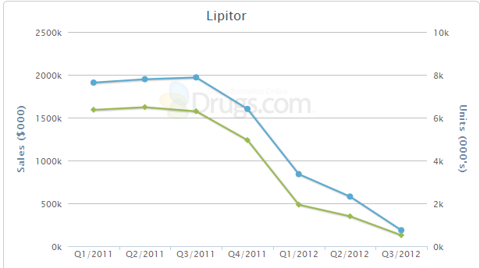 The question becomes, assuming NCE continues to be delayed or is never granted, can Amarin show enough initial sales or expand the approved market to a point to get, at minimum, a partnership to help sell and market their unique drug. I believe they can and I also believe that Pfizer's recent drop off in Lipitor sales and the following collapse in revenue is motivation enough to at least get previously closed off eyes to open. Big pharma companies are currently asking themselves "how do we remain extremely profitable and sustain operations if we're investing less and less in R&D," and I think that as Vascepa becomes a drug that is uniquely suited to treat particular patient populations they become a very attractive answer.
What's the bottom line? Where's the trade?
With Amarin trading as of 4/26/13 at $6.84, this is after a 7% rise on Friday, I think the risk-to-reward is in favor of the bulls both short term and long term. Most pharma stocks typically trade at three times projected sales and then increase to six times actual sales produced. Even with a baseline projected sales of 500mm/year and the 20% short interest in the stock, Amarin is trading well under industry average. If you believe that the NDA recently submitted will be approved and expand the patient base for Vascepa, this greatly increases both the floor and ceiling of the share price. The short-term price of Amarin will be heavily dependent on prescription sales numbers, but the long-term price will be tethered to how wide a net Vascepa can cast and if they can eventually attract a partner. As, what I think will be, better and better prescription numbers trickle in, the shorts will have to slowly cover their positions in turn helping the price of the stock. I think this could turn into a significant pain trade for the bears and that Amarin could be a suitable place to invest medium to long term IRA money or short-term money from an investor's speculative bucket.
Disclosure: I have no positions in any stocks mentioned, and no plans to initiate any positions within the next 72 hours. I wrote this article myself, and it expresses my own opinions. I am not receiving compensation for it (other than from Seeking Alpha). I have no business relationship with any company whose stock is mentioned in this article.