I have been underweight on the retailing sector throughout 2013 until the impacts of the payroll tax holiday expiration and other various tax hikes worked their way through the economy. However, consumption seems to be holding up judging by the 3.2% increase noted in the first-quarter GDP report hitting the market last week. Gas prices have dropped over 25% since February's peak and this is helping to offset the tax hikes consumers have faced in 2013. The sector seems to be garnering some more positive comments from analysts recently as well. Finally, retailers have little exposure to the dismal situation in Europe, unlike other sectors like manufacturers. Here are two retailers that are significantly under their previous highs but seem to on the mend and look like solid investments here.
Abercrombie & Fitch (NYSE:ANF) operates as a specialty retailer of casual apparel for men, women and kids. It has over 900 stores in the United States and just under 150 stores internationally. The stock is down substantially from the over $75 the shares fetched around 18 months ago.
4 reasons ANF is a solid buy at $48 a share.
Macquarie just upgraded the shares from "Neutral" to "Outperform."
Analysts see 7% CAGR for revenue over the next two fiscal years and the stock sports a five-year projected PEG of under 1 (.72).
The company has beat earnings estimates easily for three straight quarters and the stock is selling at under 12x next fiscal year's projected earnings.
Abercrombie has a solid balance sheet with over $550mm in net cash on the books (over 15% of its current market capitalization). The stock also yields 1.7%.
Dick's Sporting Goods (NYSE:DKS) operates as a sports and fitness retailer primarily in the Eastern United States. It owns 518 Dick's Sporting Goods stores in 44 states and 81 Golf Galaxy stores in 30 states. The stock is down not quite 15% from its highs late in 2012.
4 reasons DKS is a bargain at just over $47 a share:
Barclays just initiated the shares as "Overweight" with a $57 price target on the shares. BMO Capital also upgraded the shares to "Outperform" from "Market Perform" in March.
Analysts expect 7% to 10% annual revenue growth over the next two years. The stock's five-year projected PEG is near 1 (1.11) as well.
The company has no net debt and has almost $350mm of net cash on its books (over 5% of market capitalization).
The stock has good technical support just under the current price level (See Chart).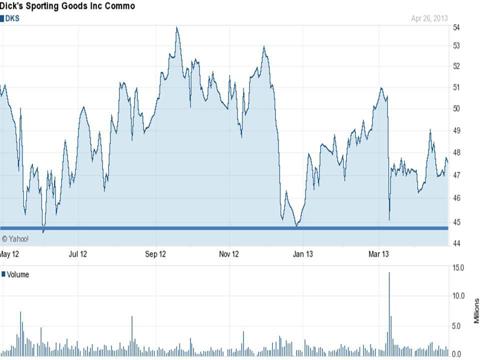 Disclosure: I am long DKS. I wrote this article myself, and it expresses my own opinions. I am not receiving compensation for it (other than from Seeking Alpha). I have no business relationship with any company whose stock is mentioned in this article.