This article focuses on Medley Capital (NYSE:MCC) and compares it to the other business development companies ("BDCs") with dividend yields of 9% or higher and P/E ratios below 11 times.
These are the five general criteria I use to evaluate BDCs:
Profitability (EPS to cover dividends, NAV and EPS growth)
Risk (diversification, portfolio quality, volatility, leverage)
Payout (sustainable, consistent, growing)
Analyst Opinions
Valuation (NAV, P/E, PEG)
For more information about BDCs and how I evaluate them, please see this article.
Below is an oversimplified table with rankings between 0 and 10 (10 being the best) relative to the 25 BDCs I have reviewed. In reality I use different weightings for almost 100 data points on each company and my personal rankings (based on my risk/return comfort) are close to these but far from exact.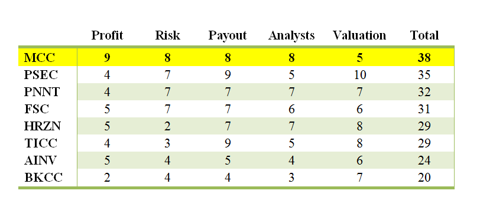 Medley Capital
Profit
MCC is one of the newer BDCs completing its IPO in January 2011, and it has been actively raising capital with debt and equity offerings. On March 26, it received a license from the U.S. Small Business Administration to operate as an SBIC giving it increased access to a lower cost of capital. EPS increased each quarter since the IPO and exceeded analyst expectation for all but one quarter, with excellent coverage of dividends paid. Analysts are projecting 10% growth over the next 24 months after taking into account the dilutive nature of new share issuances.
Risk
MCC's portfolio has better-than-average industry diversification (see chart below) with 43% of investments bearing floating rates and no loans on non-accrual status.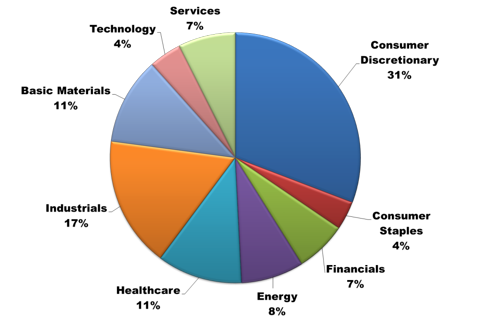 MCC has one of the lowest debt-to-equity ratios at 0.45 and one of the safest asset class mixes compared to most BDCs, with 99% of investments in senior secured loans or notes (see table below).

Payout
The current dividend yield of 9.4% is slightly higher than the average BDC but MCC has consistently increased its dividend since the IPO and as EPS is projected to grow, hopefully so will its dividend.
Analysts
Most analysts rate MCC a 'Buy' with a target price between $16 and $17.
Valuation
This section is covered in the summary below.
Summary
Currently MCC is trading at a P/E of 10.7 using the last 12 months' EPS, which is below the BDC average of around 11.6, and a 21% premium to NAV, which is above the current average of 12%. Below is a table comparing some of the highest-yielding BDCs with some of the lowest P/E multiples. Using LTM EPS for PSEC would give it an artificially low P/E because of profits from the Gas Solutions sale in January 2012, taken as income rather than capital gains and was a temporary fourth-quarter bump. Its stabilized EPS run rate is around $0.30 per quarter and using an annualized $1.20 EPS would give PSEC a P/E of 9.0.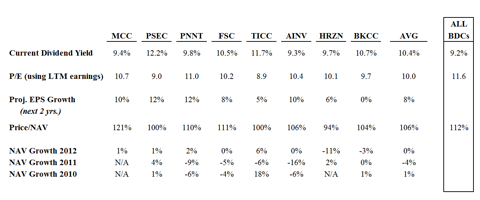 BDCs are usually priced near or at book value because they are required to distribute at least 90% of capital gains, dividends and interest to shareholders, and as shown in the table above, tend to average little or no annual growth in NAV. MCC has outperformed most BDCs in the last two weeks and is priced at a higher premium to NAV probably due to expected growth and favorable risk profile. Financial results for March 2013 are expected later this week with projected EPS of $0.37 (recently increased from $0.36) and NAV per share is not expected to change materially from $12.69.
Previous articles:
Disclosure: I have no positions in any stocks mentioned, and no plans to initiate any positions within the next 72 hours. I wrote this article myself, and it expresses my own opinions. I am not receiving compensation for it (other than from Seeking Alpha). I have no business relationship with any company whose stock is mentioned in this article.