International Business Machines' (NYSE:IBM) recent first quarter results were nothing to write home to Momma about. The company reported revenue of $23.4 billion, which was down 3% year-over-year, but the company claims a large number of deals that should have been closed in Q1 will most likely be closed in Q2 instead, setting IBM up to have a good second quarter.
In the Question and Answer portion of the company's Q1 2013 earnings call held on April 18, 2013, Mark Loughridge, Senior Vice President and CFO, Finance and Enterprise Transformation, noted a potential contributor to not closing as many deals as hoped was having Easter in the month of March instead of April. Mr. Loughridge also indicated changes in the Chinese government also could have been a reason for not closing as many deals as expected.
Mr. Loughridge indicated a large number of the non-closed deals were related to Software and System mainframes. Revenue growth for Global Technology Services was slowed due to continued pressure on sales into existing accounts. Other segments of the business performed very well or as expected such as Services, Smarter Planet and Cloud. Business analytics revenue was up 7% year-over-year and was led by double-digit growth in Global Business Services. Revenue for Smarter Planet was up 25% year-over year, Cloud business was up over 70%, Java was up 70%, Database was up 24% and Linux was up nearly 100%.
Geographically, revenue in the Americas was down 3%, Asia-Pacific was down 1% and EMEA was down 4% year-over-year. China and Russia posted modest declines in revenues. On a slightly positive note, revenue in Japan was up 3% year-over-year and Spain returned to modest growth. Latin America was a very bright spot, posting double-digit revenue growth with Brazil and Mexico posting very good results.
Mr. Loughridge indicated the company will continue to acquire and divest businesses and rebalance resources as necessary. IBM introduced MobileFirst, during Q1, which combines the company's mobile expertise with cloud-based services. Additionally, the company plans on increasing its efforts in Linux, as the company attempts to leverage its leadership in Unix to go after opportunities in Linux, especially since the Linux market segment is growing faster than Unix.
IBM's stock price, as shown below, has been on quite a roller coaster ride over the last year -- trending down two times and trending up three times, with the current price near the support level of the previous two downward trends.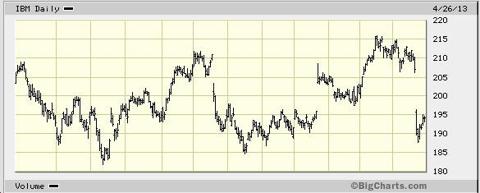 For a technology company, IBM's Price-to-Earnings ratio of 13 and its Price-to-Sales ratio of 2.2 make the company an attractive investment proposition. With the company's stock price near its previous two support levels and its backlog of deals-which could be closed in the second quarter, a protective investment for the company, such as the married put position is considered. The married put position can be entered by purchasing a put option against a long stock position and sets up an investment for unlimited upside with limited downside, as the put option operates as "insurance." The expiration month for the put option is typically selected several months in the future in order to reduce the per-day cost of the put option "insurance."
Using PowerOptions, a number of married put positions for IBM for stock option expiration in the month of October were found as shown below: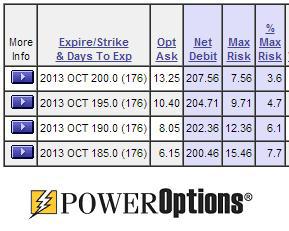 The married put using the 2013 October 195 put option looks attractive, as it has a maximum potential loss of 4.7%, before considering expected dividend payments during the holding time. When taking into consideration expected dividend payments, the maximum loss is reduced to 3.9%. The details for entering the married put position are shown below:
IBM Married Put Position:
Buy IBM stock (existing or purchased)
Buy 2013 Oct 195 put @ 10.40
A profit/loss graph for one contract of the married put position is shown below: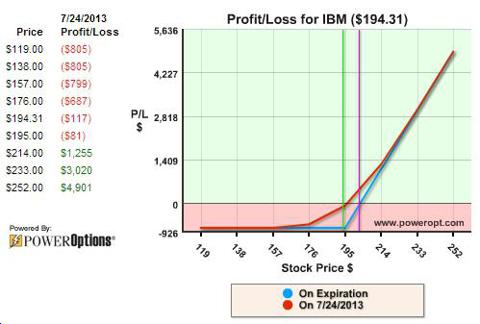 For an increasing stock price, the profitability of the married put position also increases, and for a stock price below the $195 strike price of the put option, the value of the position remains unchanged. If the price of the stock increases to above the $195 strike price of the put option, then income methods can be applied in order to receive income and reduce risk as taught by RadioActiveTrading.com.
Look forward to hearing your comments below!
Disclosure: I have no positions in any stocks mentioned, and no plans to initiate any positions within the next 72 hours. I wrote this article myself, and it expresses my own opinions. I am not receiving compensation for it (other than from Seeking Alpha). I have no business relationship with any company whose stock is mentioned in this article.