In the beginning of this month, I wrote an article referencing a study done by Kantar Research Group which said that Windows Phone (NASDAQ:MSFT) had been gaining market share in many different markets including, but not limited to, the US, according to the data collected in February 2013. Now, the research group updated its research report based on the new data that was acquired last March and the data looks even better for Nokia (NYSE:NOK) and Microsoft.
In February of 2012, Microsoft Phone enjoyed a market share of 2.7% in the US, which improved to 4.1% by February of 2013. As of March 2013, Windows Phone enjoys a market share of 5.6% which represents the fastest growth rate out of all ecosystems. Since February, the market share of Windows Phone increased by 36% whereas the market share of Android (NASDAQ:GOOG) and iOS (NASDAQ:AAPL) were nearly flat (for Android, it was 49.3% vs 51.2% and for iOS it was 43.7% vs. 43.5%). Nokia alone accounted for 4% of the market share which means that Nokia currently sells 71% of all Windows Phones that are sold in the US. Outside of the US, Nokia's market share ranges from 70% to 95% varying from country to country.
The research also reveals that 52% of the people who bought a Windows Phone actually upgraded from a feature phone to a smart phone. This is really interesting because this shows that Nokia's strategy is working. Earlier, I wrote an article where I said that Nokia's strong position and brand name in the feature phones will help it sell a lot of smart phones to people who are upgrading from feature phone to smart phone for the first time in their lives. We are clearly seeing that here and this is much easier for Nokia to accomplish than to steal consumers from iOS and Android (even though that seems to happen too). If we exclude Nokia, the percentage of smart phone owners who recently upgraded from a feature phone falls to 30%. Obviously, the happy owners of Nokia feature phones move to the higher-end phones of the same company when they decide to upgrade.
For the time being, Nokia will either see breakeven or a small profit on its Windows Phones. Other Windows Phone producers (e.g., Samsung, HTC and LG) do not sell enough copies of Windows Phones to even reach a breakeven point. These companies mainly make money on their Android phones and I honestly don't think they will continue to produce Windows Phones if they can't make money from it. Soon enough, we may see Nokia as the only company that produces Windows Phone devices, which would help Nokia greatly and force Microsoft to help it in more ways.
Furthermore, Nokia has either the highest or second highest consumer satisfaction in the US when we look at the results by carriers. In AT&T and Verizon users, Nokia has the highest customer satisfaction rate, whereas in T-Mobile users, Nokia comes second right after HTC. On average, Nokia users were 21% more likely to be satisfied with their devices than the users of other phones. Keep in mind that these users include both smart phone and feature phone users though.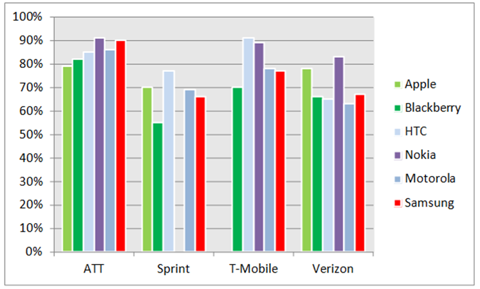 Currently, Nokia's smart phone volume is increasing in double-digits; however, the company's low-end phone volumes are decreasing at an even faster rate. The company will have to slow down or stop the "bleeding" in the feature phones or increase the rate at which its smart phone volume grows. A high-end smart phone like Lumia 920 could bring in as much profit as 7 or 8 feature phones, which means that as long as Nokia maintains its double-digit growth in the smart phone volumes, it will reach profitability in the mobile devices department.
For investors of Nokia, there is a lot of upside potential. Currently Nokia's price to book ratio is as low as 1.2 and price to sales ratio is 0.3. If we look at the 5-year averages, Nokia's average price to book ratio is 2.0 and average price to sales ratio is 0.6. If the company returns to profitable, its share price can easily double. Many investors and analysts make the mistake of seeing Nokia as the "devices and handsets" department while ignoring the company's mapping and Nokia Siemens Network businesses even though devices and handsets division only makes up a third of the overall company. If the company is able to post a profit in its devices and handsets department, the analysts will love it; but if it doesn't, analysts will hate it because analysts base their perception of Nokia solely on its devices and handsets division and act as if the other divisions don't exist. For example, last year Nokia was able to achieve positive cash flow thanks to Nokia Siemens Networks and many analysts' reaction was "well it doesn't count because the profit didn't come from smart phones" as if NSN isn't a part of Nokia.
Until very recently, many analysts argued that Nokia would burn through its cash reserves and run out of business within a matter of a few quarters. This is the biggest reason that Nokia currently trades at values so close to its book value. Over time, the "cash bleeding" slowed down and came to a halt. Nokia showed the world that it is here to stay and that it will survive for a long time. Now, most analysts who said Nokia was going to bleed to death within the next year or two started to say that Nokia was likely to survive, yet almost none of them increased their target price for the company. Isn't it interesting? If I said that a company was going to go bankrupt and changed my mind later on, I'd at least bother to increase my share price target. Most analysts didn't do that. Currently, the average target price on Nokia is still $3.00, which is the same value it was when analysts were saying "Nokia will bleed to death."
Now what? I added to my Nokia shares last week and I will continue to hold my shares. Also, I will continue to sell monthly covered calls (which haven't been assigned in months because the stock is pretty volatile). I believe that long term investors don't have much to lose but have a lot to gain if they are patient with this company.
Disclosure: I am long MSFT, AAPL, NOK. I wrote this article myself, and it expresses my own opinions. I am not receiving compensation for it (other than from Seeking Alpha). I have no business relationship with any company whose stock is mentioned in this article.