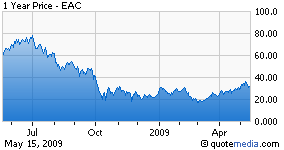 Hold-rated Encore Acquisition Company (NASDAQ:EAC) offers unlevered appreciation potential of 32% to a McDep Ratio of 1.0 and levered appreciation potential of 56% to Net Present Value (NPV) of $44 a share. Released today, first quarter results reflected high fixed costs that caused unlevered cash flow (Ebitda) to decline by more than half from the fourth quarter of 2008 while oil and gas price declined by a third.
The quarter just ended may have been a low point as we project revenue gains and cost containment in the quarters ahead. Those projections support estimated NPV when viewed by unlevered multiples (PV/Ebitda) related to reserve life (Adjusted R/P) for natural gas and oil. Pointing to expected oil price recovery, futures prices for the next six years averaged US$66 a barrel recently.
The surprise early release of earnings today accompanies a decision to offer 5-year high-yield notes in a public underwriting. The financial leverage of higher debt than we would normally like to see combined with the operating leverage of fixed costs accentuates the opportunity and risk in Encore stock.
Originally published on April 22, 2009.