We recently dedicated articles to Caterpillar (NYSE:CAT), Deere & Co. (NYSE:DE) and Joy Global (NYSE:JOY). Today we want to compare the three to try and help investors decide which might be best.
Sector Outlook: Signs of Stability
Heading into 2013, investors remain positive in their outlook for the three top stock picks, Caterpillar, Deere & Co. and Joy Global. Although some caution around 2012's last earnings season is still warranted, early 2013 could be an adjustment period for machinery companies. But going forward, there are already early signs of stability across many end markets and early signs of improvement in certain emerging markets.
The diagram below illustrates the clustering of end markets for machinery companies, around "Early" to "Mid-Cycle" recovery.

In particular, Chinese machinery markets have bottomed, although significant recovery could take some time to develop. Investors are encouraged by positive signs of improving economic growth in Brazil, where more government policies could support better machinery markets in 2013.
Expectations Low for Caterpillar and Deere
Following some hiccups in 2012 as demand growth slowed, investor expectations for CAT are relatively low into 2013. Deere & Co. remains well positioned for EPS growth driven by still solid North American and recovering Brazilian agricultural equipment markets.
If freight activity accelerates in 2013 in line with accelerating U.S. economic growth amid lower fiscal drag, a potential upside to trucker pricing and capex intentions will result, as trucker returns have historically coincided with truck capex.
Capital Deployment

Analysts expect potential value-enhancing capital deployment opportunities across the three machinery stocks as:
Cash and liquidity are at historical highs;
Borrowing costs are at trough levels; and
Macro visibility is improving.
Machinery and diversified industrial companies have increased capital allocation to mergers and acquisitions (27% of cash flow from operations) in this cycle following a decade of relatively lower M&A activity (14%) and higher cash return to shareholders (33%). There will be potential for Joy Global, Caterpillar and Deere to introduce/accelerate stock buyback programs driven by strong free cash flow and what appears to be limited near-term M&A opportunities.
Early Demand Cycle
There will be a potential for early cycle truck demand to accelerate in 2013 in Brazil and China truck markets, while U.S. truck capex expectations and freight volumes should improve in 2013. Truck and engine production estimates have been reduced by 21% over the past seven months. U.S. truck production is finally in line with orders following several quarters of excess production, and freight volumes in Brazil and China are improving.
Potential upside to North America truck capex is expected if freight activity accelerates in 2013. U.S. production levels have been cut to manageable levels after soft freight activity impacted truck capex in 2012. Book to bill for North America Class 8 trucks has improved to 1.0X in 4Q12 following significant overproduction earlier in 2012 (average book to bill of 0.75X through the first three quarters of 2012).
Expect a pickup in Brazil truck capex in 2013, following 2012 weakness in new truck demand after pre-buy in 2011 ahead of rising financing and new emissions costs. While truck capex has meaningfully outpaced fixed investment growth over the past cycle, rising infrastructure investment requirements ahead of the 2014 World Cup are expected, along with the 2016 Summer Olympics, driving secular capex growth.
Meanwhile, Goldman Sachs analysts forecast a modest recovery in spot coal and iron ore prices over the course of 2013 driven by modest global demand growth, high cost supply reductions, and reversion from 2012 inventory destock. The modest commodity price recovery, historically low capex reinvestment rates in 2013, and mining company track record of raising capex as returns rise point to a modest capex recovery in 2014. With Joy Global trading at 11X trough earnings, a significantly more bearish capex view is priced into the company's stock.
The chart shows that mining capex budgets have followed the earnings trend historically.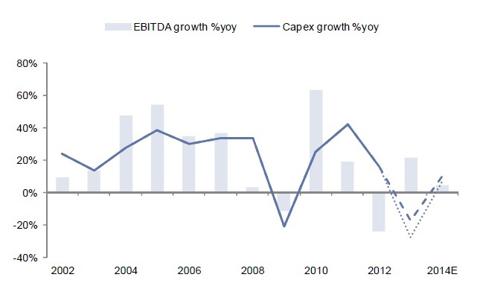 Source: Goldman Sachs Research Estimates
Valuations
Given that investors and analysts believe that many machinery markets are still generally in a mid-cycle phase, overall the average P/E valuation of the three stocks at still, on average, 10X the forecasted 2013 EPS and under (even after a recent rally), is relatively inexpensive versus historical mid-cycle valuations in the low-to-mid teens.

Source: Company Reports
Goldman Sachs raised its 12-month price targets by 10% on average, across its machinery stocks coverage, driven by reduced global growth risk premium driven by the elimination of fiscal cliff uncertainty.
Barclays applied an average target Relative P/E multiple of 11.9X on machinery stocks and they are forecast to remain at a discount to the S&P500, trading at a relative P/E of 0.90X on its 2013 estimate (which is generally in-line with or below consensus estimate).
Disclosure: I have no positions in any stocks mentioned, and no plans to initiate any positions within the next 72 hours.
Business relationship disclosure: Black Coral Research is a team of writers who provide unique perspective to help inspire investors. This article was written Hans Centena, one of our Senior Analysts. We did not receive compensation for this article (other than from Seeking Alpha), and we have no business relationship with any company whose stock is mentioned in this article.
Additional disclosure: Black Coral Research is not a registered investment advisor or broker/dealer. Readers are advised that the material contained herein should be used solely for informational purposes. Investing involves risk, including the loss of principal. Readers are solely responsible for their own investment decisions.