Windstream Corporation (NASDAQ:WIN) is a provider of advanced communications and technology solutions, including managed services and cloud computing, to businesses nationwide. Windstream is currently trading at $8.45 per share while offering an 11.83% dividend yield.
Here are 5 reasons why I believe Windstream could be a great buy for dividend investors looking for big yields.
Reason One: The Yield
Windstream is currently trading at the low end of their 52-week range. This has pushed the yield up over 11%, giving current investors more dividends for their money. The chart below shows its one year range, notice the several times Windstream stock reaches into the $9-$10 range.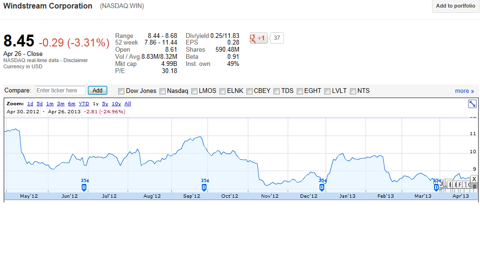 Reason Two: The Dividend
Windstream has maintained a dividend of 25 cents every quarter since December of 2006. Windstream has paid 27 consecutive quarterly dividends and paid the dividend throughout the economic downturn showing its stability.
Reason Three: The Free Cash Flow
In Windstream's reporting of 2012 fourth quarter results, the adjusted free cash flow to dividends paid represented a dividend payout ratio of 77% (see picture below).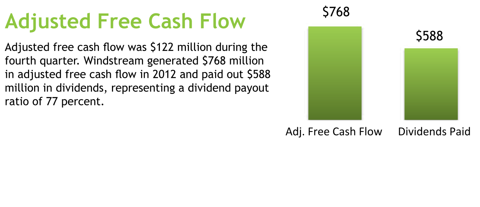 Reason Four: The Insider Buying
Over the last six months insiders have been buying up shares of Windstream. During that time there have been 33 buys for a total of 552,714 shares bought and 5 sells for a total of 105,418 shares sold. This shows confidence in the company and the direction it is going from those on the inside.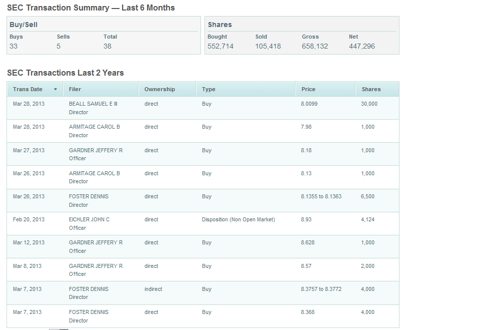 Reason Five: The Confidence
The confidence and support of Jeff Gardner, President and CEO, is demonstrated through the insider buys mentioned above. Several purchases were made by Mr. Gardner himself. His most recent purchase was 1,000 shares on March 12, 2013 for a price of $8.62 per share. So you could buy today for a better price than the CEO received.
Mr. Gardner has also voiced his and the board's support of the dividend and its ability to be paid long-term several times in 2012. Here are a few of those quotes.
Q1 2012 Earnings Call:
We feel so good about our ability to pay this dividend for a very, very long time. And if you heard me clearly, not only did I say that, but I also said that we're feeling comfortable that over the long run, Windstream believes that we can consider future shareholder friendly activities. And so the cash flow generation capability of this business, we've never felt better about.
Q2 2012 Earnings Release:
We remain positioned well to sustain our dividend, deleverage the balance sheet and consider additional shareholder friendly activities over time.
Q3 2012 Earnings Release:
Our business continues to perform well, and I am confident in our ability to deliver strong free cash flow long-term to support our dividend. The dividend is a key component of our investment thesis, and we believe it is the best way to provide returns to our shareholders.
Q4 2012 Investor Briefing:
Windstream continues to produce substantial free cash flow that enables us to invest in our business and reduce our debt while continuing to pay our $1 annual dividend. Our management team and the board of directors unanimously support continuing the dividend at its current rate because we believe it is the best way to create value for our shareholders.
2013 Financial Guidance
In 2013 Windstream is focused on growing substantial and sustainable free cash flow. Windstream plans to do this by increasing revenue and profitability, completing the fiber-to-the-tower and broadband stimulus initiatives and paying down debt.
The company expects a dividend payout ratio of adjusted free cash flow between 61% and 68% in 2013, compared to the 77% ratio Windstream had in 2012.
Conclusion
It is almost always true in the stock market that with higher yields comes more risk. I like high yielding stocks in my portfolio so I try and limit this risk with companies that like to pay those high yielding dividends. I believe given the 5 reasons stated above that this $1 annual payout should be around for a while and that by getting in now, at a lower price per share than Mr. Gardner did on his last buy, it is your time to capitalize.
Disclosure: I have no positions in any stocks mentioned, and no plans to initiate any positions within the next 72 hours. I wrote this article myself, and it expresses my own opinions. I am not receiving compensation for it (other than from Seeking Alpha). I have no business relationship with any company whose stock is mentioned in this article.
Additional disclosure: I plan on buying shares of this stock in the next couple of weeks and will be long.