By Sean P. Smith
Saturday marked the first time in history that a jockey who won the Kentucky Derby switched horses for the Preakness Stakes. And just as jockey Calvin Borel made the change from Derby winner "Mine That Bird" to Kentucky Oaks winner -- and Preakness favorite -- "Rachel Alexandra," the horse racing industry is undergoing significant changes itself.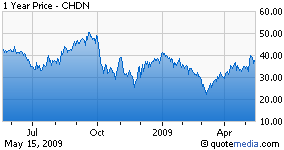 Increasingly, track owners have found a key to improving their odds of long-term financial success: add slot machines.
In addition to the material direct impact to track owners stemming from increased revenue generated by slot machines, the introduction of alternative gaming at tracks has provided substantial benefits to the horse racing business as well. A percentage of the revenues generated from alternative gaming is allocated to increasing purses at the tracks.
The larger purses draw the interest of horse owners, trainers and jockeys, leading to both increased field sizes and higher-quality competition. These improved races in turn draw the attention of bettors, both on-track and off-track, resulting in increased "handle," or the amount of money bet on a race.
Churchill Downs Incorporated (NASDAQ:CHDN) owns four race tracks -- Fair Grounds Racecourse in New Orleans, Calder Race Course in Miami, Arlington Park just outside of Chicago, and the flagship property, Churchill Downs in Louisville, Kentucky.
At the company's Fair Grounds property, CHDN opened a permanent slot facility in late 2008 that features 600 slot machines. The facility has already paid dividends, both in the form of increased gaming revenue as well as increased handle.
At the Calder Race Course in Miami, the company is in the process of investing $85 million to build a 100,000 square foot stand-alone facility, containing up to 2,000 slot machines. The project is expected to be completed in late 2009 or early 2010.
At the company's other properties, however, slot machine gaming is not allowed by state law. Earlier last week, the company announced that it would be reducing purses on six high-profile races at Churchill Downs, and is seeking to drop seven race days from its spring meet, as the result of smaller field sizes and lower handle.
Ultimately, we believe that alternative gaming, along with the growth in Internet wagering on horse races, will be the most significant drivers of future revenue growth for the racing industry.
We feel that CHDN is well positioned in that regard going forward, and we continue to rate the company a Buy at this time.