Qualcomm (NASDAQ:QCOM) recently cut prices for its Chinese quad core chips. The price fall comes in the light of increasing competition from a Taiwanese company, MediaTek, which captures half of the smartphone chip market in China. Qualcomm priced its chips below $10, which is quite low by its standards. For such a low ASP, it is going to affect gross margins of the company. Is this a reason for investors to worry especially after Qualcomm's lower-than-estimated EPS guidance for the next quarter?
China emerging smartphone market
Research firm Gartner estimates that approximately 700 million smartphones were sold in calendar 2012, up 44% year over year. Further, it estimates that in 2017 more than 1.7 billion smartphones will be sold, representing an approximate 20% compound annual growth rate versus a 2012 base. Out of the 15% growth, which Qualcomm projects this year, 13% will come from emerging regions like China, and Latin America. Developed countries like North America, Europe and Japan will witness a mere 2% improvement in device shipments this year as compared with 2012. Moreover, China is also slowly becoming the hub for the low-end smartphone market with intense competition all around. The figure below shows an increasing trend of 3G/4G shipments in emerging regions like Latin America and China/India.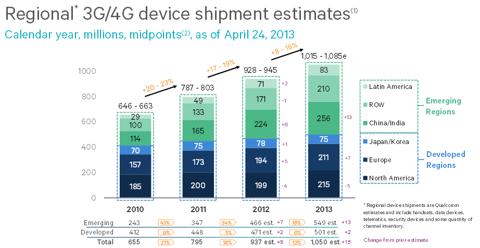 Why Qualcomm reduced prices in China?
Since China is a growing low-to-mid range smartphone market, it is driven by reference designs (RD). Chip companies need to participate in the market to gain volume share with their RDs. That is exactly the concept behind Qualcomm's QRD (Reference Design Program), which is used to streamline the quick market introduction of smartphones at low development cost.
Over 40 original equipment manufacturers (OEMs) have commercialized low-end smartphones based on this QRD. And the most interesting part - over 90% of the OEMs are from China. The main rivals of Qualcomm in China are Spreadtrum (NASDAQ:SPRD) and MediaTek, which have their own reference design programs. MediaTek's own RD's price was below Qualcomm's, therefore Qualcomm was forced to reduce its price to survive the competition.
Following Qualcomm, Spreadtrum also lowered its quad-core processor prices to similar levels. MediaTek has an upper hand till now with 50% of the smartphone market and registering higher-than-expected 20 million units' monthly shipments. Its quad-core solutions have attracted orders from players like Huawei, Lenovo and ZTE. Through this strategy of gaining market share based only upon pricing, it remains to be seen who emerges as the winner.
Qualcomm Q3 2013 EPS guidance below estimates
With lower prices in the emerging Chinese market, margins of Qualcomm are surely going to suffer. Probably this is the reason why the EPS guidance is below expectations in the Q3 2013 earnings transcript. Several analysts have repeatedly questioned this decline in gross margins. Based on Qualcomm's 2013 projections, the top line revenue is expected to grow by 28%, but EPS is only expected to grow 21%.
There is a reason to worry here. Why is there not a corresponding profit margin growth along with the strong top line growth?
According to the management of the company,
"The QCT margins, we said for the full year, as you may recall, that we saw 18.5% to 20.5% margins for QCT throughout the year. We are seeing spending increase into the last half of the year so 17% at Q3 is still going to be consistent with that outlook. And in fact, we recommitted to the margin outlook."
The QCT business, which is the equipment side business of Qualcomm, has an EPS guidance of 17% compared to historical margins of around 20%. This was the reason Qualcomm declined 6% on the day of declaring Q2 results. I am fearing a lower margin due to decreasing average selling price (ASP) and increased competition. Investors need to be wary about this fact, especially if they are thinking for the long term.
Other Risks
Qualcomm's other business, QTL (license), which represents 35% of sales and has gross margins of 84 - 88%, is also facing issues. Since Qualcomm earns less royalty for 4G than 3G currently, the licensing fees have been reducing. Qualcomm also has issues collecting royalties from China manufacturers and service providers.
If the company does not resolve this issue quickly, the upside for developing markets is limited and it cannot capture all the benefits of the China market. However, this is not a very big risk for Qualcomm as of now since most of the sales (around 65%) come from the QCT (equipment) business of Qualcomm.
Conclusion
To conclude, Qualcomm has many revenue sources in its favor apart from the low-end smartphone segment in China. Almost all the top-end phone manufacturers like Samsung (OTC:SSNLF), Apple (NASDAQ:AAPL), and other android phones have Qualcomm chipsets incorporated within them. So the declining margin risk for Qualcomm is not very significant as of now. If in another quarter, it gets a grip on the Chinese market and re-adjusts its margins, the stock is bound to perform better. Holding the stock is the best way to go forward from here.
Disclosure: I have no positions in any stocks mentioned, and no plans to initiate any positions within the next 72 hours.
Business relationship disclosure: StockRiters is a team of analysts. This article was written by Sourav Dutta - B.Tech, Information Technology, MM, Paris, MBA in Finance, IIFT - one of our analysts, and edited by Shas, StockRiters' Editor-in-Chief. We did not receive compensation for this article (other than from Seeking Alpha), and we have no business relationship with any company whose stock is mentioned in this article.