Click to enlarge
Cabot Oil & Gas' (NYSE:COG) March 2013 Investor Presentation
Key Takeaways From Cabot Last Week's Earnings Call:
The newly announced results for two wells east of the Zick Pad provide another confirmation that the "super-productive" sweet spot extends all the way to the eastern flank of Cabot's acreage in Susquehanna and possibly beyond.
The Marmaton oil assets (~70,000 acres) may be designated for monetization. In the meantime, the third rig is being added in the Marmaton as the drilling program continues to deliver strong results.
Pearsall testing program has not delivered a breakthrough so far (well optimization effort still ongoing). Production data are positive but not overwhelming. Drilling plans are being scaled back from three rigs to one.
Marcellus Results Continue Strong
Recent step-out test results continue to validate Cabot's view that the super-productive sweet spot in Susquehanna extends all the way to the eastern flank of the company's acreage. During the first quarter, Cabot turned in-line two wells located approximately three miles to the east of its Zick pad, representing about a ten mile step-out from its initial area of development (the map below). The initial production rates for these two wells were 16.3 MMcf/d from 9 frac stages and 22.2 MMcf/d from 17 frac stages. This equates to IP rates of 1.8 MMcf/d and 1.3 MMcf/d per stage, respectively, which is in line with better well results seen on the western flank of Cabot's acreage where the majority of drilling activity has been concentrated so far.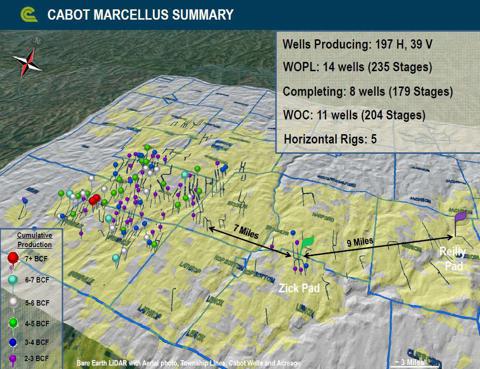 Click to enlarge
(Source: Cabot Oil & Gas' March 2013 Investor Presentation)
The new data point is in-line with the very strong production data from the Zick Pad and early flow test results from the Reilly Pad (which is located at the eastern edge of Cabot's leasehold and does not have gathering pipeline access yet - expected in service during the third quarter).
While the northern and southern portions of the acreage still need delineation in my opinion, production evidence is building up to prove that a very significant part of Cabot's 200,000-acre land position in Susquehanna is indeed "super-productive." (Cabot has indicated that the northwestern part of its acreage, which represents approximately 10% of the total, may be somewhat less prolific as the Marcellus is thinner in that area at ~250 feet compared to ~350 feet in the "core" of the acreage).
Cabot's wells continue to impress. On the conference call the company mentioned a well which has reach 8 Bcf of cumulative production during its first 667 days, which equates to 12 MMcf/d on average over almost two years. My guess, the well is the King 2 which I now estimate has 25+ Bcf EUR Potential (see the list at the end of the note). Noteworthy is the relatively shallow flow rate decline: the well appears to be flowing at ~6 MMcf/d, in my estimate, after almost two years, which may indicate that pressure levels have been sustained at a good level. Another two wells have reached 3 Bcf and 6 Bcf of cumulative production in only 88 days and 270 days, respectively. My guess, those wells are the T Flower 2 and the A Heitzenroder 3, also shown on the list at the end of the note. My EUR Potential estimates for those two wells may also need an upward revision - 30+ Bcf EURs for those two wells certainly cannot be ruled out at this point.
Cabot's Returns in the Marcellus Are Among The Highest In Domestic Oil And Gas Industry
Average well performance has also been exceptionally strong. Cabot estimates its typical well-level IRR at ~130% assuming flat $4/MMBtu Nymex.

Click to enlarge
(Source: Cabot Oil & Gas' March 2013 Investor Presentation)
Cabot's economics in the Marcellus benefit from the exceptionally high EUR per well (average of 14 Bcf for the 37 wells turned in-line during 2012), low royalty rate (15%) and position in the heart of the consuming region (low basis differentials). Returns have additional upside as completion designs continues to improve, denser fracs and longer laterals are increasingly being used, and the drilling program is moving into full development mode that should translate in additional efficiencies from pad drilling. With Cabot's drilling inventory essentially unlimited at this point, growth should continue unabated, limited only by the pace of gathering infrastructure build-out and takeaway capacity additions on interstate pipelines.
Infrastructure Considerations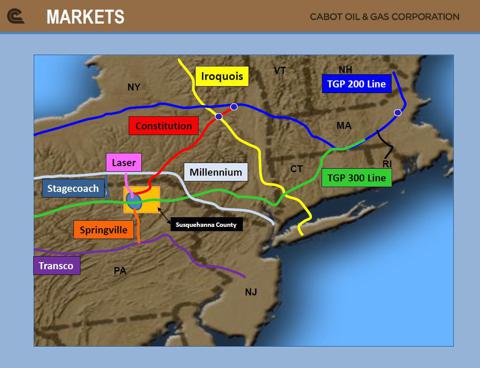 Click to enlarge (Source: Cabot Oil & Gas' March 2013 Investor Presentation)
Cabot's Marcellus production will stay flattish (~1.0 Bcf/d gross) until July, limited by the gathering infrastructure. However, one should expect a quick ramp up during the second half of 2013 as several infrastructure projects are nearing completion. Year end exit rate may reach 1.3-1.4 Bcf/d gross, in my estimate. Key drivers are the commissioning of Central compression unit scheduled for June and the installation of several smaller scale compression and dehydration projects in key parts of Cabot's acreage throughout the year. (Cabot's field pressure remains high, at 800-900 psi, constraining flow rates. Some wells are free-flowing without compression directly into high-pressure gathering mainlines. This provides a production volume reserve that will be "released" as additional compression is installed.)
Production volumes should see a major step up during the first half of 2015 when Constitution Pipeline is scheduled to be placed in service (will add 0.5 Bcf/d of takeaway capacity for Cabot). Cabot's plan to add a sixth rig to the Marcellus program in several months, which was communicated during the call, indicates that management is comfortable with the gathering system deployment plan and does not see major transportation issues.
Capacity on high-pressure gathering mainlines may emerge as a growth bottleneck, however. Capacity on Springville high-pressure gathering line that carries 0.5 Bcf/d of Cabot's gas to the Transco interstate pipeline is currently close to full utilization (can be expanded by another 100 MMcf/d via adding compression before reaching its limit). Additional lines/loops may be required (filings by Williams for new pipeline additions/expansions will likely be the lead indicator of Cabot's volumes growth). The constraint should be relieved, at least temporarily, with Constitution Pipeline coming in-service in two years.
Marcellus infrastructure expansion has driven Cabot's midstream costs (gathering, dehydration, compression, transportation, etc.) higher. Those costs are now one of the largest component in the cost structure, second only to drilling and completion cost. While midstream costs put a dent in the netback, drilling returns still remain exceptionally strong.
Marmaton Assets May Be Considered For Divestiture
Cabot announced results for the five wells it completed in its Marmaton Play in Oklahoma during the quarter. The wells were completed with an average of 21 frac stages (9,000+ lateral length) and showed an average IP rate of more than 800 Boe/d. Production for all five wells is approximately 90% oil. Cabot estimates EURs in the play for longer lateral wells at 230+ Mboe per well. Well cost has been in the $4.3-$4.5 million range and declining, which makes the play highly economic.
Noteworthy, Cabot's press release stated:
We continue to be pleased with the results we are seeing from this oil initiative in the Marmaton and will continue to look for ways to further extract value from all of our underappreciated assets.
In my opinion, this presents a clear indication that Cabot is open to a monetization of the Marmaton operation. Although the play is characterized by highly variable results due to natural fracturing and is only partially delineated (Cabot has drilled less than 30 wells to date), the operation has been successful and a $400-$500 million valuation may be achievable already at this point, in my estimate.
A sale would be a logical move for Cabot, given that the rapid expansion and outstanding returns in the Marcellus will continue to dominate the company's story and offer a superior alternative for capital deployment.
Cabot commented:
We're not actively marketing our Marmaton at this stage. But …if a transaction was to be had, we would certainly look at the Marmaton as an area that we would consider, and utilize those dollars to enhance some of the other areas of our operation. But being underappreciated is really simply the fact that at 90% of oil in those wells, and the well costs of $3 million to $4 million, depending on the lateral length and number of stages, it is delivering very good rate of return.
No Breakthrough In The Pearsall Yet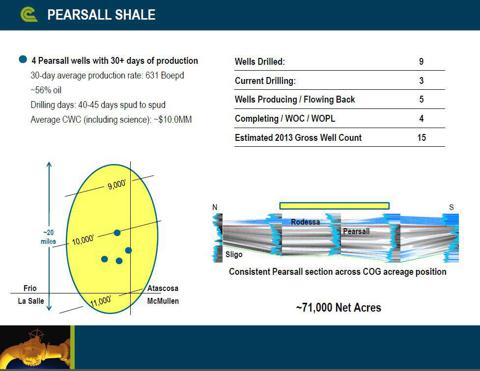 Click to enlarge
(Source: Cabot Oil & Gas' March 2013 Investor Presentation)
While Pearsall early test results have been positive, oil production rates still fall short of making it a convincingly economic play.
Cabot has been operating three rigs in the Pearsall (JV with Osaka Gas) and has placed nine wells in line with three additional wells completing or waiting on completion and three wells drilling. The 30-day average production rate for the 6 wells that have produced for 30 days or more is over 600 Boe/d, with an average 50% oil cut.
Cabot commented that Pearsall is "still a young play and remains a science project." The hydrocarbon column is very thick and obviously requires extensive optimization of lateral positioning and completion design. Cabot has continued to work on "all aspects of drilling and completing a cost-effective well." With the first six wells demonstrating 600 Boe/d 30-day IPs, the Pearsall still presents, in my opinion, a high-potential opportunity. However, optimization may take many more wells.
For the moment, the drilling program is being scaled back and will continue with just one rig (one rig is now being moved back to the Eagle Ford one to the Marmaton). Cabot commented during the conference call:
When you look at the rates compared to the costs so far, it makes it economically challenging when you compare that to our investment alternatives. The joint decision with Osaka is to finish up the drilling program as we had planned, and as such, the plan for the full year is to drill a total of 15 gross horizontal wells in the Pearsall.

We continue to refine the placement of laterals within the formation and try to optimize our completion procedures.

…We have tried so many different things, …whether it be the landing point… or whether it be drilled in the deposition much further north…, which is more oily, or further south in the deposition, which has more gas and liquids attached…, along with the different techniques that we're applying to the completion.
While the Pearsall has been a "carried" exploration project for Cabot (Cabot has an expense interest in the wells that it has drilled so far and the wells that will be drilled this year of just 9.75%, with the remainder of the costs paid by Osaka Gas), the decision to scale back the program is certainly understandable.
Pearsall drilling holds acreage in the Eagle Ford.
Hedging
Cabot has hedged ~62% of 2013 volumes based on the midpoint of guidance, with no immediate plans to add additional hedges at this time for 2013. For 2014, Cabot has hedged 300 MMcf/d with collars and will continue to add to this position.
Capex
This year's capex ($950-$1,025 million guidance) should be essentially within cashflow. Cabot should turn cash flow-positive in the Marcellus already during the second half of this year, in my estimate, assuming current strip pricing.
Conclusion
Cabot's operating results in the Marcellus continue to impress. The company's major challenge is finding infrastructure and marketing solutions for its exceptionally prolific production in addition to its already announced growth plans.
In my follow up note, I will focus on the valuation for the stock.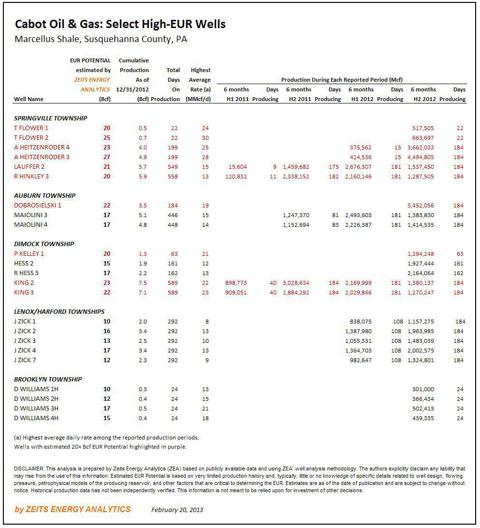 Click to enlarge
(Source: Zeits Energy Analytics)
Disclaimer: This article is not an investment recommendation. Any analysis presented herein is illustrative in nature, limited in scope, based on an incomplete set of information, and has limitations to its accuracy. This article is not meant to be relied upon for investment decisions. Please consult a qualified investment advisor. The information upon which this material is based was obtained from sources believed to be reliable, but has not been independently verified. Therefore, the author cannot guarantee its accuracy. Any opinions or estimates constitute the author's best judgment as of the date of publication, and are subject to change without notice.
Disclosure: I have no positions in any stocks mentioned, and no plans to initiate any positions within the next 72 hours. I wrote this article myself, and it expresses my own opinions. I am not receiving compensation for it (other than from Seeking Alpha). I have no business relationship with any company whose stock is mentioned in this article.