So far, post-Q2 earnings, it's looking like Apple (NASDAQ:AAPL) has reached a bottom near the $400 area. Apple was trading on both sides of the $400 line just days before it released earnings last week, but increasing its share buyback by $50 billion and dividends by 15% seemed to put a nice floor under the stock price. As early as February, I was all but guaranteeing shareholders that Apple was going to unlock cash from its balance sheet:
Folks, this is no longer a question of 'if' Apple is going to unlock more value from its balance sheet for investors, it's a question of 'when.' After investigating these media reports today, Apple doing nothing in this situation would be akin to committing shareholder suicide. While I don't think Apple is necessarily going to go Einhorn's requested route of preferreds, the company is clearly going to do something.
To start this week, Apple filed a form S-3 registration for its issuance of debt it stated it was going to take on during the conference call. Shares look to be starting this week strong, as Apple opened around $420 today. It's starting to look as if the ticket upward is going to be when it can break out somewhere near $435.
Click to enlarge images.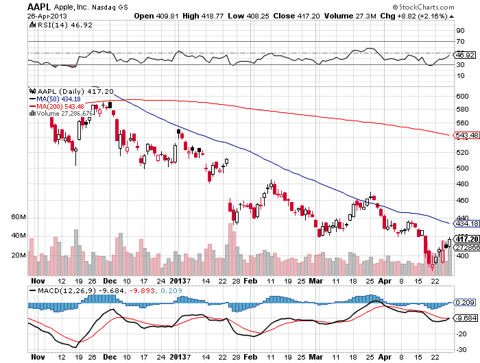 Click to enlarge
So, with earnings behind us, we can stop paying attention to Apple for a while as it drifts into its not-so-busy season, right? Wrong. As we continue to move forward through the summer, here are three upcoming Apple catalysts that could very well continue to drive the stock price:
1. Worldwide Developer Conference, June 10-14
Much like Macworld, the WWDC is an annual conference that Apple holds to let developers have a sneak peek at its new software and technologies. It includes workshops, interactive labs, lectures, and everything an Apple fanatic could possibly need to put themselves several degrees deep into the ultimate "dorkdom of Apple nirvana."
Every year, attendees sign NDAs before heading into the WWDC and every year, someone leaks information. You can bet we're going to get a good look at what's coming down the pipeline with Apple one way or another, whether it's hardware or updated operating systems and iOS features.
Already possibly leaked for this year is the iPhone 5S running iOS 7:
There have been many rumors of late and the latest news comes via a leaked document courtesy of NowhereElse, this reveals the iPhone 5S will come with iOS 7 and could be up for pre-order as early as June 20 with a release date of July 2013.

WWDC kicks off June 10th to the 14th and developers not attending can watch streaming videos, the above iPhone 5S pre-order fits in well as it is soon after the Apple event and the release is definitely possible.

The leaked document is apparently for KDDI employees and the iPhone 5S in clearly printed in red, it also shows iOS 6 to iOS 7. The iPhone 5S is also going to come featuring a 13-megapixel camera with iOS 7 preinstalled, another feature that is supposedly going to be fitted is a fingerprint sensor
The Financial Post thinks otherwise, stating that software alone is going to be the highlight of this year's event:
Apple's next big thing won't be a gadget like another iPad or iPhone. It will be new software. And we'll likely hear about it at the Worldwide Developer Conference on June 10-14.

At WWDC, thousands of developers who make applications and software for the iPhone, iPad, and Mac will gather to hear about Apple's latest software features.
And, analysts elsewhere are expecting a new line of MacBooks to highlight the conference, as reported by MacRumors:
KGI Securities analyst Ming-Chi Kuo has issued a new report forecasting that the product highlight of Apple's Worldwide Developers Conference, which kicks off on June 10, will be the introduction of new models of the company's MacBook Pro and MacBook Air lines based on Intel's latest Haswell processors. The projection is in line with previous reports from Kuo and other sources, as well as recent claims that Apple will begin ramping up production of the new models in mid-May.
Items we are unlikely to see at the WWDC are the iTV and the iWatch, as Tim Cook made it very clear (at least to me, reading between the lines) during his conference call that the major product releases are going to be starting in fall 2013 and will carry through 2014. Regardless of which, if any, of these rumors hold true for the conference, every year the WWDC provides a ton of media and free press for the company as the public awaits anxiously to hear what Apple has coming down the pipe. Free press and media with Apple means stock price awareness and potential catalyst-like "buyers panic" moves upward if investors like what they see.
2. Q3 Earnings Sometime in July
Is it too early to start thinking about upcoming earnings already? Absolutely not. Q3 earnings are, to me, going to be one of a few steps the company is going to need to meet or exceed to break through all-time highs leading into 2014. With the nascent stages of pushing new all-time highs, all roads lead back to making sure Q3 earnings don't come in low. Guidance for the third quarter came in lower than expected. From CNBC.com:
For the third quarter, Apple forecast revenue of between $33.5 billion and $35.5 billion, well below the $38.25 billion Wall Street was forecasting. It also expects its gross margin to continue to slide to between 36 percent and 37 percent.
It's worth noting that the upcoming quarter is usually Apple's slowest point of the year. However, it's also worth noting that the upcoming earnings guidance appears to have already been priced in as Apple runs through $420 to open the week. Should the WWDC be a success and Apple exceed earnings for Q3, you're looking at a company that has just made it through its slowest section of the year and has put itself at the beginning of the track to new highs if:
the general market holds up
Q4 guidance looks good
the company can execute through their busiest quarter, the holiday season
Meeting or exceeding earnings for Q3 would still be considered somewhat of a surprise by mostly wary and nervous Apple investors looking to jump back into the stock. Ultimately, success with earnings could be both a short-term and long-term catalyst.
3. Technicals Lining Up
I've said it a million times, charting is a necessary evil -- even more so when you're dealing with one of the most liquid, most traded, and most covered stocks in the history of the market. There are billions of traders ducking in and out of Apple on a second by second basis, and they all use different parameters on when and how they're going to invest. No doubt, a considerable faction of these people are chartists.
As I said in "My Definitive 17 Cardinal Rules For Investing Success":
Charting, as I often state, is a love/hate relationship. I dislike it because I don't like the notion of trading a company based on the chart without the fundamentals, but in the computerized algorithmic world of trading that exists nowadays, it's a necessary evil. You have to think like a machine in order to make moves that will preempt computerized runs and raids of stocks -- and that's why I think charting is a necessary evil.

I'll be frank. My use of charts is strictly supplemental to the way I trade. The most value I've found in charting is with these three technical
With Apple, the technicals are definitely in play. Let's look at the three-year chart: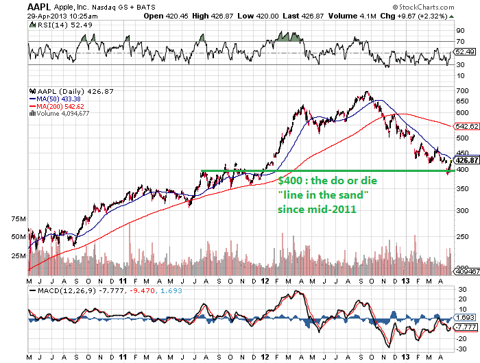 Click to enlarge
From a longer-term perspective, we can see that $400 is truly a "line in the sand" for Apple, as it's been a major resistance/support level dating back almost two years now. This is critical; it is my opinion that unlocking the buyback and the dividends at $400 make it a rock-solid bottom for this stock right now.
Now, the one year: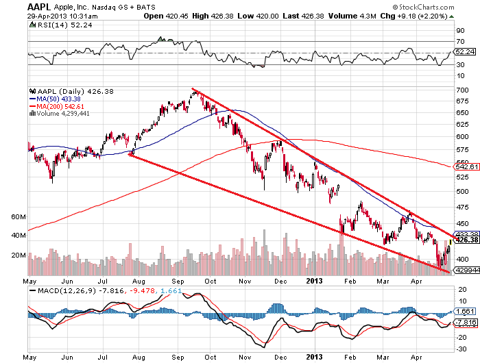 Click to enlarge
The one year is a mess -- it's showing the dreaded descending triangle pattern, showing lower lows and lower highs, as Apple began its descent downward in September 2012. To break this current downtrend, we're going to need to break $435, and then hold $450. If we can first hold $435 and cross our 50-DMA, we can plant our feet and try and thrust some momentum upwards.
Which leads me to everybody's favorite, the "death cross" -- a name that shouldn't need much explaining.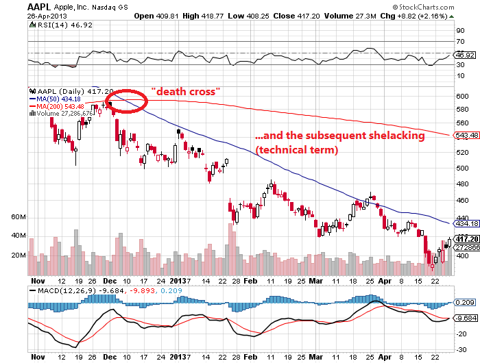 Click to enlarge
So, as we drifted lower, so did our moving averages. If we can break $435 and hold it, we can curl our 50-DMA back up toward our 200-DMA. The technical indicator that tons of chart traders look for is the "golden cross," which is the opposite of the death cross. It occurs when your shorter MA moves up through your long-term MA, and is considered an extremely well-known bullish signal. If we play Apple correctly, we want to not only ride the stock after this occurs, but on its way up to it as well.
With what I think is a rock solid bottom at $400, I'm counting on the technicals turning in our favor and making a long position in Apple look much favorable to chart traders -- and, of course, the A.I.-powered, algorithm-fueled, automated trading computers that will no doubt soon take over our planet, dominate the earth, enslave us and our children, and eventually colonize Mars. (That last bit was hyperbole, or gross exaggeration for comic effect -- please, stay in your seats.)
Conclusion
The point of this article is to confirm, re-confirm, and re-re-confirm that I'm longer and stronger in Apple than I've ever been. Yes, I've been saying this since the mid-$500s. Yes, this means I've taken a 20% haircut since I've started being very long on Apple. However, I've been holding the equity and buying very long-term options to hedge against shorter-term corrections. I continue to dollar cost average, and continue to stay long.
My reasons for buying Apple earlier this month were all validated:
The price is right. There's nothing I love doing more than buying after a strong sell-off and selling right after a strong buying panic.
It's the most fundamentally sound company in the world. It's raking in cash hand over fist, earnings "misses" are laughable as its revenues and margins are still beyond world class, and the company is sitting on enough cash to make Donald Trump look poor.
Treats came for shareholders -- a $50 billion stock buyback and increased dividends.
Whether it's the iWatch, the iTV, or who knows what, we can expect a new product launch from Apple this year. We know it's coming in the fall 2013 and through 2014.
Apple's purchase of WiFiSlam is a sign that it continues to do what it does best -- develop.
I'm convinced more than ever that a long-term hold in Apple will continue to produce consistent income and will be a great trade for any investor. These three catalysts could mean that longs start generating alpha sooner rather than later. Don't take your eyes off of Apple this summer; looks can be deceiving and longs have a lot to look forward to.
Disclosure: I am long AAPL. I own AAPL calls and LEAPS. I wrote this article myself, and it expresses my own opinions. I am not receiving compensation for it (other than from Seeking Alpha). I have no business relationship with any company whose stock is mentioned in this article.