A 16% rise in the price of U. S. gasoline (NYSEARCA:UGA) in May has pushed the year-to-date advance to 46%. Even in these recessionary times, investors have been making their seasonal move into gasoline ahead of the Memorial Day holiday that kicks off the driving season.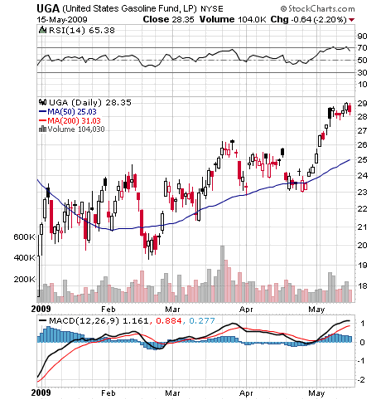 The move in gasoline is impressive considering the fact that U. S. gasoline demand is lagging year-ago volumes.
The price of gasoline is supported by restraint on supply, rising oil prices, and improving confidence in the economy.
Supply restraints. Responding to lower demand, U. S. refiners are keeping capacity utilization low. According to the Energy Information Administration's latest data, they operated at 80.4% of capacity. Last week, lower production caused gasoline inventory to decline by 4.1 million.
U. S. imports of gasoline have also been relatively low as demand has been slack. Meanwhile, Iran's imports of gasoline have risen as consumption is increasing at a 6% annual clip helping overseas refiners find a home for their gasoline.
In all, the U. S. gasoline market appears generally balanced despite relatively slack domestic demand.
Rising oil prices. The price of oil is flirting with the $60 per barrel level supported by continuing rise in Chinese imports, weakness in the U. S. dollar, and OPEC's production restraint.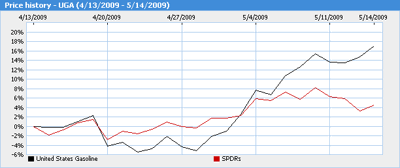 Improving confidence in the economy. Of late, gasoline prices have risen on improving confidence that the worst of the recession is over. Gasoline prices have often moved in tandem with stock prices and gasoline's correlation with the S&P 500 since April 14 is a relatively high 0.78.
So, where does gasoline go from here?
Excitement from Memorial Day weekend travel and outcome from OPEC's upcoming meeting are likely to influence the price of gasoline in the near-term. The AAA is forecasting a 1.5% increase in Memorial Day travel this year in contrast to the 9.6% decline last year. OPEC ministers are scheduled to discuss output levels at a May 28 gathering in Vienna.
Looking farther, the recession needs to show signs of easing and ending for U. S. gasoline to add to its gains. The stock market is a good place to look for clues in this regard. If the economy deteriorates from its stabilization course, stock prices will move south. In such an environment, it is unlikely for U. S. gasoline to remain strong.
With RSI and MACD for U. S. Gasoline (UGA) suggesting an overbought market, it will be prudent for longs to lighten up if excitement over Memorial Day weekend travel pushes UGA higher.
Disclosure: I do not have a position in UGA.