ETF Spotlight on the Vanguard Global ex-U.S. Real Estate ETF (NASDAQ:VNQI), part of an ongoing series.
Assets: $833.5 million.
Objective: The Vanguard Global ex-U.S. Real Estate fund tries to reflect the performance of the S&P Global ex-U.S. Property Index, which is comprised of real estate investment trusts in over 30 countries.
Holdings: Top holdings include Mitsubishi Estate 4.4%, Sun Hung Kai Properties 3.0%, Westfield Group 3.0%, Unibail-Rodamco 3.0% and Mitsui Fudosan Co. 2.9%.
What You Should Know:
Vanguard Group sponsors the fund.
VNQI has a 0.32% expense ratio.
The fund has 466 holdings and the top ten make up 25.5% of the overall portfolio.
The ETF has a 5.39% 12-month yield.
Sector allocations include basic materials 0.2%, consumer cyclical 2.7%, financial services 2.5%, real estate 93.0%, industrials 1.4% and technology 0.1%.
Regional allocations include emerging markets 19.4%, Europe 18,.2%, Pacific 57.7%, Middle East 0.4% and North America 4.1%.
Top country allocations include Japan 24.2%, Hong Kong 13.5%, Australia 11.9%, Singapore 7.7%, China 7.1%, U.K. 6.3%, France 4.6%, Canada 4.1%, South Africa 2.0%, Brazil 1.8% and Switzerland 1.6%.
The ETF is up 7.2% over the past month, up 8.9% over the last three months and up 36.0% over the past year.
VNQI is 11.6% above its 200-day exponential moving average.
"Unlike U.S. real estate funds, which are almost entirely composed of real estate investment trusts (REITs), VNQI has a significant exposure to real estate developers and non-REIT property managers," according to Morningstar analyst Abby Woodham.
"Developers focus on constructing spaces on new or underutilized land, and unlike REITs that are restricted from breaking new ground in some nations, property developers can take on more speculative projects," Woodham added. "Developers are more volatile than REITs because their cash flows are less predictable and their payout ratios are generally much lower."
The Latest News:
Apartment REITs lead other property sectors in Japan.
"The supply of rental apartments is extremely low at the moment," Tomoyuki Kimura, general manager of the corporate management department at Advance Residence, said in a World Property Channel report. "A lack of supply in Tokyo has boosted our occupancy rate."
"It's all about stability," fund manager Hideyuki Shinkai told Bloomberg. "If you are looking for mid- to long-term investments, residential REITs are your best bet because they provide a stable yield."
Vanguard Global ex-U.S. Real Estate ETF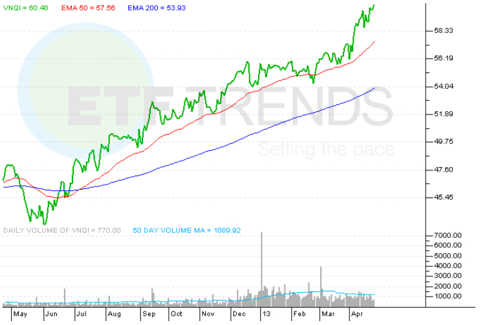 Max Chen contributed to this article.
Disclosure: I have no positions in any stocks mentioned, and no plans to initiate any positions within the next 72 hours. I wrote this article myself, and it expresses my own opinions. I am not receiving compensation for it. I have no business relationship with any company whose stock is mentioned in this article.