Dryships (NASDAQ:DRYS) is one of the most well-known players in the dry bulk shipping sector. It is a holding company primarily engaged in sea freight of dry bulk and petroleum cargoes worldwide. It also has a majority stake in Ocean Rig (ORIG), which has six rigs designed for ultra-deep offshore oil drilling.
Despite being ahead of its competitors with better fleet capacity and routes worldwide, the entire sector is suffering heavily. The last 4 years have seen a rapid decline in freight rates industry-wide. Daily rates for large capsize vessels, which peaked at $230,000 in 2008, have dipped to as low as $5,000 by 2012. Current rates are well below breakeven levels.
The nosedive in dry bulk shipping rates and stock prices is largely dependent on the overall health of the economy. The most recent financial downturn meant a decreased demand for shipping services worldwide. The years prior to the recession also saw an industry-wide ship building boom, which started in 2003. This period saw Dryships' and other dry bulk companies' stock prices soaring sky high.
When the financial crisis hit, trade and shipping activity decreased, along with the market performance of shippers. Dryships' stock traded at over $100 up to the middle of 2008. By the end of the year, it had dipped into the single digits.
Another good indicator of the dry bulk industry's condition is the Baltic Dry Index [BDI]. It represents the cost of transporting raw materials aggregated from several vessel-specific indices. In 2010, it was still above the 4,000 mark. By 2012, the BDI dipped to below 800.
Virtually all dry bulk companies, including Dryships are struggling to avoid bankruptcy while revenues continue to dwindle. Severely underutilized fleets and low shipping rates have left the entire sector in a massively depressed state. Observers are still waiting to see if the bottom has been reached or if more downside is still to be expected.
Dryships in Troubled Waters
Dryships is a significant player in the dry bulk shipping business. Its large market cap of $960 million is ahead of competitors like Genco Shipping (GNK), Excel Maritime Carriers (EXM) and Eagle Bulk Shipping (EGLE). This also translates into a large overall fleet capacity among Greek shippers. As of March 2013, it operates 36 dry bulk carriers. Additionally, Dryships has wide-reaching trading routes all across the globe.
It is also benefiting well from its ownership of Ocean Rig. The offshore drilling company provides up to 85% of the Dryships' annual revenue. In contrast, its own dry bulk shipping revenues consist only 12% and tankers deliver only 3%.
Dryships' large debt obligations will reach $750 million in 2013 and $1 billion in 2014. In spite of this, stable earnings from OceanRig's drilling operations provide investors and shareholders a bit of hope. Among its competitors, Dryships may have a better chance of surviving the depression with the cushion of revenue Ocean Rig delivers.
In order to ease financial woes, a significant amount of OceanRig shares were sold off in February 2013. This move added approximately $120 million for shipbuilding contracts and covering covenant breaches. CEO George Economou intends to continue selling ORIG shares when necessary in order to keep the dry bulk company afloat.
With the remaining 65% ownership of OceanRig, Dryships still has more than $1 billion of assets in the drilling firm. Dryships' total market capitalization of $730 million is actually less than its stake in ORIG. It is still significantly larger than many of the competitors in the stock exchange. These figures show a healthier outlook for Dryships compared to its rivals during these trying times. It can benefit from OceanRig's earnings, as well as liquidate its stock to cover financial obligations.
In contrast to its parent company, OceanRig has been performing fairly well in recent years. Current contracts stand at $5.1 billion over the next three years. Drilling rig demand is also very high with a shortage of available platforms worldwide. Being an international company, Ocean Rig is not subject to stringent safety regulations like BP (NYSE:BP) in the Gulf of Mexico.
Looking Toward Recovery
Oil drilling revenues from OceanRig have not been enough to insulate Dryships from reporting losses. Fiscal year 2012 losses widened to $129.8 million compared with only $6.3 million in the previous year. Voyage revenues have also decreased 40% in the last 12 months.
Even CEO George Economou continues to be bearish amidst spot market shipping rates being at historic lows. The fact that the company's most lucrative long-term contracts are expiring is also going to pose a challenge.
Dryships operates a relatively young fleet of ships with an average of 6.5 years. The industry average is 10.4 years. Using newer ships means lower operating costs and can help secure profitable future contracts when shipping rates begin to recover. The company still has plans to build 11 new dry bulk vessels and 7 oil tankers. As the market continues to languish, the company aims to further reduce spending and prolong its current CapEx program.
There are some signs that the problems plaguing the dry bulk shipping industry are on the way out. An increase of ships being scrapped is an early indication of an end to the oversupply issue. Scrap yards on the beaches of Bangladesh, a large recycling hub, are running out of space for junked vessels.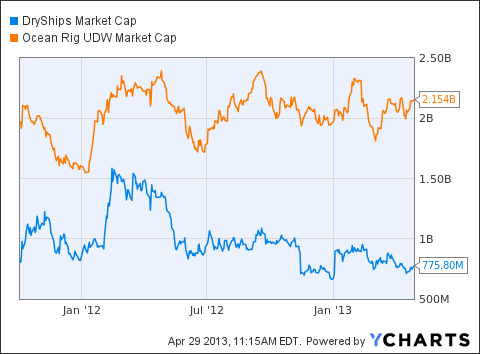 DRYS Market Cap data by YCharts
Final Words
Overall, Dryships is a long way from regaining its past glory as the economy and shipping rates remain depressed. Its majority ownership of OceanRig still continues to provided added value and critical cash flow in these trying times. Its initial investment in the oil drilling company has already grown by approximately 50% and continues to add to the balance sheet.
Investors and analysts also see buying Dryships stock as a free ticket into the ocean drilling business. The company's current market valuation also does not take into account the inherent value of Dryships' ownership of OceanRig stock. Assets invested in ORIG still exceed $1 billion and are still much larger than its own dry bulk operations. While other dry bulk firms struggle to obtain funding and avoid bankruptcy, Dryships will remain a significant presence in the post-recovery market. At the moment, the company remains a high-risk investment while the BDI remains low and the economy continues to face headwinds.
Disclosure: I have no positions in any stocks mentioned, and no plans to initiate any positions within the next 72 hours.
Business relationship disclosure: Efsinvestment is a team of analysts. This article was written by one of our equity analysts. We did not receive compensation for this article (other than from Seeking Alpha), and we have no business relationship with any company whose stock is mentioned in this article.