Last month I wrote an article about the merits of using the Ranger Equity Bear ETF (NYSEARCA:HDGE) as a tool to hedge long equity exposure. This is an actively managed ETF that shorts individual stocks without the use of leverage or derivatives, and the portfolio is completely transparent. What I found intriguing about the management team was that they combine fundamental and technical analysis in managing the portfolio. John Del Vecchio, a CFA and forensic accountant, focuses on identifying companies with deteriorating fundamentals to determine which stocks to short. Brad Lamensdorf employs technical analysis to determine when, and at what price, to short the stocks that John has identified as candidates.
What I believed to be relevant in mid-March was the improvement in the relative strength of the shares of HDGE when compared to the S&P 500 (NYSEARCA:SPY) and Russell 2000 (NYSEARCA:IWM). The share price bottomed on February 12 at $16.83 and began to rise through mid-March despite these two market indices (SPY and IWM) continuing to grind higher. Since I already had a bearish outlook on the market, this indicated to me that we were either at the early stages of a correction that had begun to erode the subset of lower quality stocks in the market or that the managers of HDGE were earning their keep as short-selling specialists. It turns out that both might be true.
I was most fortunate to have a conversation with both John and Brad this past week to discuss what contributed to the fund's recent outperformance, their management style and outlook for the market, as well as some common misconceptions about the fee structure of this fund relative to its inverse index competition.
Brad Lamensdorf emphasized that many of the low quality names that they were short during the fourth quarter of last year were given what he likes to call a "free hall pass" with respect to earnings. These were companies like CenturyLink (NYSE:CTL), Teck Resources (TCK) and Ulta Salon, Cosmetics & Fragrance (NASDAQ:ULTA), to name a few. When I asked him what constitutes a low quality name, he explained that it boils down to the quality of the earnings. Companies that are either "pulling forward or manipulating earnings or revenues" in any way raises a red flag for the duo, and become candidates to short. Yet it was these types of names that were outperforming the broad market in the fourth quarter of last year - a trend they believed would not continue. Their acumen in identifying these weak links and their confidence that the deteriorating fundamentals would eventually be reflected in the share prices has been rewarded in recent months shown by the performance of HDGE.
I also asked Brad how they manage a short position once the deteriorating fundamentals are reflected in a company's stock price, either by an abrupt event or a slow-bleed decline. He explained that they are looking for "the meat of the move." If a stock becomes too oversold on a technical basis or sentiment on the stock turns very negative, they will cover some or all of the position. Still, they will not hesitate to reestablish a short position in a name that they recently covered if the stock price bounces while the fundamentals remain the same. But what if a short position begins to run against them? Brad explained that their focus on earnings and/or revenue manipulation usually lets them know if they are right or wrong about the fundamentals within a timeframe of one to three quarters, and if the story changes, then so will they. Another factor that might result in exiting a short position is momentum. Brad noted that "we don't like to short momentum," and that "if a name starts to gain technical momentum, exhibit bullish volume clues or rising volume, then we look to exit the position."
As for their macro-outlook, they are particularly bearish on the broad market indices and expect a correction in stocks over the coming months. I suppose such an outlook isn't unusual for managers focused on the short side, but Brad pinpointed economic developments to support this conclusion. In particular, he views the recent decline in commodity prices as an ominous indicator for global growth, and believes that the glut of supply created opportunities for the team in the energy and materials sectors.
John Del Vecchio provided me with valuable insight into the fee structure of HDGE, and how to fairly compare the actively managed approach with the universe of inverse index ETFs that are available to investors. We discussed the ProShares Short S&P 500 (NYSEARCA:SH) as an example. This ETF has a net expense ratio of .89%, according to data on Morningstar's website, which compares to a net expense ratio of 1.93% for HDGE. The Ranger Equity Bear ETF also has a short interest expense of 1.37% according to data available on the AdvisorShares website. This makes SH look like a far less expensive option to hedge long equity exposure, but John noted that the reported expense ratio for shares of SH is very misleading.
He states that, "If you own a product like SH, the cost of funding the dividend is embedded into the performance of the index. There is no free lunch, so while our expenses appear higher, one must also consider the dividend yield on the S&P 500 is a cost to shorting. The dividend yield is embedded in the return, but it is broken out for an active fund." The dividend yield for the S&P 500 index currently approximates 2%. That brings the cost of holding shares of SH on par with the shares of HDGE.
Furthermore, John explained that an active fund has the advantage of trading around the dividends. He noted that they have "aggressively traded around the dividends this year on stocks we're short that pay dividends. Our back office alerts us to all upcoming dividends and Brad and I are proactive on that front." This is clearly a benefit to active management. John also pointed out the additional costs the fund has had to incur because of the Federal Reserve's short-term interest rate policy (ZIRP). Normally, the cash balance that the fund holds as proceeds from its short sales would be earning money market interest rates. This interest would offset the fund's weighted average cost of borrowing, which is less than 60 basis points, depending on which of its two primary brokers (Lazard and Morgan Stanley) hold the shares. If and when short-term interest rates rise above their cost to borrow, the difference will benefit shareholders and the cost to manage the fund will drop substantially.
What I found interesting about this fund in mid-March was the near-term improvement in its relative strength when compared to the S&P 500. Despite a near 6% return for the S&P 500 over the past three months, shares of HDGE have held in positive territory for the majority of that time frame, as can be seen in the chart below.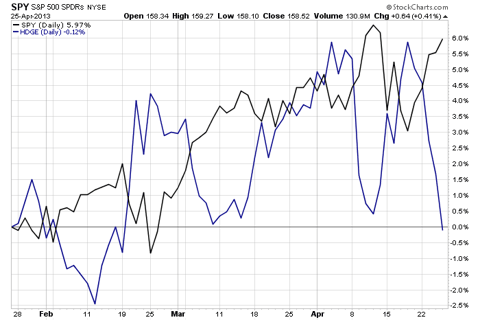 Furthermore, this fund is starting to show the merits of an actively managed approach versus that of an unmanaged inverse fund like the ProShares Short S&P 500, as can be seen below over the same three month time frame.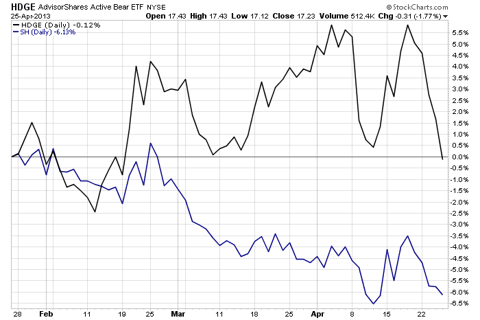 There are many strategies that an investor can employ in order to hedge an investment portfolio against loss during a market correction or more prolonged period of stock market decline. Investing in the Ranger Bear Equity ETF is one such strategy. Its performance in recent months indicates to me that a stock market correction may now be underway - one that is clearly not evident by focusing on the broad market indices. Yet stock market declines, be they corrections or new bear markets, always start from the bottom up, and it is at the bottom that managers like John and Brad focus their efforts.
Disclosure: I am long HDGE. I wrote this article myself, and it expresses my own opinions. I am not receiving compensation for it (other than from Seeking Alpha). I have no business relationship with any company whose stock is mentioned in this article.
Additional disclosure: Lawrence Fuller is the Managing Director of Fuller Asset Management, a Registered Investment Adviser. This post is for informational purposes only. There are risks involved with investing including loss of principal. Clients of Fuller Asset Management may hold positions in the securities mentioned in this article. Lawrence Fuller makes no explicit or implicit guarantee with respect to performance or the outcome of any investment or projections made by him or Fuller Asset Management. There is no guarantee that the goals of the strategies discussed by will be met. Information or opinions expressed may change without notice, and should not be considered recommendations to buy or sell any particular security