This morning, Southwestern Energy (NYSE:SWN) announced a definitive agreement to acquire approximately 162,000 net acres of leasehold located in Northeast Pennsylvania prospective for the Marcellus Shale from Chesapeake Energy (NYSE:CHK) and Statoil (NYSE:STO) for approximately $93 million. The key acreage is located in Susquehanna, Wyoming, Tioga and Sullivan counties. The acreage is mostly undeveloped - current net production from these properties is approximately 2 MMcf/d from 17 gross wells (1.2 net wells).
The transaction's price may come as a surprise and major disappointment to Chesapeake shareholders as it implies valuation of just $574 per acre (value of existing production is de minimis). While the acreage is located mostly on the fringes of the Northeast Pennsylvania's dry gas sweet spot, the price still appears surprisingly low, particularly given that the acreage includes 51,000 net acres in Susquehanna County. To put this in perspective, Cabot Oil & Gas (NYSE:COG) whose most important asset is its ~200,000-acre leasehold located in Susquehanna just 10-20 miles from the acreage that Chesapeake is selling, is a company with $14.4 billion market capitalization, which exceeds Chesapeake's. Of Cabot's acreage, only approximately half is currently held by production. Excluding Cabot's production and value of oil properties, the equity market valuation implies over $30,000 per Cabot's undeveloped acre in Susquehanna, a striking difference relative to the price received by Chesapeake.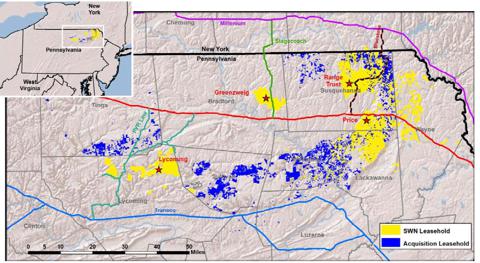 (Source: Southwestern Energy April 29, 2013 Press Release)
Chesapeake's acreage in Susquehanna is adjacent to Southwestern's Range Trust area where Southwestern has drilled a significant number of highly successful wells. At least, part of that acreage is also "on trend" with Cabot's Reilly Pad in Eastern Susquehanna (see map below). Cabot has commented in the past that its initial production tests from several wells it drilled off the Reilly Pad were highly encouraging and indicated that acreage in eastern part of the County may be just as productive as Cabot's original development area in the western part of the County where the company averaged 14 Bcf per well EURs in 2012. This data point is confirmed by very strong well results Cabot has demonstrated on its Zick Pad (six wells) and two wells announced last week, which were drilled just six miles to the west from the Reilly Pad (the initial production rates for these two wells were 16.3 MMcf/d with 9 frac stages and 22.2 MMcf/d from 17 frac stages). All these data points indicate that at least some of Chesapeake's acreage has a good chance of being highly productive.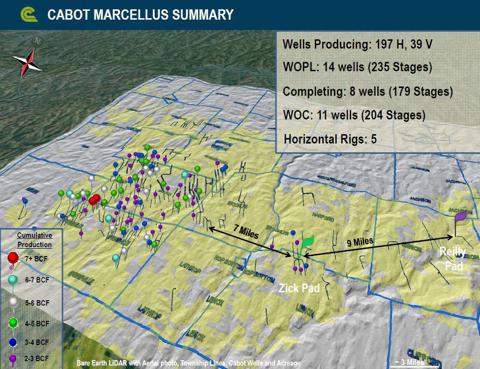 (Source: Cabot Oil & Gas' March 2013 Investor Presentation)
Several factors may explain the low valuation in the transaction:
Part of the acreage Chesapeake is selling (the southern most and northern most parts of the acreage, in particular) may have relatively low productivity and expected returns that are insufficient to justify investment in gathering and takeaway infrastructure. Anecdotal evidence suggests that leasing rates in areas far outside the most productive window (parts of Tioga, for example), have dropped almost fivefold from the peak levels and have been seen in the $1,000-$1,500 per acre range or lower. Leasing activity has been slow.
Lease expirations may play a significant role. Given infrastructure constraints, parts of the acreage that are approaching primary term deadlines and have high-price extension options may have very little value.
Lack of gathering infrastructure in the eastern part of Susquehanna may limit the operator's ability to test and develop the acreage.
Parts of the acreage may not be contiguous, complicating the development.
On the surface, the acquisition appears to be a low-cost, strategically meaningful opportunity for Southwestern to significantly extend its footprint in Northeast Pennsylvania Marcellus and retain at the very least the most prospective portion of the acquired acreage, adding a multi-year development inventory to its existing position. It is surprising that the properties went for what appears to be a remarkably low price in a competitive auction process.
At the same time, the list of Chesapeake's divestitures receiving below-expectation prices is growing longer. Several other recent transactions, including Chesapeake's JV transaction with Sinopec in the Mississippian Lime and the sale of its Permian assets, suggest that even in the most prolific plays, undeveloped acreage may have limited value. One important observation to be made from the analysis, "per acre math" simply does not work in resource plays outside of a specific development and financing plan and can be very misleading.
Disclaimer: This article is not an investment recommendation. Any analysis presented herein is illustrative in nature, limited in scope, based on an incomplete set of information, and has limitations to its accuracy. This article is not meant to be relied upon for investment decisions. Please consult a qualified investment advisor. The information upon which this material is based was obtained from sources believed to be reliable, but has not been independently verified. Therefore, the author cannot guarantee its accuracy. Any opinions or estimates constitute the author's best judgment as of the date of publication, and are subject to change without notice.
Disclosure: I have no positions in any stocks mentioned, and no plans to initiate any positions within the next 72 hours. I wrote this article myself, and it expresses my own opinions. I am not receiving compensation for it (other than from Seeking Alpha). I have no business relationship with any company whose stock is mentioned in this article.