by David Russell
Options trading turned bullish in Lennar (NYSE:LEN) today after Citigroup (NYSE:C) predicted that the homebuilder will survive the housing bust.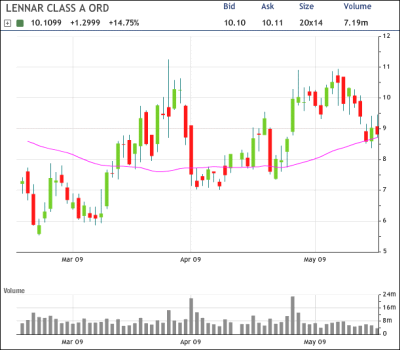 Call volume surged to 12,428 contracts, more than triple the 20-day average, optionMONSTER's Heat Seeker monitoring system shows. Most of the activity focused on the June 11 calls, which changed hands 7,354 times for $0.35 to $0.70 against open interest of just 626 contracts.
In the largest trade, an investor purchased 5,700 contracts for $0.60. Overall call volume in LEN exceeded puts more than 4 to 1, reflecting a generally bullish sentiment.
LEN is up 14.75 percent to $10.11 this afternoon. Citigroup upgraded the stock to "buy" with a $12 price target, saying a recent $400 million bond sale improved the company's liquidity and increased the chances of it surviving the housing crisis.
Separately, real-estate stocks rallied after the CEO of home-improvement chain Lowe's (NYSE:LOW) said the market was beginning to bottom in some places.