Air Methods Corporation (NASDAQ:AIRM) has rallied significantly in the past few months as the company has implemented changes leading to increased profitability. AIRM is the largest air medical transport company in the world and under its Community Based Services division, it operates out of 91 bases in 21 states. The company recently reported earnings for the first quarter and significantly increased profitability levels.
Revenue for the first quarter came in at $124.7 million which was only up 5.6% over the first quarter of 2008. However, earnings per share came in at $0.41 which was more than 240% above earnings for the same period last year. Management indicated that the improvement was due to stronger reimbursement per community based transport as well as lower maintenance and fuel costs.
The company received $7,305 per community based transport compared to $6,622 per flight last year. While maintenance costs were actually higher in total compared to last year, the costs were spread over a larger number of flights which made expenses on a per-flight basis much more attractive.
In addition to community based transports (usually responding to emergency situations) the company also operates hospital based flights which accounted for $48.6 million in revenue (about 39% of total) for the quarter.
The company has been very active in seeking out opportunities to cut costs and has been active in fleet replacements which allows the aircraft to be operated more efficiently. In addition, the company has consolidated some of its bases. The profit margin improvement has been very dramatic and is certainly catching the eye of investors.
Last year the CEO Arron Todd told investors that his goal was to grow earnings by more than 20% each year. That proved to be a difficult task in 2008 despite the fact that revenue came in sharply higher. Fuel costs certainly offereed a significant challenge and a recessionary environment certainly didn't make collecting reimbursements any easier.
But the changes implemented by management over the last few quarters should set AIRM up to succeed in future quarters. While fuel expenses may continue to be volatile, the more efficient fleet and consolidated bases will certainly allow the company to operate more efficiently.
Debt levels are manageable although I would be more comfortable if the company would continue to apply portions of earnings towards reducing principal on these long-term liabilities. There is plenty of opportunity for future expansion which could be financed through debt, retained earnings, or partnering with existing companies.
At this point the stock still looks attractive at only 13 times the current year expected earnings. There are few analysts who cover AIRM which actually offers us a better opportunity to buy at a discount. If the company continues to grow and attracts more attention on Wall Street, additional exposure from analyst reports could lead to a higher multiple and strong gains for investors. If the stock begins trading at just 18 times 2010 earnings we would see more than a 50% gain from current levels.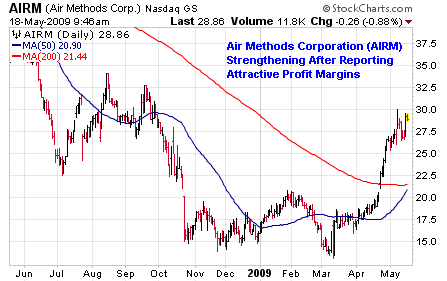 Disclosure: Author does not have a position in AIRM.