by David Russell
State Street (NYSE:STT) is rallying today, and traders are using options to mitigate potential downside in the bank's share price.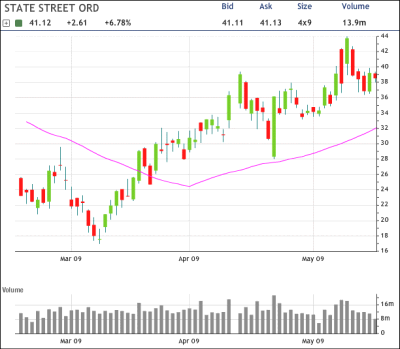 In one of the largest trades, 10,000 June 40 calls were sold for $4.10, according to optionMONSTER's monitoring systems. By writing in-the-money calls, investors are probably locking in profits on existing long positions in the stock and hedging against a potential decline. In another big trade, 10,000 June 45 calls were sold for $1.90. Volume was at least double open interest in both strikes.

STT rose 6.47 percent to $41 in morning trading after the company announced plans to issue $1.45 billion of new shares and to sell debt to repay government funds. Earlier in the month, STT reached a four-month high of $44, triple the January low. There was also above-average selling of the June 43 calls, which changed hands for $2.

In another large trade, 10,000 June 38 puts were purchased for $2.10, likely reflecting protection buying by a new investor in the stock. Other traders sold the June 35 puts for $1.60, which reflects a willingness to own the shares on a pullback and a belief downside in the stock will be limited.