Starent Networks Corp (STAR-OLD) is a Tewksbury, MA company that provides and manufactures infrastructure hardware and software equipment used by mobile operators to deliver multimedia services. Its top products include ST16 and ST40 hardware platforms, software that enables operators to provide in-line services, and the Starnet Web EMS that allows a mobile operator to monitor and operate the ST16 and ST40 through a graphical user interface. The products integrate multiple network functions and services needed for the delivery of multimedia services, such as video, internet access, VOiP, e-mail, mobile TV, photo sharing, and gaming. Operations are in the U.S.A., Canada, Japan, S. Korea, and internationally.
I know that some of the above might be a little too much technical jargon for you. If that is the case let me sum it up as best I can: the company makes cool products that allow cool things to be uploaded to your cell phone. I am sure everyone understands what I just posted. The important thing to remember, however, is that it doesn't really matter what the product is. What matters is the question of "is it still growing at a rapid clip?" The question to that answer for STAR is yet. If seeing is believing take a look at the numbers below.
EPS and sales growth the past eight quarters has been fantastic and estimates are good for 2010. EPS for the past eight quarters grew 450%, 33%, over 999% (earnings are coming from a negative quarter the year before), 200%, 127% 200%, 164%, and 22%. Sales growth, during that time, was just as strong with big increases of 51%, 4%, 108%, 103%, 98%, 80%, 40%, and 30%. The combined EPS and sales growth is very bullish as it isn't cost cutting that is providing the growth. It is the superior products. The only blemish I can see on the EPS front is that for 2009 analyst are expecting a loss of .74. That is a drop of 21% from the year before. The good news to this is that at the end of 2010 they are expected to provide gains of 15%.
Other very strong fundamental readings include no debt-to-shareholder equity, a 204% EPS growth rate which is top notch, a Return-on-Equity of 24%, and a cash flow of $1.17 compared to .22 earnings per share. They don't get much stronger than this.
These numbers are definitely the reason that mutual fund ownership has increased from 67 funds to 77 funds dropping to 73 funds and then blasting off with 96 funds now invested in STAR. That was 45% of the float in the stock. Obviously these guys are ready to ride STAR higher for some potential big gains. If you think mutual fund ownership is impressive, you haven't seen anything yet.
Current management, which consists of five key executives, owns an extremely impressive 57% of all shares outstanding. They will obviously be selling it off, if and when STAR rises, so that they can lock in the nice gains. I would love to see management's shares funnel into the system because a company with no debt can put a lot into R&D and that is exactly what STAR does, putting in 20.3% of sales into R&D. It seems like a lot but I think the 150%+ move off the November lows is showing that something is working.
The strength in STAR is confirmed when I take a look at the stock on Investor's Business Daily. The EPS ranking is the best it can get at a 99, the RS rating is a 94, the group RS rating is 83, the SMR rating is a top A, the Acc/Dis is a B+ (March to April made it lose the A), a Composite rating of 99, a Timeliness rating of B, an Earnings Stability rating of 17 (1 is the best, 99 the worst on this one), and a P/E ratio of 24 which is in the lower end of the past five-year range of 7 to 100. Both growth and value investors can find something to love about STAR. The worst thing right now is the Sponsorship rating. It is a D but that is the case of mutual funds being beaten up badly in the growth fund sector which is where most of the funds are that invest in STAR.
The fundamentals are great but the greatest traders like Jesse Livermore, Gerald Loeb, and Jack Dreyfus know that you must also look at the technicals.
STAR has been looking great since the price retook the 50 day moving average in December and then spent the next five months working higher as it crossed the 200 day moving average in January. Since then STAR has either found support repeatedly just above the 50 DMA or, as it did in April, anywhere near it. These are all strong places to take longs, and if you have, congratulations - you are in a top stock.
For those not long, we need STAR to either pull back to the 50 day moving average or go sideways for a few more days meeting up with the 50 DMA. Then we can look to maybe get long the next bounce on STAR. If the 50 DMA stays below the price and the price continues to slowly ascend higher, look for a strong up day on heavy volume with BOP increasing to a higher green, going max-green from green, or staying max-green. If BOP can continue to look like this and preferably get to max-green that technical indicator will confirm the power behind the price and volume and I will look to get long quite a nice chunk of STAR. The easy thing to do, if you are forced to cut your loss, is to just sell with a close below the 50 day moving average. If something bad happens before it falls below the zero line, like it reverses intraday on huge volume and the BOP indicator goes red, you do not have to stick around and wait for it to confirm the failure. You can just get out if it doesn't work. The 50 DMA will be my line but if you think that is still too rich, make sure you check out the 200 day moving average as long term support. This is where funds look to support the stock if they have a long term interest in it.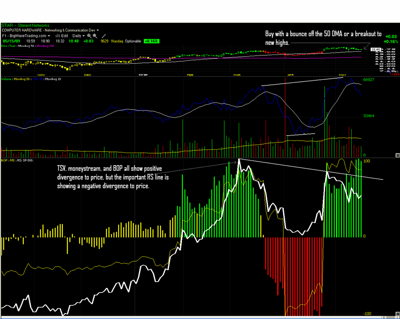 Click to enlarge
Disclosure: At the time of publication Joshua was not long STAR.