"Sell in May and Go Away," a much publicized market timing scheme, officially begins Wednesday. As it approaches, the media is again sending out its dire warnings about how "accurate" the rule has lately been, and that it will again hold sway this year because of weak earnings reports this quarter and expectations for continued weakness next, the market's dramatic move already year-to-date and continued weakness in economies around the world. But I had to conduct my own study covering the monthly closings of the S&P 500 (NYSEARCA:SPY) since 1939, or over 65 years, and discovered the following:
May-October (supposedly the bearish period):
Actually turned in positive trends more than negative: 42 out of 66 times, or 64%.
Only 8 times did the market close October more than 10% below where it ended in April.
The greatest declines were in the recent crash of 2008 (-30.08%) and 1974 (-18.17%).
November-April period (supposedly the bullish period):
Was only slightly more positive being up 51 out of 66 times, or 77.3% of the time.
The market ended April lower than October by more than 10% five times, or nearly as often as did the bearish period.
The market declined more than 15% twice during what should be the bullish period.
But here's the most startling statistic. In 41 out of 66 years, or 62% of the time, what the market did during the 6-month period ending April, it also did in the 6-month period ending that November. Regardless of whether it closed higher or lower in April than the previous October, the odds were that 62% of the time, the trend would continue to the following November. The following chart compares the performance of two $10,000 portfolios begun on December 31, 1948.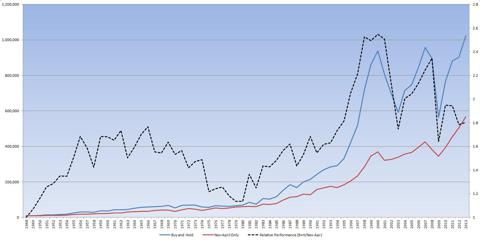 The first investor bought the S&P 500 and follows a buy-and-hold strategy; the other investor follows the "sell in May...." rule. If the market closes at approximately 1585, the buy-and-hold portfolio would be worth over $1 million; the "sell in May...." portfolio would be worth $566,000.
Most of the gap between the two (as depicted by the dotted line of Relative Performance) occurred during Secular Bull Markets of 1948-1968 and 1982-1999. During Secular Bear Markets of 1969-1981 and 2000-current, the "Sell in May ...." approach narrowed the gap.
Bottom line: If you believe we are exiting the Secular Bear Market, then you should buy and hold; if you believe we're still in the grips of the Secular Bear, then go ahead and sell.
Disclosure: I have no positions in any stocks mentioned, and no plans to initiate any positions within the next 72 hours. I wrote this article myself, and it expresses my own opinions. I am not receiving compensation for it (other than from Seeking Alpha). I have no business relationship with any company whose stock is mentioned in this article.