The common reasoning behind investing in gold is centered on inflation fears, although that has been proven to be a myth, and I wrote the article "Gold: Deflation, Stagflation, High Inflation, It Doesn't Matter!" on July 31, 2011 that indicated how the World Gold Council, the ultimate authority on gold, was making a hard sell from every angle. After all, the organization's magnificent marketing campaign that started in November of 2004 with the introduction of the SPDR Gold ETF (NYSEARCA:GLD) created demand beyond the commercial realm, and was the true wind beneath gold's wings. The other major ETF, iShares Gold Trust (NYSEARCA:IAU), was introduced in January of 2005. Between 2003 and 2012, investment demand grew into a 45% segment from a meager 10%, while reducing the jewelry and technology segment to 55% from 90%. In addition, combined demand from jewelry and technology declined 18.6% -- from 2,870 tons 2,336 tons -- during the same period, while ETFs, bars and coins rose from 304 tons to 1,535 tons, or a 404% increase. In hindsight, the World Gold Council must have sensed trouble on the horizon right before gold peaked in September of 2011, and tried to make an investment case that covered the whole spectrum of economic conditions.

Click to enlarge
Another reason used to justify holding gold is world instability, and although I can appreciate the logic -- bunkers, beans, and bayonets -- the news and price action as of late fly in the face of the theory. To some, the justification to hold the metal has come down to the latest excuse that paper gold (Futures and ETFs) is not the same as the physical metal, as if the value of a gold coin is immune to the paper markets. Certainly one can hold gold coins for the next 100 years, and margin calls will not force one's hand, but the asset's value is set by the paper world because, as the contract name implies, what is being set on any given day is the commodity's "future" price. If there was a disconnect between paper and physical stuff, then when the S&P 500 futures dropped, the S&P 500 cash would not be affected. Certainly much of the trading in gold futures is done by speculators, but to assume that these speculative trades have no influence on the price of gold is naïve at best. Furthermore, check daily coin prices at any source and try to find a disconnect between paper and physical. Or since no one trusts the paper oil market, which is heavily influenced by speculators, try getting cheaper gasoline at your local gas station.
Then there's the manipulation story and those voices always get louder when people find themselves on the losing team. I don't have proof one way or another, but accept the fact that someone with a $1 million account has far more influence over any asset price that an IRA with a balance of $1,000. One day central banks are buying gold, supporting the rally, and doing the right thing, and then central banks are manipulating gold when the price plunges. Can't have it both ways.
John Paulson, the subprime king and a man with a large purse that can affect asset prices, certainly has had a miserable time with his gold investments of late, although he was holding steadfast two weeks ago:
"Although inflation and inflation expectations remain subdued, which appears to have dampened the appetite for gold so far this year, we believe that ongoing central bank purchases and strong gold demand from China and India will help support the gold price in the near-term," Paulson & Co. said in a letter to clients that was obtained by Bloomberg News.
I think that he was referring to Chinese consumers, but if China's central bank is a buyer and Cyprus is an alleged seller, China could easily absorb the inventory by getting some spare change from its cookie jar. Data provided by the World Gold Council shows that China's total gold reserves have not added a single ounce since Q2-2009, and the same is true for India starting in Q4-2009.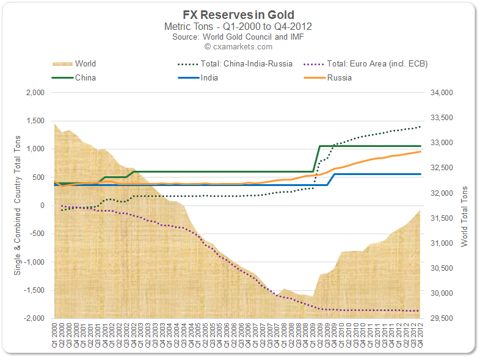 Click to enlarge
Russia has been the buyer, as shown by the chart above, but central bank gold reserves had a net reduction of 1,716 tons over the last 12 years, with mostly European countries disposing of the metal.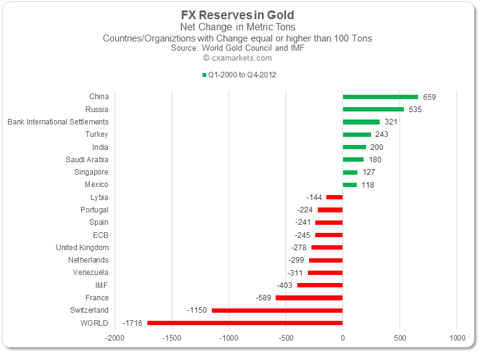 Click to enlarge
As the gold price started to climb in earnest in 2004, central banks as a group were still in divesting mode, and it wasn't until Q3-2009 that the trend had a meaningful reversal, questioning the influence that central banks have over the price of gold. However, the economics have changed, and because the U.S. has become the strongest among the weak, and is quickly becoming the last consumer market standing, the dollar has no way to go but up, putting added pressure on the metal.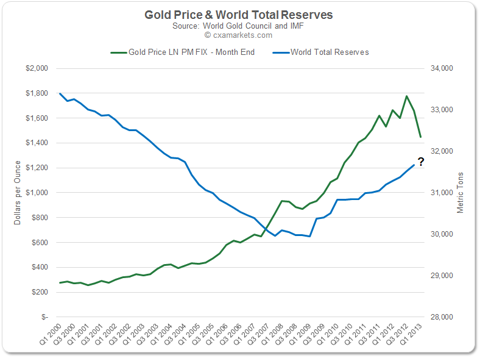 Click to enlarge
The decline of the jewelry and technology segment cannot recover unless there's real global economic growth, and the forecasts from every corner are dismal at best. That leaves us with the investment segment, which plays a much bigger part in pricing the metal than it did in 2003, and as people start to realize that despite easy monetary policies around the globe, money continues to sit idle and deflation is alive and well, gold has a higher probability of continuing to drift south. So we're not confused while looking for the sure thing that doesn't exist, "probability" is "risk management."
An interesting point was made about one year ago by World Gold Council chief executive Aram Shishmanian when he stated that "sharp increases in mining costs mean gold will need to reach $3,000 an ounce in five years for the industry to stay profitable." If the price fails to move up, then industry consolidation is in the cards, and feeble companies will be absorbed by strong players for pennies on the dollar, not a premium. Certainly markets are made by differences of opinion, and the last price drop is being perceived by some as an opportunity to buy, as shown by "Gold Drop Spurs Demand From Indian Bazaar to Chinese Mall."
Shoppers in China lined up for gold this week, while in Hong Kong they rushed to buy bracelets and in India sought jewelry for weddings not set until December. The metal's biggest price drop in three decades provoked the clamor.
As the gold price recovered further, shoppers were out and "gold consumers in India, the world's biggest importer, thronged jewelry stores across the country for a second week on speculation that bullion may extend a rally after the biggest plunge in three decades." Word to the wise: Once bitten, twice shy, twice bitten, shame on me?
And then there's always the glass half-full attitude, and the World Gold Council's managing director of investment, Marcus Grubb, is an optimist, although he didn't elaborate on the alleged central bank motivation, especially "emerging countries."
He said shortly after the price collapse that the factors supporting a strong price had not changed and emerging countries' central banks still had motivation to buy. He also brushed off the concern about the debt-ridden government of Cyprus dumping its reserve, suggesting that it would not wreak havoc on the gold market because the amount was small compared with other central banks' potential demand
China and Russia will not have the will, or motivation, to further sink their foreign reserves into gold because they are facing their own economic shortcomings, which will become increasingly more pronounced, and cannot be solved while their export markets meander, and actually shrink. However, an argument can be made that their motivation to support gold is directly related to their domestic mining operations, because, as of 2011, China was the world's top gold producer and Russia was fourth, according to the World Gold Council.
The only reason gold grabbed the headlines was due to the $203 drop in two market sessions, or 12.9%, yet the price had already declined $193 (11.2%) between November 23, 2012 and April 11, 2013, the day prior to the decline, or "structural adjustment." The process had been in motion for 4-1/2 months, while the "all-is-well" mantra was playing everywhere. In addition, gold lost 8.5% between the interim daily high of $1,920 on September 6, 2011, and November 23, 2012, a 14 month period, while monetary policy became looser.
As a side note, silver has been on the same path since, losing 31% since November 29, 2012, when the price closed at $34.48, while its price is now 52.3% below the interim daily high on April 25, 2011. Maybe the recent gold and silver price cliff was only a culmination of the constant decline since late last year, not to mention two years ago. Investors cutting their losses, and nothing more.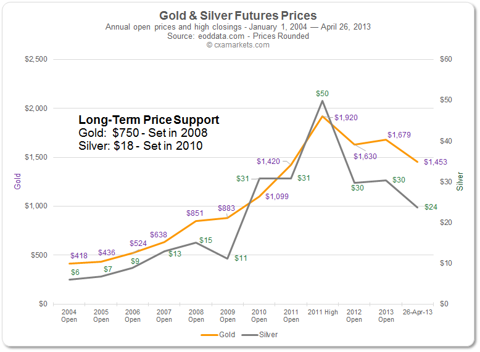 Click to enlarge
Although I will not bother with illustrations, from a long-term technical perspective, gold support was set at $750 in 2008, and silver's support is $18, set in 2010. I know that technical analysis on its own is not everyone's cup of tea, and shouldn't be. However, technical analysis is nothing more than a complementary measuring tool widely used by professional players that gauges aggregate "fundamental" investor sentiment when used properly, and that is why people are baffled at times when markets rise on bad news and vice-versa.
One of my favorite quotes by Einstein reads "Everything should be made as simple as possible, but not simpler," and the double whammy is quite simple: Putting aside preconceived notions and bringing objectivity into the equation, will central banks, namely Russia and other smaller countries, step up to the plate and provide meaningful bids; and, more importantly, will investors adhere to the "buy-the-dip" strategy and hold onto the belief that gold is an insurance policy that provides the advertised coverage? The paper market will tells us, indeed, and the futures market pulled back over $30 on Friday, rejecting $1,485 for the time being. From a short-term perspective, we're within a $50 band -- $1,435 to $1,485 -- waiting for a trend to develop.
Disclosure: I have no positions in any stocks mentioned, and no plans to initiate any positions within the next 72 hours. I wrote this article myself, and it expresses my own opinions. I am not receiving compensation for it (other than from Seeking Alpha). I have no business relationship with any company whose stock is mentioned in this article.