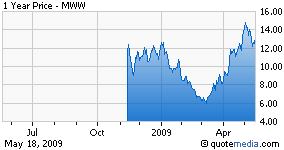 Monster Worldwide (MWW) has agreed to pay $2.5 million to the SEC to settle stock-option backdating charges, the commission said Monday, according to Reuters.
Monster agreed to the fine without admitting or denying the SEC's allegations. The online jobs listing company restated financial results from 1997 to 2005 to reflect $339.5 million in in option-related compensation expenses.
Last week, former Monster CEO James Treacy was convicted by a federal jury in Manhattan on securities fraud and conspiracy charges connected with the backdating case.
MWW Monday is up 63 cents, or 5%, to $13.19.