Last week I wrote an article, Waiting Patiently For A Blue Chip REIT Pullback, in which I provided a list of a dozen REITs, most considered blue chips, which appeared to be trading at prices with very little margin of safety. As I explained, "blue chip REITs are trading at outrageous pricing levels" and the likelihood of "buying a wonderful business at a moderate price" is becoming increasingly difficult. So I asked the question:
Should we wait for a correction before we put money to work? Or, should we ease valuation standards and look for small cap REITs even though they lack the fortress balance sheets and untested management teams possessed by the blue chip REITs?
Yesterday, my friend and fellow contributor, Tim McAleenan Jr., addressed the same topic in an article, Some Blue-Chip Dividend Stocks Have No Margin Of Safety. McAleenan explains:
I would be especially hesitant about initiating positions in companies like Hershey or Realty Income (NYSE:O) at the present valuation. I encourage you to calculate the expected five year growth of these companies and determine what kind of valuation those companies will trade at then.
It appears that the big bad blue chips are also beginning to spook investors as fellow Seeking Alpha contributor, Regarded Solutions, alluded to in a recent article:
The two stocks that I am considering a reduction of shares in, is O and T. Realty Income has increased by roughly 60% and AT&T has increased by 40%. If I decide to reduce the number of shares in either of these (or both) stocks, it will be to raise cash to redeploy into other dividend opportunities.
Is There Any Oxygen Left in O?
Well we all know that Realty Income is the darling for many dividend investors today. It seems that the demand for blue chip income is more evident by the continued growth in shares of The Monthly Dividend Company®. But how much oxygen is left in O?
Let's start with the 6-month history. Realty Income shares have increased by over 27% and the shares broke $50.00 today: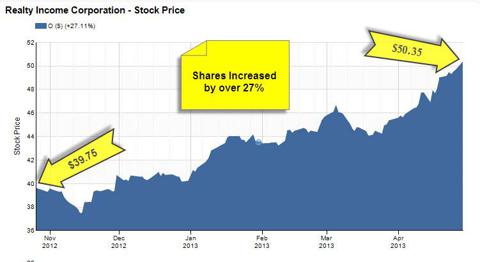 Click to enlarge
Realty Income's P/FFO multiple is 21.3x making the shares moderately expensive based upon the value of the company's cash distributions - or Funds from Operations - the standard metric for distributing to shareholders. It's clear that Realty Income delivers highly attractive earnings in the form of solid and consistent Funds from Operations (or FFO) and based on the highly predictable and consistent FFO growth, Mr. Market has placed a rather high multiple on the shares.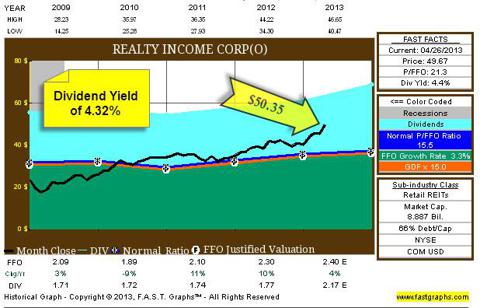 Click to enlarge
Clearly the above FAST Graph illustrates a consistent level of growing income distributions - the primary value proposition for The Monthly Dividend Company®; however, the graph also depicts a share price (the black line) that is beginning to accelerate much faster than earnings. Simply said, O is beginning to climb to such a high altitude (in price) that it may need to catch its breath. Or is there a second wind? Is it possible that O has more room to run?
In McAleenan's recent article, he wrote:
But when you look out five years ahead, the projections for Realty Income seem hard to justify. The most optimistic projection for Realty Income's future funds from operations per share is $2.85 in 2017 or 2018…Right now, Realty Income is trading at $49.67. If the company manages to increase its funds from operations to $2.85 in 2017 and the company trades at a P/FFO ratio of 17.0, we're looking at a stock price of $48.45. Yikes, the most optimistic projection that I can find involves the price going down five years from now (although the 4-5% dividend means that investors should realize a positive return if this actually happened).
That makes sense; however, before we look at O's future, let's examine the past. Remembering that historical results are simply a starting point right?
Most folks that invest in Realty Income are looking for one thing: INCOME. If that's the case, the following FAST Graph shows it all: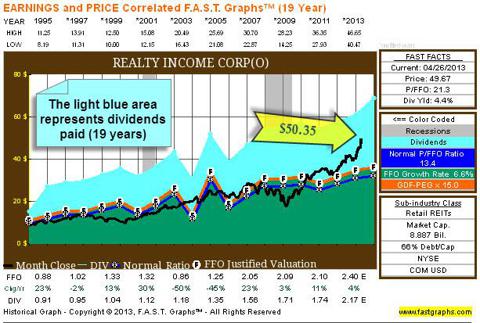 Click to enlarge
Realty Income's FFO (the orange line marked "F") in the correlated graph has closely tracked FFO. The blue shaded area represents the consistency and sustainability of Realty Income's dividends distributed to shareholders. As you can see, the company has paid 514 straight monthly dividends, but more importantly, Realty Income has paid and increased its common dividend for 19 years in a row. Clearly, in the words of fellow Seeking Alpha contributor David Fish, a "dividend champion."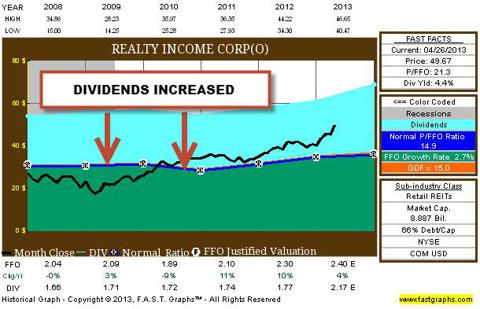 Click to enlarge
Now, take a look at the FAST Graph (above) and also, if it's not too painful, look at the period of time marked "The Great Recession". As you know, this financial collapse was only paralleled by the Great Depression and saw the end of Lehman Bros and Bear Stearns with the near collapse of Citigroup and AIG. As most know, the financial markets were in utter turmoil and there was no certainty that any REIT would have access to capital. In fact, all but twelve REITs either cut or suspended dividends…but guess what? O was one of the few that kept paying!
How? It's clear to see that the reason that O was able to sustain through tough economic times was due to its wide economic moat. Because of the company's highly sustainable competitive advantage, The Monthly Dividend Company® was able to defend against unknown economic risks by continuing to earn risk-adjusted returns on capital in excess of its weighted cost of capital.
That's great. But how is O continuing to strengthen its competitive advantage today?
First, remember that part of the value in purchasing shares in O is attributed to quality management. In other words, what is O doing to allocate capital and execute a strategic risk management model?
Realty Income maintains a very conservative and safe capital structure. In March, the company raised $755 million of new capital with a very successful common equity offering. At quarter end (Q1-13), the company's $1 billion unsecured acquisition credit facility had a balance of only $116.6 million (the facility also has a $500 million accordion expansion feature), and the company's overall current total debt to total market capitalization is 24.5%, with preferred stock outstanding of only 4.5% of the capital structure.
Realty Income ended the quarter (Q1-13) with 97.7% occupancy and that's 81 properties available for lease out of 3,525. Diversification continues to widen substantially as O's property count now stands at 3,525, up 512 properties from Q4-12. Most importantly, Realty Income is going up the credit curve and outside of retail, and the company's portfolio is now around 35% investment grade.
But wait. Has Mr. Market factored what Realty Income's shares are worth based on expectations of future cash flows? Better yet, does Mr. Market give Realty Income the proper credit based upon the broadened economic moat: increased diversification, increased investment grade income, increased liquidity, and low cost of equity?
Has Mr. Market recognized that Realty Income's moat is getting much larger? Certainly the 2012 results suggest that Realty Income's competitive advantage has improved, not deteriorated.
Projecting cash flows seems to be the best way to answer this question. So let's start with Realty Income's latest Q1-13 results. The stalwart REIT posted normalized FFO of $0.61, up 32% (a record) and relative to guidance; Realty Income puts normalized FFO for 2013 at $2.32 to $2.38. I have assumed a 4.5% growth rate in the forecast below: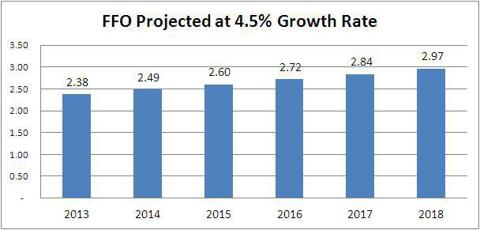 Click to enlarge
Now assuming a 20.0x P/FFO multiple, here is where I forecast the shares: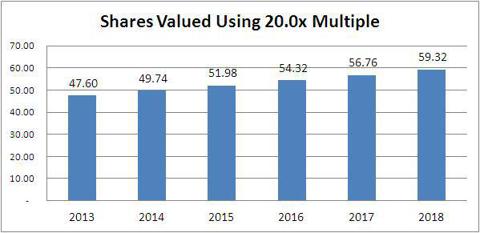 Click to enlarge
Now we all know that 4% to 5% growth is not what I would call a "wow" stock; however, we must remember the primary reason for investing in O. Remember, this is The Monthly Dividend Company. It's not Procter & Gamble (NYSE:PG). It's not Coca-Cola (NYSE:KO). It's not Colgate-Palmolive (NYSE:CL).
Remember. What is the Biggest Risk for an Income Investor?
It seems that there is no right or wrong answer to buying Realty Income at $50 per share. As Tim McAleenan argued, a value investor would not buy O today. As Ben Graham wrote (in The Intelligent Investor):
The value investor's purpose is to capitalize upon a favorable difference between price on the one hand and indicated or appraised value on the other.
Warren Buffett would agree:
You do not cut it close. That is what Ben Graham meant by having a margin of safety.
But, for an income investor, there is value. In fact, I would argue that Realty Income is fairly valued, especially when comparing the risk-adjusted dividend yield with other REITs and even non-REITs. You know the old saying, "beauty is viewed in the eyes of the beholder." If you are an income investor and you are looking for income over the long haul, there is no better company than The Monthly Dividend Company®. Where else can you find a 4.5% dividend plus 4.5% growth?
Take a look at Coca-Cola. With a P/E of 20.1, the blue chip shares are expensive, yet the dividend yield of 2.7% doesn't barely buy groceries does it?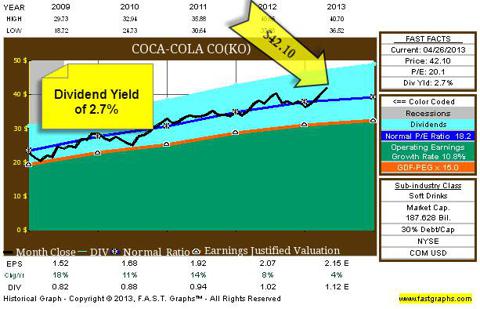 Click to enlarge
OK. Let's take a look at Procter & Gamble - another blue chip with a high price tag and dividend yield of 3.1%. Certainly a quality stock but not 4.5% either.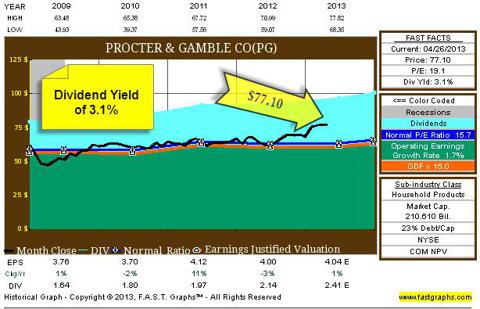 Click to enlarge
Finally, there's Colgate-Palmolive, another blue chip in nose bleed range. Yet, 2.3% is not what I consider mailbox money.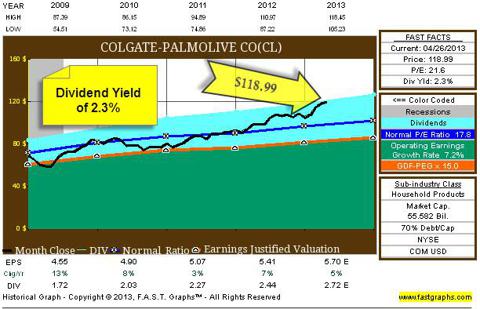 Click to enlarge
Certainly I would consider Realty Income to be a blue chip stock and in a class with the non-REITs mentioned above. However, there is one difference and I addressed that in a previous article:
It is clear that demand for high quality dividend income is become harder and harder to find - especially retirees searching for stocks that provide both durable income and strong growth. Although the investment universe is scattered with hundreds of alternatives, the dividend investor must carefully scout the list of filtered opportunities until he or she finds a company worth owning.
I went on to explain (in the same article) the fundamental difference between a value investor and an income investor:
In the popular book, Men Are from Mars, Women Are from Venus, written by American author and relationship counselor John Gray, the central metaphor of the book stresses the fact that most of common relationship problems between men and women are a result of fundamental differences between the genders.
To put this in perspective, my wife does not buy groceries today so she can use the food in two months. Of course not. She buys groceries so that she can prepare food for five kids and two adults to consume today. In fact, the minute she gets home from her grocery shopping expedition, she is ready to cook up a five course meal (and she is a great chef).
That's the same for income investors. They are ready to put the money to work NOW. The biggest risk is not whether the shares grow 5-10% or even 15%, but instead, what can I do today to earn a reasonable return on my money. I summed up the income investors value proposition in the previously referenced article:
It's not so much that men and women are from different planets, as that - if this is anything to go by - investors are. As mentioned above, dividends are the "holy grail" for retirees (and others) and accordingly, they place an extremely high value on income paying stocks.
In closing, I agree that Realty Income is a moderately expensive REIT to own today; however, I also believe that if one is purchasing the shares today, he or she would not be foolish at all. In fact, I believe that an intelligent income investor could benefit by diversifying into a bond-replacement alternative (like Realty Income) that should provide very attractive risk-adjusted dividends. Simply said, the biggest question for an income investor is what do you do with your money right now? That's why I think O is still a Sleep Well at Night REIT.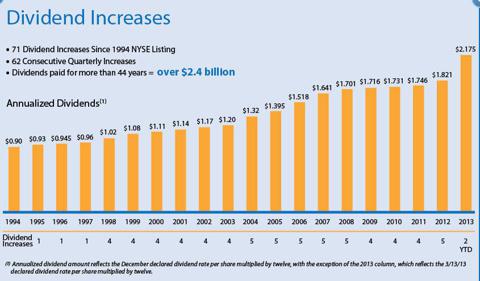 Click to enlarge
Source: FAST Graphs, Realty Income Website, SNL Finance
Disclosure: I have no positions in any stocks mentioned, and no plans to initiate any positions within the next 72 hours. I wrote this article myself, and it expresses my own opinions. I am not receiving compensation for it (other than from Seeking Alpha). I have no business relationship with any company whose stock is mentioned in this article.